Campus Pizza
(32)
| | |
| --- | --- |
| | Get it with a Free Trial! |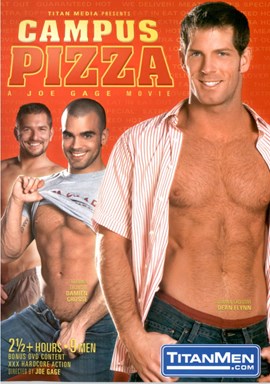 Performers
Director
Studio
Category
Duration (approximate)

Joe Gage

Titan Media

150 minutes

Date Added:
11/24/2018
Production Year:
2006
Format:
DVD
There are currently no member reviews. Be the first to review this title.
Industry Reviews (1)
Reviewed by Joe Shaver 08/19/07
Source: AdultDVDTalk



Just as it?s time for school to start up again, Joe Gage and Titan have come up with a timely film named CAMPUS PIZZA. Pizza delivery has long been a subject for gay porn. One of my all-time favorites is an oldie called PIZZA BOY?HE DELIVERS. But no cute twink like those in that film or a beautiful stud like Dean Flynn in this one ever delivered a pizza to me. (ALAS!)

Dean?s first delivery is to the off-campus cigar-chewing custodian portrayed by the hot and handsome Andrew Justice. He takes his cigar and pizza into the garage where he works out (apparently his wife won?t let him smoke in the house). He puts the cigar stub in an ashtray and his pizza on a table and proceeds to work out on the weight bench. He lifts the weights, stands, and strips off his shirt. He does a few more weights, stands, and removes his pants. Now clad only in a jockstrap and looking hot as hell, he does a few more lifts, stands, and removes the last offending garment. Now each time he lifts the weights, his dick lifts too.
It is at this point that his nephew Bucky played by young Jason Reynolds appears in the scene. He watches as his uncle?s cock rises in time with the weights. Andrew sees him and stands up. (His cock stands up too.) Jason stares at the stiff cock like a bird hypnotized by a snake. Encouraged by his uncle that it doesn?t matter how one gets their rocks off as long as they get them off and it feels good, young Bucky is soon on his knees sucking down his first cock.
This sucking goes on for much too long a time before uncle takes over. And Andrew?s stint on Jason?s cock is only about one-tenth of the time Jason spent on his, which makes the lengthy cocksucking that preceded it seem even longer in retrospect.
They stand and jack off.
?Go to that bench and lean over,? Andrew orders his eagerly submissive nephew.
Once Jason bends over, Andrew?s cock slides with ease between those supposedly virgin buns. The fuck continues with Jason sitting on Andrew?s cock; and concludes in an overly lengthy missionary fuck with Jason flailing away at his prick until it erupts.
Andrew?s ordered a pizza, as it must be stone cold by now. But that?I guess?is why god invented the microwave.

Dean?s next delivery is to the architecture professor Nelson played by Tyler Kane who is working with grad student Eric (Kai Grant). Titan fans may recall daddy-type Tyler Kane from Titan?s 110 DEGREES IN TUCSON. This is Kai?s first Titan appearance. He has a charming and attractive face. There?s not much hair on his head, but his body has a luxurious pelt. Professor Nelson rises to get a piece of pizza and asks Eric if he wants one. Eric says it will get it himself. It is at this point when we see Eric rolling along in a wheelchair that we realized he is a paraplegic.
Now what is we always wonder about when we seem someone paralyzed? Yes, that?s it. Does their dick work? Well the prof wonders this too and Eric assures him that it does. Naturally, being a scientific person, the prof wants to see fro himself. So, out comes Eric?s cock?stiff and uncut.
The prof asks Eric to pull the skin back from the head; then asks to touch it; and is soon swallowing it down to the root.
?Would you like to taste a cock?? the professor asks hopefully; and, receiving an affirmative nod, stands and delivers it to Eric?s mouth.
We cut to find them both naked. The professor is carrying his paralyzed student over to an easy chair.
?Why are you putting that up my ass?? Eric asks, as his teacher inserts a large butt plug.
?To loosen you up so I can fuck you,? is the matter-of-fact reply.
And he does just that. With Eric holding up his useless legs, the professor plows his ass. They fuck in only this position. (There are not many positions available to one when fucking a paraplegic.) Eric cums on his chest and the professor scoops it up to feed to his now-graduated graduate student. The prof adds his own load to Eric?s hairy torso.

Finally Dean lucks out (well the others certainly luck out, too) when he makes his last delivery to four poker players: Justin Riddick, David Korben, sexy Damien Cross, and the latest-and-longest-lust-of-my-life, Mason Wyler.
Mason gets Dean to join in the game but not before changing it to strip poker. With a stacked deck by dealer Riddick, Dean is soon starkers. Mason is next. David loses his pants, but keeps his shirt. Riddick and Damien soon join the others and all have boners, as Mason is quick to point out.
Mason goes down on the handsome Dean while David does Damien. Justin is odd-man-out and simply masturbates. Soon the gorgeous Dean is sucking Mason?s long uncut tool down to the pubes.
After cumming, all (except Dean) have some pizza and then we find Damien eating out Mason?s ass while Dean is tonguing David?s bunghole.
Before this scintillating scene is over Damien will have fucked Mason, Dean will have fucked David, and Justin (lucky bastard) will have fucked Dean. As the last fucking is going on, Damien feeds cock to both of the fuckees.

The Bonus Section (always great with Titan) has a ?Behind the Scenes? which shows that work on a Joe Gage set can be easy and fun.
There is also my favorite: the Photo Sessions with Brian Mills. In this we discover that Dean Flynn can lick his own dick (something I hope Titan makes use of in the future). We also see Mason fluff Damien. And, for anyone who might have wondered, you can be assured that Kai Grant is not paralyzed. ?You?re hot stuff, kiddo,? the photographer tells him. (And indeed, he is.)
There are two interviews: one with Andrew and Jason; the other with Tyler and Kai where we learn Kai?s country (Canada) and his real name. (I must go back to Canada some time. I had such fun there.)
The bonus section also contains all the cumshots and a hot slideshow along with Titan previews.

It seems that American films are now being reduced from the traditional four scenes to only three. The scenes are usually longer, though this is not always a good thing. We have been so influenced by MTV and TV that we get antsy if something goes on for very long. I just finished watching a scorching film SEX PIGS directed by Jorg Andreas from the German studio Cazzo films. None of the sexual activity went on for long and it had eight scenes. Never once did I feel the urge to reach for the fast-forward. Makes one wonder, doesn?t it?

Once again?as with their last major?there is no director?s edit so look around on this site for the best deal.