Distraction
(44)
| | |
| --- | --- |
| | Get it with a Free Trial! |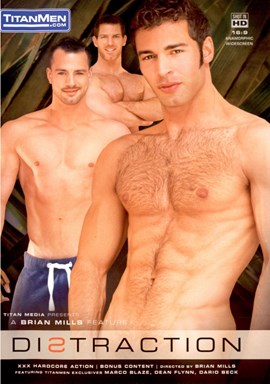 Performers
Director
Studio
Category
Duration (approximate)

Brian Mills

Titan Media

137 minutes

Date Added:
07/30/2010
Production Year:
2010
Format:
DVD
Reviewed by Ricky 11/20/10
The Distraction movie is very excellent for all these very hot, sexy, beautiful men I love to jack off my hard penis. I love to get off my nude clothes and watch this great movie.
Industry Reviews (1)
Reviewed by Joe Shaver 10/23/10
Source: AdultDVDTalk



Dean Flynn?one of my favorites among the current crop of Titan studs?is working out with hunky Marco Blaze. Dean, who looks as though he might be a handsome grandson of Fred MacMurray, lies on his back lifting dumbbells. Nearby is Dario Beck, a slender young bear with luscious curly black hair adorning his head and chest. When Dean starts sprouting a bulge in his shorts and Marco?s fingers in Dean?s mouth have been replaced with a thick prick, Dario decides to wander over and join the action.

As Marco teabags Dean, Dario swallows down Dean?s dick and then joins Dean in servicing Marco.

Soon Dean is on his knees swallowing down the hard uncut cock of first one stud and then the other. Before long Dean is covered with both stud?s cum and has deposited his own load on the patio floor.

The three super studs then move to the bedroom for some anal action.

As Marco lies on the bed with his head near the foot, Dario crawls up on the foot of the bed to feed Marco cock. In this position Dario leans over and swallows down the substantial appendage thrusting up from Marco?s groin and a hearty sixty-nine ensues.

Not to be left out, Dean starts feasting on Dario?s ass. His fingers and his stiff prick soon follow his tongue. Dean plows into the furry pool boy. It is a forceful fuck.

When Dean tires, Dario lies on his back and Marco takes over fucking the hairy youth. After the pummeling from Dean, Marco?s thick dick slides into Dario?s ass like the proverbial hot knife into butter. It is all Dario and this viewer can do not to cream. (I most certainly would have if the cat had not jumped up on my bed. Next time I?ll lock her out.)

It?s then Marco?s time to be on the receiving end. Once he is on his back, first Dean and then Dario take a turn fucking the hunky stud. Cascades of cum conclude the scintillating scene.

The scene lacked only a few minutes of being an hour in length and proved the saying, ?How time flies when you?re having fun?.

Unfortunately the remaining two scenes are anti-climactic, not that much fun, and appear to be thrown together in order to make this a two-hour film. In the second scene Christopher Saint is paired with the young attractive Jay Roberts. Jay knows how to suck a cock having taken on both of the Mangiatti twins elsewhere. Christopher does an equally good job on Jay?s long up-arcing dick before fucking the handsome lad.

The final scene with Scott Alexander and Bryan Slater is downright boring even though these guys manage to bore into one another.

So the film just peters out. It would have been more advisable to have the Flynn, Beck, Blaze scene third so that the others didn?t suffer from comparison. Nevertheless, the opening scene is definitely worth the price of the DVD. I plan to watch it again and again whenever I need to get off. I?ll just need to keep the cat from dogging me.