Justice (Disc 1)
(32)
| | |
| --- | --- |
| | Get it with a Free Trial! |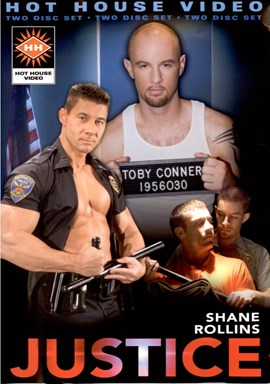 Performers
Director
Studio
Category
Duration (approximate)

Steven Scarborough

Hot House

82 minutes

Date Added:
03/19/2019
Production Year:
2006
Format:
DVD
There are currently no member reviews. Be the first to review this title.
Industry Reviews (1)
Reviewed by sydguy 12/04/09
Source: AdultDVDTalk



One of the big releases of 2007 was Hot House?s two-disc prison film ?Justice?, which won Grabby awards for best video, director and actor.

As a star vehicle for the lead, Shane Rollins, it features him in five of the six scenes - if you don?t like him, there?s not much hope you?ll like the film. Fortunately, there?s a lot to like: First there?s his unconventionally handsome face, his nicely muscled body and his hefty dick. Equally important, he?s a natural and energetic sexual performer, who approaches each scene with enthusiasm and never has difficulty keeping it up. He?s also completely versatile ? equally at home as a pounding top or an agile bottom. He sucks like a Hoover and is happy to bury his face in another guy?s ass. On top of all that, he can act, and managers to deliver his dialogue convincingly. It?s hard not to identify and sympathize with the injustices that his character, Toby Conner, suffers during the course of the film.

First up, after bumping into a similarly dressed runaway drug dealer on the street, Toby is found with drugs on him. Muscle-bound cops Robert Van Damme and Tony Mecelli arrest him. At the station, Mecelli decides that Conners is not being cooperative enough and decides to teach him some respect (and we all know what that means). Mecelli force-feeds his huge cock to Rollins as Van Damme holds his mouth open. It doesn?t take long before that restraint is no longer needed, and Rollins continues with skill and enthusiasm. Both cops undress to reveal their incredibly chiseled chests, then Van Damme releases Rollins? prick so he can alternately suck it and be sucked by Rollins. Van Damme?s brief ?anal cavity search? soon becomes an excuse for a fingering/rimming session on Shane?s perfect ass cheeks, after which Van Damme slides himself in to fuck Rollins doggy as Rollins suck Mecelli over a table. Next, Shane is on his back on the table, receiving a somewhat tentative and mechanical fuck from Mecelli. Finally, Shane rides Mecelli reverse cowboy. Now Shane is in control of the fuck, and clearly enjoying it immensely as his hard cock bounces around with each movement. This is the best part of the scene, but is over too quickly as Van Damme brings Shane to an invisible cum shot, then both cops unload on him.

Shane is thrown into the police cell with three others whom he quickly pisses off. Their leader, the snarling, multi-tattooed Nick Piston, forces Shane to suck him, which he does with ease. Shane then alternates with the floppy dick of handsome Brad Star. In a surprise move, Piston orders the third prisoner, short beefy newcomer Jordan Vaughn, to suck Rollins. Vaughn doesn?t offer much resistance but also doesn?t get far down Shane?s meaty prick. Next, Nick orders Shane to rim Jordan?s muscular ass. The other two can?t resist getting in on the action, so Shane alternates munching on Jordan?s ass and Brad?s cock, while Nick feasts on Shane?s ass. An abrupt edit brings us to the fucking, with Nick naturally the first to enter Shane, who is hoisted into mid-air by the other two. Nick?s aggressive fuck is followed by a much gentler probing by Vaughan?s smaller dick. This doesn?t last long before Star finally gets hard enough to fuck Shane, which he does fast and furiously. With the three fucks all over in about five minutes, Shane becomes the dumping ground for the others, who cum in quick succession, before Shane adds his juice to the three messy loads on his chest. As in the first scene, Rollins is the focus of the action: everyone else fucks him and sucks, or is sucked by, him. This is logical for the plot, but it would have been better to have had at least some interaction between the other performers.

In scene 3, Toby meets his sleazy court-appointed attorney (older, massive, bearded, hairy Ty Hudson). Hudson offers to get him protected in the infirmary in return for (of course) sexual favors. Shane proceeds to suck Ty?s stumpy dick ? he easily and repeatedly deep-throats it. Then Ty wants some of Shane?s big piece and proceeds to worship it in a way rarely seen ? he deep-throats it so long it looks like his face is surgically attached to Shane?s abdomen; he does full in-and-out. The sucking is so vigorous that it?s hard to tell whether Shane is face-fucking Ty or Ty is fucking Shane?s dick with his mouth. Throughout, Shane moans appreciatively and expressively. Ty then goes into a feeding frenzy on Shane?s beauteous ass, which causes Shane to erupt into his own mouth. There is no fucking, and Ty doesn?t even cum, but it?s still easy to see why this scene won a Gay VN award for ?best oral?.

In the infirmary, Toby shows his bruises to the doctor (Kent North), and pleads to be allowed to stay, but the doctor tells him he has no beds available and sends him away. The orderly (Carlos Morales) brings in the next patient (Nick Horn), whose only problem appears to be a stiff dick. His ass and dick are given expert oral treatment by the other two, then everyone strips off and North kneels to service the others (and looks like he?s in heaven doing so). North then bends over so Morales can fuck him with a variety of tempos. Next, Horn fucks North missionary, and manages to suck Morales at the same time. Then North finds himself in the middle of a standing sandwich fuck: Horn into North into Morales. Finally with both bottoms on their backs, top man Horn fucks Morales with his dick and North with a huge dildo. Morales squeezes out a small load while being fucked, Horn splatters immediately after, and then North brings himself off to finish the scene. Everything is well done and there is certainly no lack of enthusiasm, but the scene has a highly choreographed feel to it, and the lack of any transition or insertion shots dampens its impact somewhat.

Disc 2 starts with Toby?s sentencing hearing. Because of Toby?s protestations of innocence and allegations of abuse at the hands of authority, the judge (the director, Steven Scarborough) imposes the maximum penalty: 4 years in prison. In jail, Toby gets a new cell-mate (Trevor Knight) and immediately recognizes him as the dealer who framed him. After a short fight, Toby gets his revenge in the time-honored way. As Rollins forces Knight to suck his cock, a guard (Mike Roberts) watches and pleasures himself. Meanwhile, Knight?s half-smile and stiff prick show that he is clearly enjoying his ?punishment?. After a very long time, Roberts cums and leaves ? a wise move to keep the focus on the two stars. Rollins gets his ass rimmed before throwing Knight face down on the bed and fucking him. Although the position is appropriate for the plot, it?s an awkward one for both of them and the fucking doesn?t last long - it?s disappointing that one of Knight?s rare performances as a bottom is so short. Then things revert to normal for Rollins, whose ass is plundered by Knight?s long sword. The last position is a reverse cowboy with Knight plunging upwards into Rollins with incredible speed until Rollins achieves a noisy climax, after which Knight sprays him with a huge fountain of cum. There?s nothing exceptional about the sucking or fucking in this scene, but the energy of both performers, and the chemistry between them, earned them a Grabby award for best duo.

After 18 months, Toby gets to plead his case before the Parole Board: daddy-type Parker Williams, hugely muscled black guy Marc Williams and Duke Michaels (with a face which suggests he should be a prisoner). The board grants Toby his parole on one condition. The bailiff (bottom boy extraordinaire Marco Paris) is ordered to lock the door, and then Toby proceeds to service the others. By now he is an old hand, and eagerly sucks the other three. Then Paris joins in, rimming Rollins as he sucks the others. The fucking starts with Marc into Marco as Marco sucks Parker. Meanwhile, Shane rides Duke cowboy style. Then there?s an abrupt change of partners and Shane rides Marc reverse cowboy as Marc sucks Duke, and Parker fucks Marco missionary. Shane has a great time fucking himself up and down on Marc?s huge piece. Then, like a square dance, the guys return to their original partners: Marco rides Marc reverse cowboy until he produces a nice stream of cum, followed by a small load from Marc. Shane and Duke pair up again, but this time Shane is the top and Duke sucks Parker. Shane sprays a messy load on Duke?s back, Parker does the same on his shoulder, and then Duke finishes himself off. The scene strangely ends with the director yelling, ?It?s a wrap? and walking on set.

After the credits, there is a short non-sexual scene which suggests that some good might have come from Toby?s nightmare experience after all. This is followed by a 19-minute bonus scene with Kent North and Carlos Morales. Each fucks the other with a truly enormous dildo, then Morales fucks North. Both guys are flaccid for more or less the entire scene (except their cum shots). Although an impressive display of anal accommodation ability, I didn?t find the scene very erotic. The extras include fuck and cumshot compilations, behind the scenes and a photo gallery.

Overall, the script and acting are strong, the sets and costumes look authentic, the lighting and cinematography are great and it?s clear that a lot of money was spent on the production. The sex scenes are varied (one orgy, one fourgy, two trios and two duets) and Rollins gives a standout performance in all of his scenes. It?s a shame that, except for Hudson and Knight, his sex partners don?t bring quite as much intensity to the screen. Nevertheless, it?s still an excellent effort by Hot House.