Christian: 24 Cocks in 24 Hours
(47)
| | |
| --- | --- |
| | Get it with a Free Trial! |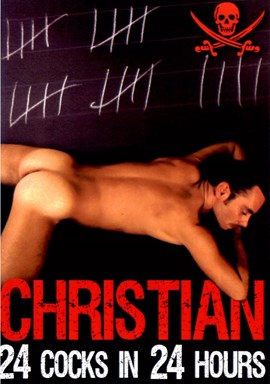 Performers
Director
Studio
Category
Duration (approximate)

Max Sohl

Treasure Island Media

108 minutes

Date Added:
10/23/2009
Production Year:
2009
Format:
DVD
There are currently no member reviews. Be the first to review this title.
Industry Reviews (1)
Reviewed by Suzi Fuji 10/01/09
Source: AdultDVDTalk



As a female, I love watching guys suck other guy?s cocks, so when I read the following description, ?Exclusive pig-slut bottom Christian takes multiple cocks and copious qunatities of cum over the course of a single 24-hour day in New York City, proving he is a insatiable sperm hole. Gangbangs, 1 on 1s, indoors and out, dildoes, felching, and much more? This one features some of our favorite tops and some new faces, etc etc etc.? I knew I had to watch it with my guy. Well, let?s just say that I was mildly disappointed.

Yes Christian is pig slut bottom, but this is tame porn. You?d think with the above description, that he?d really be put through the paces, but no. In this feature, roughly 90% of the sex is Christian getting fucking in the ass, and the majority of the shots are from below where we get to see his balls trussed up in a cock ring. Boring! Where is the double anal? Where are the blow bangs? Where are two cocks in his mouth at once? Half the time in straight porn, the minute there are two cocks in a scene, the girl has both of them in her mouth. Not here. There is very little cock sucking going on at all. Maybe 10-15% at best. For the most part, whenever there was a group scene, which was most of the time, the sex is still 1 on 1 with the other guys standing around waiting to fuck Christian. ?Ah guys, jerk each other off or something!? I also didn?t see any felching going on her, nor were there any double cumshots to the mouth. Hell there wasn?t any single cumshots to the mouth either. It would have been really nice to see Christian do some cum cleanup from another guy?s ass, but not here. All cumshots were to Christian?s ass. Nice mix of black, PRs, and white guys in this. Really, the best things I can say about this were that there were no bears here, and all of the dicks were hard. T.I.M. really missed the boat here.