Pounded
(48)
| | |
| --- | --- |
| | Get it with a Free Trial! |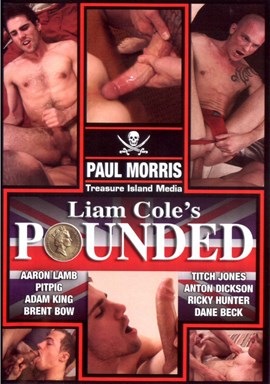 Performers
Director
Studio
Category
Duration (approximate)

Liam Cole

Treasure Island Media

82 minutes

Date Added:
09/10/2009
Production Year:
2009
Format:
DVD
There are currently no member reviews. Be the first to review this title.
Industry Reviews (1)
Reviewed by Joe Shaver 08/12/09
Source: AdultDVDTalk



I?ve always been an Anglophile and have found English guys cute, but didn?t know until now that some were hung like horses. In earlier times the Brits could only produce softcore gay porn such were their Victorian laws. Nowadays they can not only give us hardcore porn like the fabulous Eurocreme series, but bareback porn such as the Rentboy films (so hard to come by in the States?puns intended) and ones such as this released by Treasure Island Media.

The films begins with a scene entitled ?Fucked at the Heist? wherein we find a skinny lad with receding hair called Pitpig chowing down on cocks belonging to Aaron Slater, the attractive Brent South, and the amply endowed Anton Dickson.
Brent sucks cock, too before pulling his ass cheeks apart to accommodate Dickson?s hefty prick. Slater fucks Pitpig.
Pitpig goes back to sucking all three and then takes them on all in a gangbang.
It concludes with each guy jacking his cock to eruption and then driving the cum deep into Pitpig?s guts.
Pitpig licks up the cum which fell onto the floor as the scene ends.

The second scene features Titch Jones with his 10?-inch butt-reamer and the very sexy Aaron Lamb, with a nicely haired chest and belly and a handsome face. I eat lamb several times a year, but Aaron is a Lamb I could eat daily. However it is Aaron that is eating as the scene begins. Both are naked on a bed and Aaron is going to town on Titch?s massive uncut appendage.
Having feasted on the sumptuous meat, Aaron scoots up to lower himself onto the upright flesh pole. It was when Aaron was being pummeled in the missionary position that this reviewer lost it. (It is OK?and indeed de rigueur?to give us a close-up of a cock in an ass, but it is when we see the entire figure of the guy getting fucked that it?s hot. Unfortunately we see too little of this here.) Titch gives about a five second suck to Aaron?s cock which deserves much more attention. Aaron next gets onto his hands and knees for Titch to drive into him doggy style. Aaron?s face registers his reaction to the colossal cock?s entrance. Then it?s a return to the mission position for breeding. It ends with Aaron covering his belly with his own spending.

The scene that follows features Ricky Hunter ( a very cute kid) sucking the cocks of Titch Jones and the heavily tattooed and hung Manhandle. As manhandle plows into him, Ricky keeps sucking Titch. Then it?s Titch?s turn in Ricky?s ass. Not only does Ricky take all of Manhandle?s huge cock in his ass he takes it all the way down his throat?especially when Manhandle face-fucks the kid. By the time the scene ends and Ricky has been bred by both, his hole is gaping for more.

Scene four in which Anton Dickson fucks Adam King is the least interesting scene in the film?possibly because Adam never removes his jockstrap. The fact therefore that we never seen his cock stiff (or otherwise) and that he doesn?t cum indicates he is not really enjoying it. Neither did I.

One can?t say that young Dane Beck isn?t enjoying himself in scene five as he swallows down the loads of five hunky hung guys: Eddie Black, Jack Rogers, Will Ruskin, Ian, and Adam. He gets his protein for the week Indeed the load from the enormously thick dick of Adam would more than suffice.

It?s back to bareback fucking now as Pitpig takes on the big hairless cock of Mark O?Neal. I like shaved cocks, but I don?t like to see guys fucked wearing jockstraps?much less wearing socks (YUCK!) as Pitpig is doing hear. Nevertheless he lives up to his name encouraging Marc to ?fill him full of spunk?. Marc does.

The director Liam Cole now introduces a scene with the remarkable Aaron Lamb. This was obviously the first scene Liam filmed with this attractive lad. Liam tells us that he and Aaron were b lovers for three years and that he was quite willing to share Aaron with the numerous guys that wanted Aaron and that Aaron wanted even more so. Here Aaron is reamed up with another hung stud: Jason Stormme. After Aaron has sucked the big dick, Jason rims the insatiable lad and inserts his prick. Aaron enjoys the fuck immensely; and, after Aaron has shot his own load, Jason licks it off Aaron?s hairy chest and belly and feeds it to the insatiable hunk.

The final scene is with Brent Bow, Brent South and Anton Dickson. After Bow has sucked their cocks, South fucks him?sucking fellow fucker Dickson as he does so. Each has a go at fucking Bow and after shooting their loads, pushes some up the well-fucked ass.

There is a bonus scene wherein Eddie Black fucks Tommy Haine (two of the performers in Cole?s earlier BAD INFLUENCE). It?s not a very stirring scene due to the fact that sometimes we see the fucking taking place without seeing the entry. I found Eddie?s dick piercing interesting: it was a horseshoe under the dickhead and matched the nipple ring he was wearing.

One certainly can?t complain about quantity with this film. Seven scenes and a bonus scene is a lot to find in a film. As noted above not all of the scenes are erection makers, but a couple will certainly bring release from tension. I found Aaron Lamb to be a hot new addition and hope to see more of him in future films. Even you are not a lover of British guys you will in all probability like it.