Fuck Engine
(38)
| | |
| --- | --- |
| | Get it with a Free Trial! |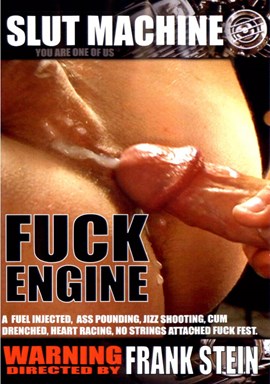 Performers
Director
Studio
Category
Duration (approximate)

Frank Stein

Slut Machine

54 minutes

Date Added:
07/28/2009
Production Year:
2008
Format:
DVD
There are currently no member reviews. Be the first to review this title.
Industry Reviews (1)
Reviewed by Joe Shaver 09/24/08
Source: AdultDVDTalk



O how the mighty have fallen! Josh Weston was a veritable god when he appeared as a top man in Falcon films. Now he is a bottom. There?s nothing wrong with that-indeed not. But Josh now appears as a careless, obsessive, slutty bottom who does it bareback. This began in the SX films BAREBACK BODYBUILDERS (which was downright titillating) and BAREBACK POWER BOTTOMS (where he took on all comers greedily pleading for more). Now he has descended to a third-rate studio being fucked in a sling by anonymous guys who don?t show their faces. (Imagine fucking Josh Weston and not wanting anyone to know!) This raises the questions as to whether or not Josh is desperate for money or if he really has become the voracious, seemingly uncontrollable bottom he appears to be in these films.

The film opens with a close-up of a bare cock about to enter an ass resting in a sling. The cock enters the ass. The camera pulls back to show that the guy in the sling getting fucked is Josh Weston. Another guy whose head is off the frame feeds Josh dick. The equally headless guy fucking him elicits moans from the sling-bound Josh. The fucker eventually pulls his cock out to cum and then drives it back into Josh?s ass. When he withdraws he scoops up some of the cum on Josh?s ass and feeds it to him.
The other anonymous stud now takes his turn fucking, cums, and feeds the surplus to Josh. Josh too cums in the scene and is feed his own cum, which he greedily devours.

Other scenes in the film include a duo, a black man fucking an oriental, and a return to the sling (now that would make a great title ?Return to the Sling?). The guy in the sling this time is a scruffy young dude who is set upon by two bears: a hefty daddy bear and an old grey haired grandpa bear. Daddy bear goes first and the grizzly bear has sloppy seconds (amazing what Viagra or Cialis can do).

Chances are its Josh?s fans that?ll buy this one. When he first starting bottoming bareback it was perversely titillating to see him. Then one became startled and concerned when he carelessly took on all and sundry, screaming and begging for more. Now, it is distressing to see him having descended to these depths, lying in a sling and just enduring it like a two-bit well-used whore. Gotterdammerung. It?s sad to see the gods brought low.