Spark Plug
(30)
| | |
| --- | --- |
| | Get it with a Free Trial! |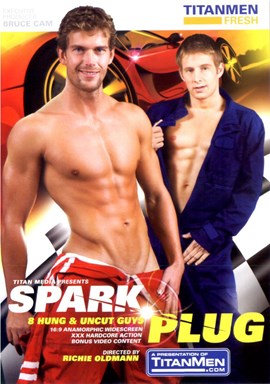 Performers
Director
Studio
Category
Duration (approximate)

Richie Oldman

Titan Media

143 minutes

Date Added:
07/01/2009
Production Year:
2009
Format:
DVD
There are currently no member reviews. Be the first to review this title.
Industry Reviews (1)
Reviewed by Joe Shaver 08/18/09
Source: AdultDVDTalk



There?s just something about automobile mechanics. There have been quite a few that I?ve lusted for over the years. Now none of the young twinks in this film are what I think of as garage mechanics (they are much too young a thin), but I?ve lusted over quite a few twinks in my life too. (And still do.) These all come from that incredible Eastern European gene pool which just doesn?t seem to produce anything but beauties.

It starts out with cute Rob Klein bringing his car in for repairs. (Don?t let the Klein mislead you, he?s not Jewish; and he?s definitely not ?little?.) Young and pretty Matt Woody (how?s that for a nom de porn) is the mechanic on duty. Rob tells Matt that he hears the shop takes favors instead of money for their work.
?Officially, no?, Matt replies. ?But we do make exceptions.?
Naturally Rob is one of those exceptions and before you can say ?grease monkey? Matt has Rob?s shirt off and is chewing on a tit. Then it?s on down to lick on his prick and start sucking. Naturally being European he doesn?t deep-throat. The sucking goes on for a long, long time, with no variation. (I wish directors would take a page out of Cadinot?s book and cut down on the oral. As a giver or receiver, long blowjobs are great. But as a viewer they become boring before ten minutes. The oral section of this scene goes on for twenty minutes.) Rob then sucks on Matt. Rob then sits in a chair and Matt goes back to sucking him. Rob stand and shoot his load onto the kneeling Matt, who pulls on his dick until cum hits his belly and dribbles down his dick.
It?s time for the traditional fuck section. For this the boys leave the office and go into the garage. It begins with Matt rimming Rob, but it is Matt who gets fucked. First doggy, leaning over a car; then with Rob on the floor and Matt sitting on Rob?s dick; then with Matt on the floor taking it in the missionary position. Once again Rob shoots on Matt and once gain Matt has to take matters in hand.

Handsome David White is removing a wheel from a car as fellow mechanic Valentin Skala is looking under the hood and customer Luke Taylor looks on. Valentin and Luke are very attractive, but David is downright beautiful?the equal of those exceptional young performers that one finds in the Bel Ami productions. As David takes the tire away, Luke wipes off Valentin?s hands and makes a play for the attractive young mechanic. When David returns with the tire, Luke and Valentin are shirtless and locked at the lips. By the time David has the tire back on Luke is sucking on Valentin?s virtually hairless cock.
After unzipping his coveralls to free and stroke his hard cock, David joins them. Luke now has two hard uncut cocks at his disposal and he makes the most of both of them. It is an incredibly long suck session, but the fact that there are two cocks to suck and one of them belongs to David and that Luke is an truly exceptional fellationist keeps us glued to the action.
Eventually Luke stands up so that David and Valentin can drop down and suck his cock for a change. At first Valentin sucks Luke?s cock while David laps at Luke?s balls, but then David is soon pigging out on both Luke?s and Valentin?s. Seeing this beautiful kid going down on cock is a stimulating to put it mildly?especially when he crams both cocks into his mouth at the same time.
The suck session ends with David leaning back and letting the others? dicks discharge onto him. David then brings himself off.
Moving to another part of the garage, David gets a working over by the other two. There is a low-lying metal table covered with soft mats. David lies back on this and Luke has the pleasure of driving his tongue in David?s ass while Valentin feeds David cock at the other end. It would certainly not be too long in actuality if I were licking David?s ass or he were sucking my dick, but simply watching the action which goes on unchanging for some time made me restless and urging them to get on with it. (It?s quality viewers want; not quantity and to sustain the action in order to make a film last two hours robs that quality. Edit, for heaven?s sake!)
FINALLY?Luke and David change places. After David has tongued Luke?s hole and violently gouged it with fingers, he gets a large black dildo from a toolbox (a good garage is prepared for any emergency). Lubing up the massive tool, he screws it into Luke?s ass. By the time he?s ready to fuck, Luke?s ass is gaping open like the cunt of a three-dollar whore. Putting on a condom (and seemingly unnecessarily lubing up) David inserts his price in the waiting orifice. (DIRECTOR OLDMAN ALWAYS SHOWS COCKS ENTERING ASSES TO BEGIN THE FUCK INSTEAD OF HAVING US JOIN IT WHEN IT IS ALREADY UNDERWAY AND FOR THIS WE CAN FORGIVE HIM ANYTHING.) Luke while getting fucked is slurping on Valentin?s dick.
David and Luke change places once again. This time David is the one waiting to get fucked and Luke is happy to oblige. As Luke begins fucking David, Valentin moves behind Luke and starts fucking the fucker.
After a bit, Valentin goes back to feeding the fucked David dick. He and Luke then change places. There is a nice close-up of Valentin?s prick moving into David?s ass.
This blistering scene ends with Valentin and Luke once again covering David with their cum and David bring himself to climax.
(David White has been stripping and dancing naked on my desktop for months and I was delighted finally to see him suck, get sucked, fuck, and get fucked.)

David is the beautiful youth in the background on the cover. Ron Sykora is the handsome young stud in the foreground. Ron drives his car down the ramp into the garage where cute tussled-haired Marco Phoenix is waiting. They waste no time after a quick check under the hood to get ready to check out their own hoods.
To my surprise (and delight) Marco has shaved his crotch and his hooded dick juts out from a hairless groin. Ron finds delight in it also. Ron?s uncut cock is also hard and after Ron has enjoyed sucking Marco?s, Marco goes down on Rod?s. Marco does an exceptionally good job and before long Ron is covering Marco?s chest with cock cream.
As in the other scenes they move to another part of the garage to signal that the oral is over and the anal is about to begin. There is a stack of tires that Marco covers with a heavy cloth and Ron leans back on them so that Marco can eat out his ass. Marco does an outstanding job lapping at the puckered hole.
It is at this point that Angelo Brada comes into the scene rolling a tire. He pulls out his dick and starts feeding it to Ron while Marco continues rimming Ron?s ass. Angelo is the least attractive guy in the film. His body is not much and his hair is rapidly retreating with strands attempting vainly to cover the baldness. His intrusion into the scene is disruptive rather than additive, so one wonders why on earth he has been brought in to join these two beauties. But Oldman seems hung up on threesomes, so what started out to be the film?s highlight misses its full potential.
Angelo changes places with Ron so that Ron can rim him briefly and then Ron is back on the tires for Angelo to fuck him. Marco will fuck him, too, so one wonders yet again why Angelo was brought in. Angelo gets one more quick fuck, this time with Ron in the doggy position sucking Marco?s dick.
All cum on Ron and Ron jacks off.

As always most of the young guys in the Titan Fresh series are attractive and yet the films just don?t seem to engender much heat. Perhaps it?s that the scenes seem too contrived; perhaps it?s because there?s too little variety; perhaps it?s just something in the tone. At any rate they don?t achieve the same effect as the Bel Ami films they seem to attempt to emulate. Nevertheless, the guys themselves make up for much and SPARK PLUG is one of the better ones in that regard.