Folsom Flesh
(37)
| | |
| --- | --- |
| | Get it with a Free Trial! |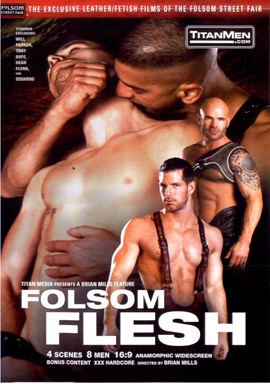 Performers
Director
Studio
Category
Duration (approximate)

Brian Mills

Titan Media

107 minutes

Date Added:
07/01/2009
Production Year:
2009
Format:
DVD
There are currently no member reviews. Be the first to review this title.
Industry Reviews (1)
Reviewed by Joe Shaver 06/26/09
Source: AdultDVDTalk



FOLSOM FLESH is Titan?s latest leather spectacular that (in the Director?s Extended Edit and in the Blu-ray versions) contains bondage, fisting, watersports, and some rather painful S & M.

The action begins with young goateed Will Parker?his hands bound behind his back?being dragged onto the scene by the rough and ready Tony Buff.
?You?re mine now!? Tony declaims.
He stands on the supine youth, pounds on his chest, and plants a booted foot in his groin. Freeing Will?s hands, Tony then forces Will?s face onto his cock. It?s quite a mouthful for the willing captive. Unfortunately the fellatio goes on for much too long.
Will then lies back on the table and the cocksucking is momentarily interrupted as Tony unleashes stream after stream of piss over him. Buff face-fucks Parker until thankfully both shoot their loads.
With Will suspended in the air on bouncing bungee cords, Tony proceeds to paddle the exposed ass until it turns pink. He then uses a more abrasive paddle until Will?s ass is a cherry red. Then it?s back to the original paddle for another example of the scene?s overkill.
Tony licks the burning ass and inserts his prick between those fiery buns. (The succulent meat between Will?s thighs should never be ignored as it is here!)
Tony next lies on the table so that Will can mount himself on Tony?s upstanding cock. The fuck pauses momentarily so that Tony can piss again. It rises high in the air like a veritable fountain, cascading down on Will?s shoulders and back. There is another lengthy fuck until finally the cum. It?s a kinky scene but would have been better had we been spared its many moments of tedium by tighter editing.

Dean Flynn is one of the handsomest me in porn and he is paired in the second scene with the heavily tattooed Geoffrey Paine. Flynn is the stuff that wet dreams are made on (at least mine are) and he is looking particularly buff and irresistible in his leather harness. The two are wrestling when we encounter them. Dean soon pins Geoffrey and sits on his face. He undoes the leather pouch over Geoffrey?s cock, freeing the hard member and the two studs sixty-nine.
Dean stands for Geoffrey to continue sucking his rampant cock and then drops to his knees to partake of Geoffrey?s. Partially undoing the laces on one of Geoffrey?s boots, Dean ties it around his own cock. If Geoffrey had run away Dean might have been castrated. But no one would run away from Dean. Dean cums on Geoffrey?s boot and then licks it off. Geoffrey cums (and probably the viewers too).
Geoffrey bends over for Dean to fuck him. The fuck continues on the floor in the sidesaddle and missionary positions. After both have cum again, Dean pisses on Geoffrey?s chest and into his open mouth.

It?s bear time with two one-name performers: Eduardo and Korben. I?m not really into brutish types and the fact that their scene is a simple suck-n-fuck doesn?t help matters. (They have a much better scene in the bonus section of the Director?s Extended Edit and Blu-ray versions that I?m astounded wasn?t used here.)

Things are back on track in the final scene with Colin Steele and Rick van Sant. Rick is looking more than ever like a debauched Christian Bale and Colin is a very sexy stud. He goes down on Rick?s Gonzo-proboscic cock taking the curved organ deep and playing with the foreskin. Pre-cum oozes from Colin?s own engorged member which, like the Will?s tasty treat in the first scene, will remain unappreciated by his partner.
After cuming, Rick pisses on Colin and Colin pisses in his own mouth.
After that Colin lies back in a sling. Rick puts the sexy stud?s feet in stirrups leaving him exposed and vulnerable. Rick dives face-first into the defenseless ass. His curved cock follows after his tongue.
The next object to explore Colin?s innards is a large dildo that resembles a battering ram with a round head. Rick screws the ebony object in the previously fucked hole. Colin endures it with a mixture of pain and pleasure. Rick pummels Colin?s ass with the dildo.
Putting on black gloves and lubing them up, Rick inserts four fingers and then his entire first up the well-prepared bunghole. Colin has on black gloves as well and as Rick fists him, he in turn fists Rick.
Once Colin has cum, he abandons the sling in order that Rick may take his place. Once again Colin?s fist finds its way into Rick?s oft-fisted ass, bringing Rick and the film to a climax.

It?s a good film, but some of the action goes on for far too long. Quality and not quantity should be producers? goal. Nevertheless there is much here that is fun and FOLSOM FLESH is definitely worth your time and will generate hard dicks from your hard earned money.

The Bonus is noteworthy for the scene with Eduardo and Korben that unexplainably was not used instead of the tepid one that was used. In this abandoned scene Eduardo eats Korben?s ass prior to inserting a huge dildo. When the dildo is eventually removed, Eduardo pisses on the gaping hole. A second dildo is next inserted. This one is longer and ribbed. When it is removed Eduardo pisses again as does Korben. Eduardo then fucks him. As the scene began we saw the two dildos along with a humongous butt plug waiting. We were waiting expectantly for the enormous butt plug to go into Korben, but?alas?it did not. Perhaps this was why the scene was aborted. Certainly one should never show toys that are not going to be used as that can only disappoint the viewers.
The rest of the bonus section is a Behind the Scenes that is a far cry from the wonderful ones that Titan used to give us. This one was not worth our time.
Cumshots and previews finish up.

NOTE: Fisting, watersports, bondage, S & M and the Eduardo-Korben bonus scene are only in the Director?s Extended Edit and Blu-ray versions and do not appear in the retail edit. The Blu-ray has both version.