Skull Fuck
(34)
| | |
| --- | --- |
| | Get it with a Free Trial! |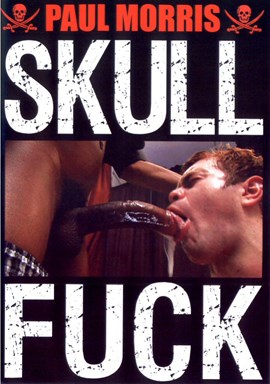 Performers
Director
Studio
Category
Duration (approximate)

Paul Morris

Treasure Island Media

108 minutes

Date Added:
07/01/2009
Production Year:
2009
Format:
DVD
There are currently no member reviews. Be the first to review this title.
Industry Reviews (1)
Reviewed by Joe Shaver 11/01/09
Source: AdultDVDTalk



SKULL FUCK consists of 14 scenes in which guys suck cock and swallow down the cum. It is a traditional Treasure Island Media product. It is somewhat better than most in that it features several performers who are better looking then the less than attractive men that usually frequent these proceedings.

Scene 4 entitled THE WANABE features a cute young pup named Devon who told the producer that he wanted to be ?the next Damon Dogg?. If you know any this studio?s films you know Damon Dogg, a heavily tattooed, gat-toothed cocksucker whose diet consists primarily of cum if the Damon Blows America series that has now reached Volume 10 is any indication. Young Devon differs from his idol in that one?he is young, and two?he is attractive. Devon is given three large black dicks to bring eruption and he goes about his task joyously. He is rewarded with three loads of cum. (Any time Devon wishes to he can practice on me.)

The other memorable scene is the scene that follows, Scene 5: GLORYHOLE COCKWORSHIP. He the attractive?and extremely skillful?Hal goes to work on a succession of cocks that pop through a glory hole. Such is Hal?s skill that no cock can last long without spewing forth its load. (Hal should be in the Guinness Book of Records.) It is only when the fourth cock appears?an extremely tasteful, thick, and attractive cylinder of flesh?that one would rather be on the giving than receiving end.

I also found seen 7: CRAIG AND MUD of interest because the performer calling himself ?Mud? seemed to be an aging Steve O?Donnell. This actor?the recipient of Craig?s oral ministrations?has a sort of screwed up Mohawk and?if it is indeed O?Donnell--is only a shadow of his former beauty and just decided that his name is mud.

There is another young cocksucker that is fairly attractive called Scout, who is in Scene 13 that they have cruelly called NICE LOOKING, BUT NO TECHNIQUE. Actually I found this scene to be preferable to that of the experienced Damon Dogg in Scene 6 which I found boring.

Watersports occur in Scene 12 where a scruffy guy named Klep (who has just finished sucking a cock in Scene 11) is pissed on by several guys.

Those wishing to improve their cocksucking technique should watch the championship skills of Hal in Scene 5. I learned a lot.