Double Barrel
(42)
| | |
| --- | --- |
| | Get it with a Free Trial! |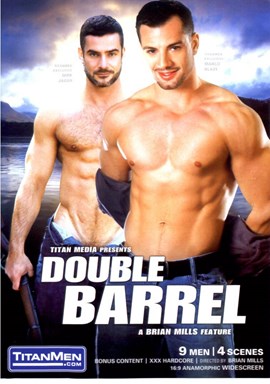 Performers
Director
Studio
Category
Duration (approximate)

Brian Mills

Titan Media

128 minutes

Date Added:
03/30/2009
Production Year:
2008
Format:
DVD
There are currently no member reviews. Be the first to review this title.
Industry Reviews (1)
Reviewed by Joe Shaver 04/01/09
Source: AdultDVDTalk



I assumed that when a film is called DOUBLE BARREL it would feature performers who would be double-barreled (i.e. double-fucked) but that is not the case. It seemingly gets its title from the fact that in several of the scenes the performers carry guns. (They carry them awkwardly for the most part.) Only the cocks however shoot.

The film is not one of Titan?s finer efforts. Only a few of the guys caused me to stand up and take notice. There are four scenes?one of which is OK, one of which is boring, one of which was fairly stimulating, and one of which made the viewing experience worthwhile.

The film begins with Alex Baresi and Marco Blaze running into a park ranger, Steve Carlisle. Steve asks them if they have permits for the gun Alex is carrying and both shake their heads like guilty schoolboys.
?Maybe we can worth something out,? Steve says, going right for the crotch. This I believe is the only dialogue. If there was any in the rest of the film it was unmemorable.
Lips are joined, they undress the ranger, Alex?s hirsute chest comes into view, cocks pop out, and bald-headed Steve drops down to partake of Alex?s uncut member, while Marco rubs his boot in Steve?s butt crack.
Marco?s uncut cock is a wonder. It?s really much too big for his body, but who the hell cares? Certainly not Steve, who soon has a go at swallowing it. This goes on until all cum.
For the fucking they have moved into Steve?s cabin. As they enter, I wonder why they have bothered to dress. I don?t have to wonder long as they are soon naked again with Marco rimming Alex as Alex rims Steve. Before long, Alex is on his back on a table and Marco?s massive member is widening Alex?s anal aperture. As Marco fucks Alex he sucks on Steve?s prick.
It?s now Steve?s turn for a bit of mission work and then Marco returns to boffing Alex.

Scene two begins with CJ Madison cleaning his gun as another bald guy?Coby Mitchell observes. I really don?t find either of them to be the stuff that dreams are made on and it never really got interesting as they sucked and fucked in the great outdoors.

Things got better in scene three with Chad Manning and Revel Milan stopping in the woods to take a piss and forgetting any other game they might have been pursuing. They put down their guns get up their cocks.
Chad is the first to give head but it is Revel?s cocksucking that takes the laurels. Chad cums while tea-bagging Revel.
Then?as in scene one?it?s inside for the fucking. Getting on all fours, Revel raises his ass for Chad to mount him. Chad drills him hard. Revel turns over onto his back for Chad to fuck him in that position. Later when they move over for Revel to lie back onto a hassock the fuck continues in the missionary position until both shoot their loads.

The fourth scene is the film?s best. It?s helped considerably in that here we have the film?s two hottest guys: Dirk Jager and Max Schulter. Dirk has a great build and a very long uncut cock. Max is cute and sexy as hell, a man who is always after my hard.
Dirk is sleeping outdoors on a cot as Max emerges from their tent and begins to piss. Dirk awakens, rises, and moves over to Max. Finding to sustenance from sucking Dirk?s nipple, Max moves down to free the elongated cock and takes it deep into his throat. It?s virtuoso cocksucking. Max could get a job in the circus as a sword-swallower. It is interrupted only when Dirk bends over to receive Max?s tongue in his ass.
Dirk returns the cocksucking favor, going all the way down on Max. As Dirk sucks away, his own cock throbs in sympathy. They stand to jack off, and then it?s time to fuck.
Max gets up on all fours onto the cot. The position of the camera prohibits us from seeing entry. The cot proving to be a bit unsteady, they spread a blanket on the ground and move the action down there. Dirk fucks the sexy stud sidesaddle. This segues into a full-fledged missionary fuck that produces second loads from each.

Bonus features are also not up to Titan?s usual standards. There are no separate photo sessions for one thing, and the Behind the Scenes section is brief and inconsequential. Cumshots and two trailers complete the section.

As to the good qualities, the music is pleasant and played just at the right level so it does not mask the slurps and moans, and?in spite of my quibble above?the videography is super, especially is the close-ups capturing Max?s awesome deep-throating of Dirk?s mighty member. DOUBLE BARREL is not an award winner, but it?s worth a gander.