Double Barrel
(42)
| | |
| --- | --- |
| | Get it with a Free Trial! |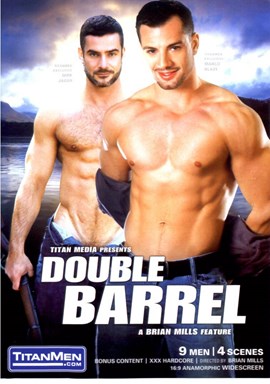 Performers
Director
Studio
Category
Duration (approximate)

Brian Mills

Titan Media

128 minutes

Date Added:
03/30/2009
Production Year:
2008
Format:
DVD
There are currently no member reviews. Be the first to review this title.
Industry Reviews (1)
Reviewed by Joe Shaver 04/01/09
Source: AdultDVDTalk



I assumed that when a film is called DOUBLE BARREL it would feature performers who would be double-barreled (i.e. double-fucked) but that is not the case. It seemingly gets its title from the fact that in several of the scenes the performers carry guns. (They carry them awkwardly for the most part.) Only the cocks however shoot.

The film is not one of Titan?s finer efforts. Only a few of the guys caused me to stand up and take notice. There are four scenes?one of which is OK, one of which is boring, one of which was fairly stimulating, and one of which made the viewing experience ...