Slurpin' Jizz 03
(28)
| | |
| --- | --- |
| | Get it with a Free Trial! |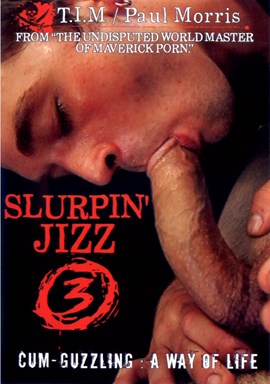 Performers
Director
Studio
Category
Duration (approximate)

Paul Morris

Treasure Island Media

81 minutes

Date Added:
03/25/2009
Production Year:
2007
Format:
DVD
There are currently no member reviews. Be the first to review this title.
Industry Reviews (1)
Reviewed by Joe Shaver 08/16/08
Source: AdultDVDTalk



Ten short scenes wherein guys suck cock until it releases its ?jizz? and the sucker swallows it down. Typical of the cum-guzzling vids from this studio but better than most because the many of the performers are fairly attractive (which-alas-doesn?t seem to be a necessary requirement of this studio).

The film opens with a studio favorite (Christian) on his knees before tattooed Jacob Slader. Jacob forces Christian?s head onto his cock and holds it there. (What is meant by giving head.) At one point he even holds Christian?s nose to cut off any possibility of oxygen. He then viciously face-fucks the subservient lad.
As we shall see in all of these encounters the one being sucked then deposits his load into the waiting mouth of his fellator.

We are told that Ari, a not unattractive young guy with glasses, is a straight guy sucking cock for the first time. The recipient of his labors is Treasure Island stand-by Dan Fisk. Both are dressed. Dan?s dick is hanging out of his trousers. Ari kneels before him. This is quite a contrast from the violent first scene with Ari tentatively licking Dan?s dick and balls before taking the cock in his mouth. Ari does an admirable job and his tongue and open mouth are soon covered in thick cum. Ari not only swallows it down but lets loose with a load of his own onto Dan?s dick and hands. He licks it up greedily. This may have been Ari?s first time, but obviously it will not be his last.

Axel another supposed straight is up next (or I should say down next). We are told that when he?s high Axel likes to suck cock. He is a sexy dude: unshaven, with a small goatee and a pierced eyebrow. (Doesn?t look straight to me, but what the hell.) It?s also certainly not his first time as he?s quite an accomplished cocksucker. Once again Dan Fisk is the lucky recipient.

The fourth scene is fortunately a quickie as the participants Dino and Scott are less than average. Both sport beards to no avail.

Sky sucks a young Iranian named Sayed. Sky spits Sayed?s cum into a glass and then drinks it. (I guess he likes cold cum.)

Next is a real cutie-Scott. This is not the Scott we saw above. This one is a slim young bear. He chows down on a dick belong to Greg (who is not cute). Greg has shaved his pubic hair so there is not danger of Scott getting a hair in his mouth. This scene is alos over in a flash. (Pity.)

Now Dino is back and this time he?s sucking Chuck. But as neither are attractive-who cares?

Cute Scott returns for the ninth scene. This time he?s on the receiving end, getting his cock sucked by Taylor Bryant. Unfortunately Scott keeps his shirt on so we can?t get off on his hairy chest.

For the final scene we have Will Bottoms (how do you like that nom de porn?) and Dan (not Fisk). Will is a T. I. regular and Dan is hunky. What is of interest here is that Will gets and swallows down not one but two loads from Dan. Whether this is due do Will?s talent or Dan?s prowess is anybody?s guess.

Treasure Island?s cum guzzling videos can either be erotic or downright gross. From those I?ve seen so far, the Slurpin? Jizz series tends to be of the former while the Drunk on Cum series seems to belong to the latter category. As I?ve pointed out there are some scenes that are quite fun and others which are not. But that?s why we have a fast-forward button on our remote.