Playbook
(42)
| | |
| --- | --- |
| | Get it with a Free Trial! |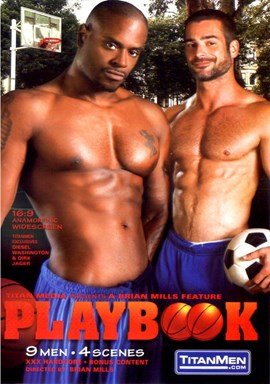 Performers
Director
Studio
Category
Duration (approximate)

Brian Mills

Titan Media

125 minutes

Date Added:
11/01/2019
Production Year:
2008
Format:
DVD
There are currently no member reviews. Be the first to review this title.
Industry Reviews (1)
Reviewed by Joe Shaver 02/24/09
Source: AdultDVDTalk



I really wish studios wouldn?t start these films with a preview of all the action. The film is already in hand (along with our dicks) and we don?t need to be sold on it. Also it takes away from any surprises (as to who fucks whom, etc,). On one of Titan?s films (HOT SHOTS) these fucking previews (pun intended) went on for three minutes! However, there is a ?next? button on the remote and that can take us past it. Still?..

PLAYBOOK begins with cute sexy Kyle Quinn finding a note on his SUV telling him to report to his coach at 2:15. We then find coach Dirk Jager cleaning up the locker room and looking disgustedly at the clock, which registers 2:50. Finding a sweaty jockstrap on the bench, he sniffs it, relishing in its pungent aroma. Assuming the student isn?t coming, Dirk strips and heads off to the shower, taking the aromatic jockstrap with him. Dirk has a fine physique and a hefty uncut slab of meat between his legs.
Unbeknownst to him Kyle has arrived and is watching as the horny coach sniffs the jockstrap and soaps up him stiffening dick. Emboldened Kyle calls out making his presence known. Dirk summons him to come closer and asks him not to quit the soccer team. Kyle explains that it?s his dad?s idea. Dirk asks Kyle how old he is.
When he is informed that Kyle is eighteen he tells him ?You?re a man now. What do you want??
?I want to get rid of this,? Kyle informs him, referring to the hardening cock in his jeans.
Out comes Kyle?s cock. It is quite large, thick and swelling. The burgeoning organ is surmounted by a very thick auburn pubic bush unlike the clipped and manicured pubes on usual porn performers. He also sports hairy balls that are rarely seen anymore. (Let?s hope this naturalness is coming back.)
Kyle lies back on the bench and both begin stroking their hard cocks. Dirk moves around to Kyle?s head. The luscious glans resembling a plum is freed from Dirk?s foreskin and Kyle opens his mouth to receive it. More and more of the cock makes its way into the youth?s mouth. He sucks on Dirk?s balls and shoves a tongue up into the coach?s hairy ass for good measure. Soon Dirk is shooting a load on the recumbent youth.
He then moves down to take hold of Kyle?s still throbbing boner, licks, sucks it, and jacks it off.
Dirk then gets Kyle off the bench and bends him over to eat out the kid?s tender young ass. Wanting more than Dirk?s tongue up there, Kyle rushes back to lie on the bench, lift his legs, and await his deflowering. A wonderful close-up shows Dirk?s manly dick entering the young man?s accessible anus. Dirk grabs onto Kyle?s legs and holds them together as he fucks him hard and deep. He ceases only so Kyle can get up and move to get fucked in the doggy position. There is another great shot as we witness Dirk?s dick once more entering Kyle?s ass. The hard fucking continues and the camera reveals that Kyle?s cock is as hard as the cock that is fucking him and it repeatedly swings back and forth like an unruly pendulum, looking as though it might spew its juices at any moment. But we will never know as it?s once more back to the bench to seal up Kyle?s hole with that mighty cock.
On the bench Kyle remains on his hands and knees; then rears back to shoot his load. He lies on his back for Dirk to cum on him.
?What do you want? Dirk asks.
?I want to stay on the team, Kyle replies (and who can blame him?)

Jockstrap sniffing starts off the second scene as well as the first one. Leed Scott is doing laundry when he comes across a soiled jockstrap. Leed doesn?t include it in the wash but keeps it to induce a jackoff session. Holding the jockstrap to his nose, Leed brings out his cock and starts stroking. He has a light dusting of chest hair and an interesting cock that bends sharply down at the tip. The janitor, hunky Leo Giamani, observes this and calmly enters the room.
?Keep going,? he instructs the startled Leed.
Soon Leo pulls out a large dick and a bulky ball sac and he too starts stroking. He removes his uniform to reveal an awesome physique. Leo?s face is bearded but his torso is perfectly smooth. It?s the way bodybuilders display their muscles to best advantage and Leo pectorals are indeed something to behold.
Leed can?t resist moving over to suck Leo?s cock. It?s quite a mouthful, and the fellatio is very well filmed. Leed also grabs onto the bulging balls. Soon Leed is the recipient of Leo?s load and has deposited his own semen onto the floor.
Both are completely nude as they enter an adjoining room to fuck. Leed bends over and Leo inserts his bun-splitting cock. Leo stops fucking only to sit down in a chair. Leed immediately moves to him and lowers himself onto the upright organ. His own cock is as hard as the one he is riding.
Leed gets up and moves over to lie back onto a table with a lone basketball. Once again we witness Leo?s massive dick entering into the abyss. Leed?s sphincter is so loose now that Leo can pull all the way out and drive back in with no hands helping. He fucks the cum right out of Leed; then pulling out, Leo adds his own ejaculate to that already glistening on Leed?s chest and abdomen.
They are kissing as we leave them.

Using Alex Baresi as a body, Frank Philipp begins to teach Xavier St. Jude some massage techniques. Alex is a hirsute beast. In fact, all three of these guys are bearded bears and that t is the problem with the scene. There is no variety of types. It?s like watching three clones. The three bears without Goldilocks. Each guy sucks a cock and cums, and each guy has a turn as a bottom. If the film had a Director?s Extended Edit some watersports and fisting would have enlivened it, but no such version exists.

Things are back on track with the fourth and final scene that begins with cute, scruffy Kameron Scott listening to a basketball game on the radio and learning that his Diesel Washington misses the final shot and loses the game.
Kameron then runs into the disappointed Diesel and attempts to cheer him up. They have a game of one-on-one (basketball at this point in the film) after which Diesel asks Kameron if he would like to hang out for a while. He takes Kameron into the team?s supply room whereupon Kameron makes a move on his idol, dropping to his knees and pressing his face against Diesel?s crotch. Diesel is somewhat taken aback but delighted with the attention. Kameron pulls down Diesel?s trunks and jock and goes down on the large chocolate shaft that springs forth, swallowing it until his nose is buried in prickly pubes. It?s a long blowjob that Diesel is in no hurry to impede.
Finally however Diesel pulls Kameron up, gets him to stand on a bucket, pulls down the kid?s pants and jock, and blows a tune on Kameron?s flesh flute.
Kameron then goes back to blowing Diesel and both shoot. (It?s not baskets this time.)
Getting Kameron to lean over a table Diesel inserts first his tongue and then his cock in Kameron?s waiting hole. The most exciting part of the fuck is when Kameron, getting fucked doggy style, wraps his legs around Diesel?s and is picked up by Diesel?s embedded cock. With Kameron?s arms held out behind him, Diesel grabs Kameron?s wrists and proceeds to fuck him in mid-air. It is very impressive and quite erotic.
The final position seems even more uncomfortable for Kameron. Diesel has the boy lie back onto a cooler. Placing a huge bag of popcorn under his shoulders and a basketball under his butt to elevate it, Diesel gives him a good missionary drilling.
It fucks the cum right out of Kameron and Diesel soon adds his own offering to the load glistening on Kameron?s belly.
Diesel give the kid his jersey as a parting present.

There is a brief behind the scenes segment in the extras along with a cum shot review and trailers for earlier Titans.

As this was not one of the two-disc Titans I didn?t expect it to be a major production and so was quite surprised by the caliber and ingenuity of the film. I was rather bored by the third scene ( bear lovers may not be) but the other scenes were what makes porn so much fun. Obviously what goes on the locker room is much more fun than what goes on on the field or on the court. I should have stuck with basketball even after breaking my finger.