Roman's Holiday 01
(45)
| | |
| --- | --- |
| | Get it with a Free Trial! |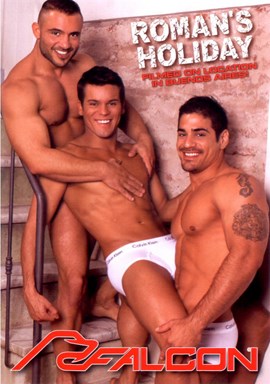 Performers
Director
Studio
Category
Duration (approximate)

John Bruno

Falcon

110 minutes

Date Added:
02/19/2009
Production Year:
2008
Format:
DVD
There are currently no member reviews. Be the first to review this title.
Industry Reviews (1)
Reviewed by HornyDiablo 10/19/08
Source: AdultDVDTalk



Here's the plot of Roman's Holiday: Falcon Studios sends one of their hottest stars, Roman Heart, down to Argentina to let him explore the city of Buenos Aires and play with the locals.

If you're a fan of another studio, Alexander Pictures (like I am) you will be familiar with many of the South American models in this movie. One name that I immediately spotted in the credits was Bruno Bordas, a guarantee that at least one scene will be dynamite. The cast also includes real-life couple Pedro Andreas and Daniel Marvin.

And if that's not enough, native Argentine Max Schutler makes an appearance to show the tops and the bottoms how it's done. He's great in this movie, but if you really want to see him at his best, go back to my review of Bailando Tango.

Roman's Holiday starts off quick-and-easy. American porn star, and Falcon Studios exclusive, Roman Heart gets a phone call, picks up his airline tickets, and is cruising the streets of Buenos Aires faster than you can sing "Don't Cry for Me Argentina."

Roman's first hook-up is with Brazilian porn star, Robinho DeSilva, the stud on the back cover of the DVD smokin' a cigarette and looking like he could fuck you to death. Why is there a Brazilian porn star in an Argentine porno? Why ask why? Just enjoy watching him pumping Roman's American ass full of Brazilian cock.

Roman does a good job of bottoming, but if I had to give him a grade for this scene, it would be a B+. He doesn't stay hard and doesn't cum while getting fucked. (If you wanna see bottoms who can do that, stay tuned!)

After more footage from the streets of Buenos Aires, we meet Ulises Falcon a smooth bottom who loves licking his partner, German Rojas' hairy ass. For fans of rimming, this is just one of many intense and well-photographed sessions of ass eating. There's nothing fake about this rimjob. German's fat cock stays rock hard while Ulises tongue-fucks his asshole. At one point, he has to lean against the bedroom wall for support during his buddy's oral assault on his ass. Once it's German's turn to start eating ass, he puts Ulises on his back, flips his legs in the air, spreads his cheeks, and goes to work.

If you haven't cum yet, you can stick around for the actual sex, which is hot. German drives every inch of his cock inside of Ulises who appears to be in ecstacy throughout the entire scene. He has really intense gray/blue eyes and actually looks sort of psychotic. Both guys end the scene with two nice cumshots.

The next scene starts at Max Schutler's ultra-chic apartment (which may or may not be his, considering that he's done about 1,000 movies this year for every major studio there is!) Max's guests are Damian Ferreyra and Thomas Achaval (better known as "Manuel Lozano" for his phenomenal work for Alexander Pictures.) Damian and Thomas waste no time finding the nearest bed and sucking each other's uncut dicks. The 69 position gives Damian easy access to start rimming Thomas' smooth asshole and vice versa.

Again, excellent camera work captures ever lick and probe. [View screeshots of the action from the DVD Roman's Holiday] Thomas (aka Manuel) is a versatile performer, but in this movie, he's a total bottom who does a great job on the receiving end of Damian Ferryra's uncut cock. This scene is just as passionate as the earlier one with lots of kissing. One criticism is that there's almost no dialogue in these fuck scenes. More Spanish pillow talk would have been hot.

Eventually, Damian fucks the cum out of Thomas and then does something a little unexpected. He flips him Thomas over, spreads his asshole open, and shoots his cum all over it. HOT!!!!!!!

Downstairs, Roman Heart and the rest of Max's guests have arrived. They have drinks, disappear, and then immediately re-appear wearing only white briefs and sucking each other's cocks. Every dick stays hard and every mouth stays full. Roman and Max are the official "stars" of this orgy, but Bruno Bordas, Michael Amerika, and butch muscle-bottom Alejandro Bravo are the ones to watch. Again, the ass-eating is insane in this movie!

After everyone's butthole is nice and loose, the fucking begins. First Max fucks Alejandro while Roman fucks Bruno who sucks Michael's big cock. Then, Roman takes over topping Alejandro's ass while Max gets it from both ends from Michael and Bruno. Finally, Roman, Max, and Alejandro retire to a sofa to suck and jerk themselves while Michael fucks the cum out of Bruno.

Roman's trip to Argentina has one last stop ... a la casa de Pedro Andreas and Daniel Marvin! These two real-life lovers enjoy bring home hot guys for threesomes and Roman probably feels like the luckiest guy in the world with Pedro sitting on his face while Daniel sucks his cock.

Aside from that configuration, these three porn stars give us plenty more sucking and rimming. (Have a mentioned that this video is an ass-eater's dream come true?)

The well-prepared ass of Roman Heart gets drilled by both studs, who take turns fucking him ... and then decide to fuck him at the same time! I've seen Pedro and Daniel's double-penetration trick before, but it never gets old for me. After fucking him, Pedro and Daniel slip off their condoms and cum into the open mouth of Roman. Great camera work captures every drop, and it's a controversial (yet, hot) way to end the movie.