Home Invasion
(44)
| | |
| --- | --- |
| | Get it with a Free Trial! |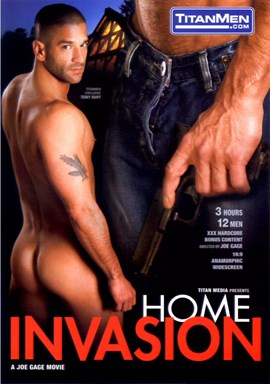 Performers
Director
Studio
Category
Duration (approximate)

Joe Gage

Titan Media

180 minutes

Date Added:
03/31/2017
Production Year:
2007
Format:
DVD
There are currently no member reviews. Be the first to review this title.
Industry Reviews (1)
Reviewed by Joe Shaver 01/18/09
Source: AdultDVDTalk



I like porn with a plot. And when it also features hunky guys having hot sex as in HOME INVASION, Joe Gage?s latest film for Titan, then what?s not to like?

When the film opens the handsome well-built Tyler Saint is tied up and being held captive by a gang led by the equally handsome and well-built Tony Buff. They are waiting for Tyler?s son played by Sean Preston to arrive as he has the combination to the safe that supposedly holds the payroll for Tyler?s business.

Jackson Wild another of Tyler?s sons arrives and unaware of his father?s predicament heads off to the guesthouse where he has set up a webcam for online sex. To please his online viewer, Jackson strips and tries to force his more than ample cock into a posing strap. It?s sort of like trying to fit an anaconda into a gunnysack?especially as Jackson?s ?snake? is rather inflexible. Tommy Ruckus has appeared at the guesthouse and let himself in order to observe these goings on. (I will avoid the pun of saying Jackson thereby raises a ruckus?. Oops, I didn?t, did I?) The hirsute Tommy is also given a see-through posing strap for his stiffening appendage.
Soon the captured cocks are free and stroked until Jackson?s spits.

Blond and beautiful Tristan Raine (another of Tyler?s sons) arrives in his naval uniform and discovers another of the invaders (Scott Tanner) in his room wearing some of his civilian clothes. Scott has little trouble seducing the handsome youth who is soon on his knees sucking down the intruder?s cock.
Scott also gives some oral attention to Tristan?s throbbing manhood before each shoot their loads.
Now?with both completely nude?they move over to the bed where Scott eats out the handsome blond sailor?s hole before inserting his fingers and rampant cock With Tristan?s pretty foot only inches from Scott?s face, I don?t know how he could resist sucking on those slender toes, but I guess that?s just my fetish and not Scott?s. Nevertheless, it is a glorious fuck with both performers appearing to enjoy it to the fullest. I know I did. This is a scene I plan to return to.

Meanwhile Tyler has triggered an alarm unbeknownst to his captor that brings the security officer Enrique Currero onto the scene. Tony releases Tyler. He also releases Tyler?s dick in order to divert the security officer?s attention. Tony watches unseen with his gun at the ready. (Tony?s dick is at the ready too.) Knowing that son Jackson?s dick is well known to the local lads Tyler asks Enrique how his dad?s cock compares with that of his profligate son?s.
Enrique?s long, thin, uncut cock is soon waving in the air and Tyler drops down to consume it and chew on its elastic foreskin. Soon both men are as naked as Adam in Paradise. And after Enrique gives reciprocal oral attention to Tyler?s thick truncheon, both discharge their weapons.
Enrique next bends over the sofa offering his ass to his horny host. Tyler laves the proffered ass and then proceeds to fuck Enrique in a few familiar positions until they once again release admirable loads.

Chad Manning, the third member of Tony?s gang, is in the kitchen looking for something to eat when Braxton Bond arrives early for an anticipated orgy with Jackson. It appears Chad has found something to eat and he soon has the dim-witted Braxton?s dick jerking about in the open. It is indeed a delectable piece of meat, and Chad is soon partaking of its pleasures.
Chad?s own cock can be seen reaching skyward as he sucks Braxton?s. It is too tempting for Braxton to resist; so he doesn?t, drooling copiously as he hungrily devours it.
After both have stood and ejaculated, Chad orders Braxton to get up onto the counter on all fours and proceeds to rim him. A naked rip-roaring fuck follows.

Others have arrived for Jackson?s orgy and Jackson starts things off by going down on bearded Geoffrey Paine while cute, hung Ty Roberts awaits his turn along with Tommy Ruckus. Jackson?s brother played by Sean Preston arrives. Remember he is the one with the combination to the safe. Tony accosts him. Sean tells Tony that the money is not in the safe but is secure at the office. There is the old saying ?If you can?t lick ?em, join ?em?. Tony decides to join ?em and get licked. Sean obliges.
With everyone now naked, Jackson swallows down Ty?s large cock. Seeing Jackson on all fours, Tony removes his cock from Sean?s mouth and goes over to tongue Jackson?s alluring ass. Stretching a condom over his massive tool, he drives it into Jackson?s guts. Tony pulls out to cum only to cum on Jackson?s back. By then both Ty and Jackson have fired off loads and the voyeuristic Geoffrey is soon to follow. Tony licks his cum from Jackson?s back.
Onlookers Sean and Tommy are stroking their dicks and Sean shoots. He then moves over to take a more active part in the goings-on by sucking Geoffrey?s cock. Ty occupies himself by sucking on Tony. Geoffrey then gives head to Sean, swallowing the young shaft down to the pubes. In an even greater display of talent, Ty deep-throats Tony?s massive member.
Sean then leans over the sofa and Geoffrey proceeds to fuck the comely youth. Seeing this, Tony abandon?s Ty and goes over to feed his dick to Sean. Taking his turn at the young ass, Tony turns Sean over to drill him in the missionary position until both he and Sean spill their seed. Geoffrey makes a mess of the sofa and the abandoned Ty brings himself off and slurps down the result.

The three crooks depart leaving Jackson and Sean to clean up after the orgy.
?That family is more twisted than any crook,? Tony observes.
The released Tyler comes into the room where his two sons are cleaning up and asks what has become of the flat screen, the laptops, and the silver. The sated boys don?t seem to care. Upstairs, a tied-up Tristan waits for release.
Tony and his gang can invade my house anytime, provided they bring along Jackson and his brothers.

Gone are the clunky boots. These guys fuck totally naked the way we are supposed to and the result is stunning. The guys are varied and hot, the sex is ball-bursting, the videography is truly exceptional, the direction is assured, and it?s all encased in a conceivable plot with those professional production values worth of any Hollywood production that we have come to expect of Titan. HOME INVASION is a film that does Joe Gage and Titan proud.

The film is also available on Blu-ray.