Folsom Undercover
(25)
| | |
| --- | --- |
| | Get it with a Free Trial! |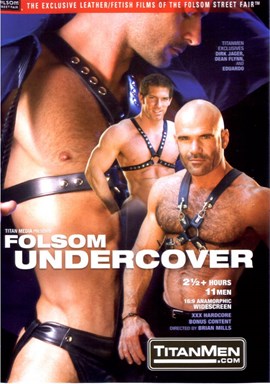 Performers
Director
Studio
Category
Duration (approximate)

Brian Mills

Titan Media

150 minutes

Date Added:
11/18/2021
Production Year:
2008
Format:
DVD
There are currently no member reviews. Be the first to review this title.
Industry Reviews (1)
Reviewed by Joe Shaver 11/08/08
Source: AdultDVDTalk



Even though I dearly love my leather jacket, leather is not one of my fetishes. Nevertheless I thoroughly enjoyed FOLSOM UNDERCOVER. For those of you with a leather fetish then look no further.

The idea behind the film is that there is an undercover club of businessmen whose clandestine sexual encounters ?allow the studs to remove all inhibitions, relieving their stress trough sexual aggression?. One of their tenets is to have the thrill inherent in the risk of getting caught by meeting in places where they just may be discovered whereupon their professional reputations will be ruined.
This is clearly illustrated in the first scene where Dean Flynn (one of the handsomest men in porn) goes into the woods to meet up with Eduardo (not one of the handsomest men in porn). Off come their business suits to reveal chests bound in leather harnesses and cocks clad in leather jocks. Eduardo pulls Dean?s jock aside and out springs a ready cock which Eduardo drops down to suck.
Eduardo then removes his own leather cock-casing and Dean eats his ass before each jack off.
Dean then bends over a park table to enable Eduardo fuck him. After plowing Dean?s ass to the enjoyment of each, Eduardo affixes pads connected to an electro-stimulus device to Dean?s ass that causes Dean?s ass to quiver like Jell-O, and resumes the fuck.
Then with Eduardo lying on his back on the table, Dean fucks Eduardo who pisses all over himself.
Dean is fucked once again-this time in the missionary position before each cum.
In the Director?s Extended Edit and on the Blu-ray version, Dean deluges himself with piss (what a load) and Eduardo pisses on the recumbent Dean.

We are told that members of the secret club must undergo a brutal test. Tyler Peter who made his Titan debut in DOUBLE STANDARD and who resembles a young butch Tab Hunter is a prospective member. There (in the wooded area prepared for the ordeal with candles and a candle chandelier) Tony Buff, Dirk Jager, and Frank Philipp prepare the initiation. On a raised platform above, muscular Titus pulls up the chandelier as a signal for the action to begin. Tony ties Tyler?s hands behind his back and orders Tyler to kneel. Tony then ties the youth?s ankles. Cocks come out and Frank can?t resist sampling Tony?s before the initiators begin feeding their cocks to the helpless Tyler. As he sucks the proffered cocks, Tyler?s own cock (jutting straight out form his belly) is longing for release. After the others have shot their loads, Tyler is placed on a platform and Dirk jacks off the young initiate, giving his cock that much needed release.

A short blackout introduces an interlude between Tony and Frank who drip hot wax over their bodies and cocks until both resemble erotic candles.

After another quick blackout we return to Tyler?s initiation. With the young man on his back on the platform, they tie his legs to his wrists exposing his asshole to all ad sundry. Frank is the first to take advantage, sucking on Tyler?s balls and licking the hole before inserting his massive member.
Before Tony takes his turn he writes ?Fuck Me? on Tyler?s ass. Unfortunately they turn him over to fuck him doggy-style that is not as stimulating for the viewer and also loses the effect of the recently applied ?Fuck Me?. Fortunately they return him to the former position for the fucking to continue and conclude, covering Tyler in cum. Even Titus on the high platform above now loses his load.
In the Director?s Extended Edit and the Blu-ray version the assembled studs give Tyler a piss-bath.

Frank uses his cell phone to call fellow frat member Darius Falke with the results of the successful initiation just as Max Schulter is about to enter his office. This young Argentinean is the stuff that wet-dreams are made of and Darius is quick to note that fact. (God, but Max is beautiful!)
Max gives in to his employer?s advances and after a brief kiss, Darius removes his clothes to reveal the leather harness and jock that denotes the club members. Max falls to his knees and unsnaps the leather pouch to free the straining cock within. Max gives great head, sucking in Darius? balls for good measure! Max?s own cock is now exposed and even though rock hard is still encased in its tight foreskin.
Max moves over to sit in a chair and Darius steps up onto it in order to continue feeding his throbbing cock to this handsome young man. When Max cums, Darius feeds him the milky substance and then cums himself.
Darius now places a leather harness on Max who gets on all fours on the floor. Darius eats out Max?s ass, pulling Max?s once again stiff dick between his legs for an occasional suck. Unable to hold out any longer, Darius drives his cock into Max's ass. Holding onto the leather harness he has put on Max, he fucks him hard and deep.
They return to the chair, but this time Darius sits. Max climbs up onto the chair and lowers himself onto Darius? expectant dick, first facing Darius and then turning around so we can see Max?s own flailing dick as he rides Darius? sizeable cock.
Heading over to the desk Max lies on his back. Once again Darius? cock finds admittance to the gate of delight. As he fucks Max in this position he nips at Max?s long slender feet. Before long he has fucked the cum from Max and brought another load from himself.
(This was my favorite scene from the film and one to which I shall often return.)

For the final scene we are once again in the woods courting discovery. Young Billy Berlin arrives in a clearing and finds Rick van Sant awaiting him, bound and blindfolded in a sling.
Billy fishes out Rick?s distinctively downward arcing dick and swallows it down.
With Rick released, they stand and kiss. Rick then drops down to suck Billy?s dick that is sticking straight out from his belly.
Billy takes his place in the sling and Rick fucks him with that arcing cock. They cum.
In the DDE they also piss, with Billy unloading on his own belly and Rick pissing on Billy. But that?s not all. Rick then proceeds to put on black gloves (which he lubes) and drives his fist up Billy?s ass, alternating between his right and left hands. Billy clearly enjoys the invasion as he remains hard throughout and cums with Rick?s hand embedded in his ass.
It?s now Rick?s turn, and Billy not only puts a fist but much of his arm and then both fists at the same time up Rick?s seemingly elastic butt. It?s rare we see double-fisting and never does anyone take it as easily as Rick appears to. He cums while both of Billy?s fists are deep within him.

Brian Mills and the Titan crew have added an impressive chapter to their Folsom Tetralogy. Whether one is into leather or not, FOLSOM UNDERCOVER has something for everyone.

Fisting and watersports occur on the Director's Extended Edit and on the Blu-ray version (which actually contains both version.)

The Bonus section contains a brief Behind the Scenes, Photo Sessions, Cumshots, and an Interview with Darius and Max, wherein we learn that Darius designs clothes and Max models a few of them. Of course Max would look good in a gunny sack, but Darius? designs are indeed very attractive. Let?s hope he uses Max to model them on his site. Meanwhile check them out in this superlative film.