Copperhead Canyon
(56)
| | |
| --- | --- |
| | Get it with a Free Trial! |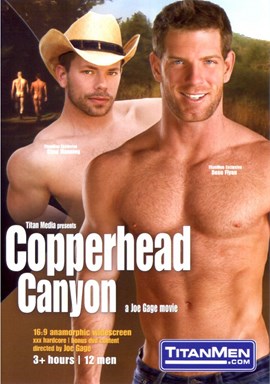 Performers
Director
Studio
Category
Duration (approximate)

Joe Gage

Titan Media

180 minutes

Date Added:
12/16/2008
Production Year:
2007
Format:
DVD
There are currently no member reviews. Be the first to review this title.
Industry Reviews (1)
Reviewed by Joe Shaver 09/06/08
Source: AdultDVDTalk



Joe Gage?s latest film for Titan is not to be missed! The plot centers around the escape of and search for a criminal in the backwoods of Colorado. Handsome Bill Madison is the escaped criminal and virile Matthew Ford and downright-pretty Luke Riley are those in pursuit. Along the way we meet other associates of our guy-on-the-lam who send the sexual heat soaring.

The film opens with Ford driving along the back roads with his prisoner. He has chosen these remote hoping to avoid a rescue by any of Madison?s gang. They pass by a hitchhiking Luke Riley and then Madison says he needs to take a piss. Ford uncuffs his prisoner and lets him out of the car. Seeing the car stop Riley goes to investigate and comes across the guys relieving themselves. Ford is distracted by the pretty blond that has joined them enabling Madison to seize Ford?s revolver and cell phone, rip Riley?s lucky medallion from the youth?s neck, and tie them belly to belly to a tree. Madison then barrels off in Ford?s car.
Struggling to get out of their bonds turns both captives on and as soon as Luke is free he gobbles down Ford?s dick. It doesn?t take Ford long to free himself and shoot his load and he is irresistibly driven to return the favor by sucking on Luke?s manly rod until his uniform is covered in the blond youth?s cum. Ford then sets off on foot to pursue his escaped prisoner and Luke follows to recover his medallion.

The scene that follows is to my mind the hottest in the film. It?s the classic seduction of a willing youngster by a gorgeous older stud.
As Dean Flynn is taking a piss and talking to Madison on a cell phone about an escape vehicle, Kurt Wild, the young son of one of Dean?s pals, has stolen a used pair of Dean?s underwear and is sniffing it while jacking off.
Dean is one of my favorites in the Titan stable. He has a handsome face, his muscular chest is covered with hair, and he is no slouch in the dick department either. Coming into the room he sees what Kurt is up to (pun intended) and soon has the kid unzipping his pants and sucking on his cock. Tentative at first, Kurt is soon fulfilling his fantasy and then some. With both now naked, Dean swallows down the young studs cock with even more relish than Kurt had on his.
After both have shot their loads, the sex moves into a yet more fervent phase as Dean fucks Kurt with unrestrained passion. Both guys appears to really be into one another and the usually bottoming Flynn shows himself to be a topman without parallel as he screws Kurt six ways from Sunday. (If you don?t get off watching these two go at it then you?re dead.)
At the end when they are both once a again awash in sweat and cum we see that someone has come into the room: no doubt Kurt?s papa.

I would love to have seen him fuck the hell out of Dean for fucking his son, but we move on to the two mechanics who are tuning up Madison?s getaway RV. (Maybe Dean?s comeuppance will be in a sequel.) Once again we have a scene with two hot guys: Chad Manning and Leed Scott. They take a break form their automotive labors to suck some cock and fuck. After mutual blowjobs, the attractive hirsute Leed lies back on a blanket to enable Chad to rim his ass and drive in a hefty cock.

This is followed by a scene with Ago Viara and Joe Strong who are entrusted with guarding Madison in his RV. Unfortunately it is the weakest scene in the film (the only weak scene, I might add.) Nowhere near on a par with the others. That the director himself took little interest the scene and rushed it through can be seen by its brevity and by the fact that we join the fucking in medias res unlike the other scenes where we properly see the fucking being. A pity since the guys are hot. Personally I would have cut the scene-especially as these two take part in the final scene to much better advantage.

Now oddly enough for the fifth scene we have a scene which has nothing whatsoever to do with the plot, but it does put the sex back on tack. Wolf Hudson and Antonio Milan are escaped convicts making their way through the woods when they see an officer (Rick Powers) ambling down a dirt road. They strip out of their orange prison gear and pretend to be just two guys getting it on in the woods. To add to the illusion Antonio starts sucking Wolf?s cock. The officer is so taken by these manly studs going at it that he takes over the cocksucking, blowing both.
After all have cum, the two hunky prisoners take turns feeding Rick their cocks both fore and aft until all three cum again.
Rick now gets a message on his cell phone telling of the tow escapees, but he has had such a good time with these fellows that he gives them an hour?s head start.

After the preceding divergence we are back with our plot. Having been guided by a transmitter in the stolen car and phone Matthew and Luke arrive at Madison?s RV. As the unsuspecting Madison comes to the door of his RV he discovers his pursuers. Luke rips his medallion from Madison?s neck. (Due to careless editing we see the medallion reappear and disappear around Madison?s neck several times.) Now for reason?s known only to the writer/director but we won?t quibble, Luke drops down and starts sucking Madison?s cock. Matthew then brings his dick to the young man?s lips.
They take the action inside the RV where with all naked Luke continues to chow down on Madison?s ample cock while Matthew kneels behind Luke and eats out his ass.
Then with Luke now up on the bed Madison fucks him royally. (It?s almost as good as the fucking Dean gave Kurt in scene two.)

Ago Viara and Joe Strong have been watching through the RV?s window so when Ford and Madison come out (an obviously exhausted Luke remaining inside) Ago and Joe decide to get in on the action. Ford goes for Joe?s long uncut member and Ago goes for Bill?s still randy dick. Before long Ford is lowering himself onto Joe?s dick and Madison is giving Ago some of what he gave to Luke.

As the film ends we see a once-again handcuffed Madison riding off in the car with Ford. (Why Ago and Joe didn?t overpower the fucked out Ford, remains a mystery.)

[Jeff Slurry one of the backstage guys appeared briefly at the beginning of scene three. He?s a sexy guy and one hopes Titan might persuade him to appear before the camera more often and with more involvement.]

COPPERHEAD CANYON is a film you will not want to miss. The scene with Dean Flynn and Kurt Wild ranks right up there with the classic seduction scenes such as that of Mike Henson and Kevin Williams in BIG GUNS. And the scene in the RV with Bill Madison and Luke Riley shows how young guys should be fucked. The other scenes with one exception are also cock-raisers. Brian Mills' filming of the action was up to his usual super standard and, as usual, Titan gives us generous bonuses especially with the photo sessions and the fluffing. In short COPPERHEAD CANYON is a film you will want to watch again and again.
The film is also available on Blu-ray.