Bareback Temptation
(17)
| | |
| --- | --- |
| | Get it with a Free Trial! |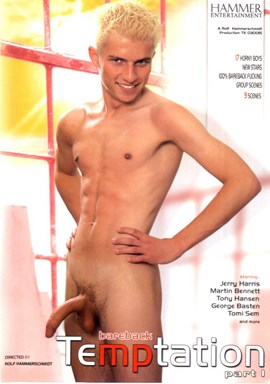 Performers
Director
Studio
Category
Duration (approximate)

Rolf Hammerschmidt

Hammer

140 minutes

Date Added:
09/19/2008
Production Year:
2007
Format:
DVD
There are currently no member reviews. Be the first to review this title.
Industry Reviews (1)
Reviewed by Joe Shaver 09/30/07
Source: AdultDVDTalk



If you?ve ever wanted to see the pretty boys of Bel Ami fuck bareback, this hot item is probably as close as you?ll ever get. It too is set in the Czech Republic and its participants come from the same delectable gene pool.

Except for one scene, the action takes place in a woodworking shop. (I?m going to resist any obvious puns.)

There are nine scenes, some of which are just oral and one only a mutual jack off; but that still leaves about half-a-dozen scenes with these pretty twinks fucking away sans condoms and swallowing down their partner?s cum.
Three of the scenes are threesomes, but that is only for the oral part. When the fucking begins one of the guys leaves so the other two can get to it. (It would have been a nice change to see the third guy stay around a take part in a m?nage, but they?ve obviously never wanted to butt in.)

There are some truly beautiful young guys here. In the first scene Tony Hansen could hold his own with any of the Bel Ami performers and he not only sucks cock and tops, but lies back to get fucked, too. Ricky Valentine is a sweet blond bottom. Nick Parker is a young guy built like the proverbial brick shit house. He only jacks off in his first scene, but allows a cute thing to suck him off in his second. And then there?s a very cute shaggy haired blond?Sancho Sun?who bottoms in the final scene. (Sancho also has a big uncut dick.)

There is little variety in the action and the camera dwells too long on close-ups of the cocks going into the asses, when with beauties like these we want to see the whole picture!

The director is Rolf Hammerschmidt who helmed Man?s Best for eons.
The cover states that this is Part 1. I?m certainly going to keep a lookout for Part 2. Meanwhile I suggest that you give in to temptation.