Ass Stretcher 04
(50)
| | |
| --- | --- |
| | Get it with a Free Trial! |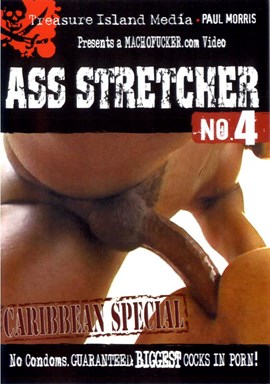 Performers
Director
Studio
Category
Duration (approximate)

Paul Morris

Treasure Island Media

112 minutes

Date Added:
03/31/2019
Production Year:
2008
Format:
DVD
There are currently no member reviews. Be the first to review this title.
Industry Reviews (1)
Reviewed by Joe Shaver 11/10/08
Source: AdultDVDTalk



The fourth in the series where willing bottoms take on big dicks bareback. Something for size queens.

There are three bottoms:
Cayo, a small young Latino
Adriano, an attractive young Latino
Jack, a young light-skinned African-American

There are three tops, and one guy who just gets sucked off. The tops are:
Pablo, a dark-skinned Latino whose uncut cock is the biggest
Zulu, an Africa with a tattoo of Nelson Mandela on his abdomen
Ruff Rider, an unattractive African-American
Enigma, a Latino who just gets a blowjob
The costume for the cloned tops is a baseball cap and shades.

The first scene opens on young Cayo sucking Pablo?s huge uncut black cock that belongs more appropriately on a horse.
?Fuck the boy!? someone behind the camera yells.
Cayo is hurled onto a bed. Pablo applies some lube to Cayo?s ass and shoves in his cock. Cayo doesn?t get hard. He has a small uncut cock that seems even smaller compared to Pablo?s. Cayo appears to have shaved pubes here.

The second scene is announced as ?Enigma fucks Cayo?. He doesn?t. Enigma just sits there watching a straight porn video as Cayo sucks on his cock. He then starts jacking. Cayo licks the side of the cock and gobbles down Enigma?s cum.

Scene three introduces Zulu and Adriano. Adriano is lolling on the bed. Zulu feeds him some cock, and wastes no time in giving Adriano a few fingers and his cock. Their sidesaddle moves into a doggy style where Zulu cums in Adriano?s ass. Adriano pushes the cum from his ass.

The fourth scene features Ruff Rider and Jack. I found them boring.

In scene five, Ruff Rider fucks Adriano. He cums deep in Adriano?s ass. Adriano sucks the spent cock clean.

The final scene brings back Cayo along with Ruff and Zulu. They take turns fucking Cayo, treating him like a ping pong ball.

There are no interesting camera angles, no passion from any of the performers, and no imagination exhibited whatsoever. Using the same performers from scene to scene added to my boredom. Watching a boa constrictor swallow a rat is interesting only the first time we see it. Watching these same bottoms take a big dick is similar.