Folsom Prison
(55)
| | |
| --- | --- |
| | Get it with a Free Trial! |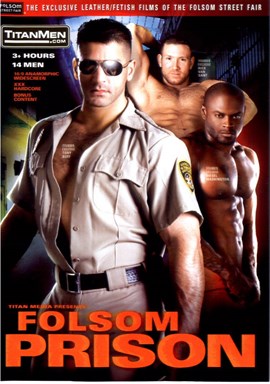 Performers
Director
Studio
Category
Duration (approximate)

Brian Mills

Titan Media

180 minutes

Date Added:
08/14/2008
Production Year:
2007
Format:
DVD
There are currently no member reviews. Be the first to review this title.
Industry Reviews (1)
Reviewed by Joe Shaver 07/06/08
Source: AdultDVDTalk



Director Brian Mills makes Titan?s FOLSOM PRISON so intriguing that viewers may have to resist an urge to rush right out and commit a crime.

Things begin when officers Markus Ram and Bjoern Giger discover that Diesel Washington is being held in solitary for assaulting a fellow officer. Seeking revenge they enter the cell, beat the prisoner, and string him up.
Then instead of further tormenting Diesel, Markus force-feeds his black meat his fellow officer Bjoern until he cums. A cut-away to Diesel shows him loosening one of his manacles.
Sending Bjoern away to get some ?tools?; Markus turns his attention to Diesel, freeing Diesel?s hard cock, and urinating on the suspended prisoner. He then grabs onto Diesel?s straining dick and jacks him off with an occasional suck. Diesel cums on Markus belly and hard cock.
In a surprising move Diesel lifts his legs, grabbing Markus? around the neck. Freeing himself Diesel KO?s the startled guard.
When Bjoern returns Diesel overpowers him, strips him, and gives him a revenge fuck. Then it is Markus? turn. Diesel gives him the fuck of his life. A handcuffed Bjoern watches and pisses on himself.
When the fuck is over Diesel pisses on both of the handcuffed guards. Putting on one of their uniforms, Diesel is apparently free to walk out of the prison.

Although he has been in several films for Titan, Tony Buff has never looked as hot as he does here. He plays a head guard who is unhappy with his stoolie, Alex Baressi. So when Vinnie D?Angelo brings Alex into an interrogation room Alex is pummeled, face and ass fucked, pissed on, and fist fucked. It is a scintillating scene and although I?ve given it rather short shrift here, it is certainly one of the film?s best scenes. (I just found it so mesmerizing I forgot to take notes.)

In a flashback featuring prisoner Chad Manning (Tony?s favorite inmate) we see Chad and Trey Casteel escaping from the prison and arriving at the abode of Matthew Ford where Chad is freed from his chains. Hearing noise coming from his workshop Matthew encounters the escapees. They overpower him and make him suck their cocks?a chore Matthew doesn?t seem to mind at all.
When Matthew needs to urinate, they won?t let him leave but get him to piss on Trey. Chad pisses on his buddy, also, which causes Trey to piss on himself.
After jerking off, the action moves outdoors where Chad is put over a lumber pile. Matthew eats out the escapee?s ass and he and Trey then take turns fucking the unprotesting lad.

The second disc of this two-disc set begins with guard Vinnie D?Angelo bringing a good-looking prisoner (Dak Ramsey) to meet his lawyer (Rick van Sant). The sleazy lawyer tells his client that he can free him but for a price. Dak knows what the price is and so kneels to fish out Rick?s arcing cock (that I once described as resembling Gonzo?s nose) and starts sucking.
Vinnie?who has been listening outside the door?enters and strips the prisoner. Dak?s arms are black with tattooing and he has a nicely haired chest. Holding Dak?s hands behind his back, Vinnie drops down to suck both his and Rick?s cock. Now naked himself, Vinnie rises and lets Dak return to the sucking. Dak gags on Vinnie?s thick tool. At one point Dak docks his cock with Rick?s foreskin. Dak licks the thus conjoined cocks. Vinnie pushes Dak into a chair where the prisoner jacks off. Vinnie and Rick plant their loads on him.
Dak is then placed on his back on the desk and Rick slides his cock in exposed hole. As Rick fucks his client, Vinnie gives Dak a hand job; then moves around to shove his cock up Rick?s ass as Rick fucks Dak. When it?s Vinnie?s turn to fuck Dak, Rick moves around to sit on Dak?s face. (Rick has only removed his pants and still wears his shirt and vest.) All cum again.
Dak now takes charge, putting on a black glove and lubricating it. Rick?now nude except for his shoes and sox?gets up onto the table and sits down on Dak?s clenched fist. It goes in with astonishing ease. Rick bounces up and down on the fist, rising off it on occasion to reveal an anus that is a gaping tunnel and then plopping back down.
Rick stands up on the table. With Vinnie?s assistance Dak drives?not only his fist but his arm all the way to the elbow?up Rick?s ass!
?Oh, that?s good!? Rick moans as Dak punches his arm deep into Rick?s guts.
Rick unleashes an impressive load.

Every prison film requires an obligatory shower scene. That is what follows. As Chad Manning and Derek da Silva are showering Damien Crosse is nearby pissing on himself. It?s a strong stream that makes its way to Damien?s mouth. Chad and Derek are attracted to Damien?s hard cock. Chad shoves Derek to his knees before Damien?s hard dick. Derek not only sucks Damien?s dick, but Chad?s as well.
Chad?s cock delightfully curves up at the end. He goes over and lies back on a bench. Damien follows and goes down on him. Derek follows and starts eating out Damien?s ass.
Tony Buff enters. He watches what is going on, hauls out his cock, and unleashes a torrent of piss.
Damien now lies on the bench with his head resting in Chad?s lap. Derek lifts Damien?s legs and Damien fires off a load of cum in his own mouth. The others shoot their loads.
Tony summons fellow officer Dominic Sol and they join the festivities. They pummel Derek and Chad joins in. Tony applies a stun gun to Derek?s cock and balls causing him to piss himself. Derek is then put back onto the bench and gang-fucked.
Tony lures Dominic away. Tony sits on the closed toilet and Dominic sits on Tony?s cock. Chad and Damien carry on with Derek.
Tony then returns to have another go at Derek and all cum on the well-fucked lad.

As Tony is left with Chad (his favorite prisoner) the film ends with a surprisingly tender and romantic scene. Chad soaps up the guard, paying particular attention to Tony?s ass. They kiss before Tony gently lowers Chad down to his anxious cock.
After sucking Tony?s cock, Chad rises and leans on the shower stall and turns around. Tony slowly insinuates his cock into Chad?s waiting ass. He reaches around to grasp Chad?s cock and strokes him to orgasm. Tony cums on Chad?s ass. Tony holds Chad in his arms; then sends him back to his ?cage?.

There is a Behind the Scenes which shows the guys having fun. There is also an Additional Scene (an expansion of the Tony-Alex fisting with Tony inserting a large metal cylinder deep into Alex?s ass). Cumshots complete the bonus.

With bondage, S & M, rape (along with watersports, fisting and the stun gun in the Director?s Expanded Edit) and an affectionate relationship with a prisoner and a guard, Folsom is everything one could want in a prison flick. The performers are masculine as hell, the sex is scintillating, and the production values?as always with Titan?are of the highest professional caliber. Unless you?re restricted solely to a diet of chicken, Folsom Prison is a must have on the menu.