Warehouse
(39)
| | |
| --- | --- |
| | Get it with a Free Trial! |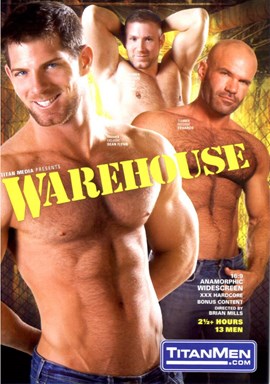 Performers
Director
Studio
Category
Duration (approximate)

Brian Mills

Titan Media

150 minutes

Date Added:
11/01/2019
Production Year:
2007
Format:
DVD
There are currently no member reviews. Be the first to review this title.
Industry Reviews (1)
Reviewed by Joe Shaver 08/15/08
Source: AdultDVDTalk



The action begins with sexy bare-chested Damien Crosse taking a piss in an abandoned warehouse. He holds his prick up so that the stream splashes his chest and reaches as high as his mouth.

He is observed by Dak Ramsey, whose arms and belly are covered in tattoos. Dak approaches, falls to his knees, licks Damien?s piss-drenched body, and swallows down his cock. Dak gags on the hefty appendage. Damien also goes down on Dak. They go at one another?s cocks as though they haven?t seen meat in weeks. (They even exchange great gobs of spit.)

From behind some crates Ago Viara, a chunky young guy with a jaw-line beard, watches and starts striking his dick. After Damien and Dak have shot their loads they hear moans form the now naked Ago as he cums.

Seizing the spy, they tie him to the posts of a bunk bed that happens to be in the warehouse and Damien drenches him with piss. Damien then gives the released Ago a thorough rimming and fucks him without mercy while Dak fucks Ago?s face. Dak then takes a turn at the young voyeur?s ass. (Interesting to see hairy balls on the fuckers.) Dak then turns Ago over for a missionary fuck and soon all are cumming again. (All seem to have bought their boots from the same store.)

Elsewhere in the warehouse Eduardo (who has been around since the flood and who has never done anything for me) watches Chad Manning (who is something of a newcomer and who does lift my spirits). Chad gets a beer from a fridge. He then drops to his knees for Eduardo to piss on him; then sucks Eduardo?s dick.
Eduardo also partakes of Chad?s fine organ and both cum.
Following this Chad pisses on himself and Eduardo adds some more. They then flip-flop fuck with Chad fucking the cum right out of the older dude.
Happily, bare feet replaced the clunky boots.

The third scene begins with Darius Falke driving up and entering the warehouse where he encounters Tommy Blade. They kiss and then spit on one another. (When did spitting become erotic? If someone spit on me, I?d knock the living shit out of him.)In a repeat of the pattern for the first scene we have a third stud spying on them?in this instance the pretty Matt Baxter.
Tommy goes to town on Darius? impressive penis, clutching Darius? balls as he does. (Darius continues to spit on him.
Again as in scene one, after the two cocksuckers have cum they are joined by the third whom they rim and fuck. (The clunky boots are back.)
There is a variation from the first scene in that while Tommy is fucking Darius comes up behind Tommy and fucks him.

The second disc opens with Victor Banda sneaking into the warehouse and lighting up. He hides when he hears the night security guard Dirk Jager making his rounds and watches as Dirk hauls out his manly tool intending some quick relief.
Hearing a noise, Dirk finds Victor and forces him to service his horny cock.
Soon both are naked and Victor?s? dick is all the way down Dirk?s throat.
Victor shoots a load and Dirk plants his load on Victor?s bare foot.
Dirk now stands Victor up against a shelf and eats out his ass preparing it for his cock. After the standing fuck, Dirk flings Victor onto his stomach over a bench to continue the fuck. Victor grimaces as Dirk?s big cock finds its mark. Dirk then finishes up fucking Victor in the traditional missionary position, pulling him to the end of the bench and holding up his legs. Victor cums again.

The following morning Dominic Sol enter the warehouse to find one of my favorites Dean Flynn eating out the armpits of Rick van Sant. Basically this parallels the first scene of the film with the voyeur joining the original duo for mutual cocksucking and then fucking.
There is some variation in the director?s edit with Rick shoving his own fist up his ass and then the others fisting him as they continue to fuck.

For a bonus there is a photo session with the performers along with a cumshot review and previews of other productions.

As always with Titan the guys are manly and sexy, the sex is good, and the photography is excellent. But the film doesn?t come up to Titan?s usual standards. Somehow?even with all the watersports and the fisting in the director?s edit?the film seems weak. The fact that so many of the scenes follow the same basic pattern creates this impression. It?s as though it was rushed to meet a deadline. Nevertheless even a less than excellent Titan is better than most of the stuff out there.