Under the Big Top
(39)
| | |
| --- | --- |
| | Get it with a Free Trial! |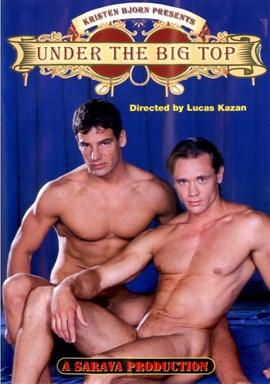 Performers
Director
Studio
Category
Duration (approximate)

Lucas Kazan

Kristen Bjorn

140 minutes

Date Added:
12/23/2020
Production Year:
2002
Format:
DVD
There are currently no member reviews. Be the first to review this title.
Industry Reviews (1)
Reviewed by Joe Shaver 08/19/03
Source: AdultDVDTalk



Having used opera as an inspiration for L?Elisir D?Amore and A Sicilian Tale (Cavalleria Rusticana), Lucas Kazan has now taken the plot of Leoncavallo?s I Pagliacci to create Under the Big Top. The strolling commedia del arte players of the opera have been updated as circus performers. Nedda the unfaithful wife becomes Nello. Other characters? names remain the same.

The opera opens with a sung prologue. A favorite among operatic baritones. Unfortunately Kazan has made the disastrous choice of having it sung by a singer who cannot sing it. Why, he didn?t dub it if he wanted to use it, is beyond me. Wisely the singer does not try for the high notes at the end. He would have been even wiser not to have attempted the aria in the first place. Opera lovers and non-opera lovers alike will cringe and I suggst they just move on to chapter two where we find two supreme examples of masculine pulchritude (Slava Petrovitch, the Nello, and Pietro Rosselli, the Canio) kissing on the beach.

The lovers are then discovered under the big top where Pietro is licking Slava?s balls and luscious uncut cock. He slides his tongue under the foreskin. He literally makes love to the penis. After a time he turns his action to Slava?s beautiful behind. Tongue is followed by finger. Finger is followed by dick. The sex is long and languorous and beautiful to watch. After both have ejaculated, Slava slips his dick into Pietro. The salon music in the background is distressingly schmaltzy. Slava pulls out to cum on Pietro?s back, and then gives head to Pietro until he brings him off. Slava Petrovitch is a muscular blond Russian with a long arcing uncut prick. It is easy to understand his fascination for others. Pietro Roselli, the Canio, is a gorgeous specimen also and it is difficult to think of Nello betraying him. That is until we meet Silvio. But that is yet to come.

In the meantime, Vilem Cage?well-known to many viewers?is working out with two acrobats: Antonio Armani, a blond beauty, and Max Veneziano, a muscular hunk whose large foreskinned cock (as we shall soon discover) juts out from a crotch completely devoid of hair. Their workout is visually stunning. More balletic than gymnastic. Erections pull out the front of their tights. Soon their dicks are free and everyone's naked. An oral pyramid begins with Vilem sucking on Max?s splendid shaved appendage as Max sucks Antonio. Vilem and Max shoot big loads. Then it?s time to form another pyramid for ass-eating. Following this Antonio moves over to a large hoop (the kind lions jump through) and balancing himself with one foot on the hoop, opens his ass for Vilem. As Vilem fucks him, Antonio goes down on Max?s hairless wonder. He turns around on the hoop so that Max and Vilem can change ends. Then its back again to suck Max and offer his ass back to Vilem. Vilem withdraws and cums by rubbing his cock on Antonio?s scrotum. Max cums with Antonio licking the side of his cock. But these hunks aren?t though. Antonio sits on Max?s dick while Vilem sucks Antonio. Withdrawing Max?s dick, Vilem rips off the condom and brings him off. Vilem then continues to give Antonio head until Antonio produces another fine load. When we last see this threesome they are climbing a hanging rope ladder to the top of the tent. I was expecting some aerial high jinks, but that was it.

As in the opera, Nello is approached by Tonio (played here by Ivan Andros) who declares his love. Nello spurns his advances and Tonio vows revenge. Silvio, Nello?s secret lover arrives and we discover why Nello would cheat on a hunk like Canio. That?s because Silvio is played by Max Orloff whom viewers will know better either as Pavel Novotny or as Jan Dvorak. Whatever name he uses, he is the epitome of masculine beauty with several websites devoted to his adoration and is quite possibly the most perfect man on the planet. Silvio makes plans with Nello to run away after the performance. Tonio sees them kissing and follows them into the tent where he observes their lovemaking. Slava goes down on Max and brings him off. Tonio?s long dick is rock hard and throbbing as he watches the lovers. Max then goes down on Slava. Slava?s balls writhe in their sac. Slava cums. Max now prepares to skewer Slava?s ass. His cock slides in with ease. After both have cum, the spying Tonio shoots a tremendous load and rushes off to tell Canio of Nello?s unfaithfulness. Slava once again makes oral love to Max?s cock and then fucks him. MAX ORLOFF/PAVEL NOVOTNY/JAN DVORAK GETS FUCKED! And in the missionary position yet! Seeing this godlike being taking that long uncut Russian dick up his ass is awesome! Everybody cums. Max, Slava, and me.

Canio arrives in time to see the departing Silvio. He asks Nello for the name and is about to become violent, but Tonio intervenes and reminds Canio it is time for the performance. As Canio puts on his clown makeup, he recalls the idyllic love of himself and Nello on the beach. As the performance begins we cut away to the grid where Ivan is getting it on with three roustabouts. They are the awesomely built Cesar Moreno and Tiziano Cortese and the adorable Antton. Ivan is giving oral satisfaction to Cesar while Antton is doing the same for Tiziano. Cesar and Tiziano both cum. Ivan delivers a remarkable no-hands cum shot as Cesar stands behind him and runs his hands over his torso. Cut to the play where Canio is presenting Nello with a flower. When we return to the roustabouts we find Antton chewing on Ivan?s nipple as Cesar prepares to enter Antton's ass. Tiziano shoves it to Ivan. Another brief look at the play and we return backstage where Cesar is giving Ivan a standing fuck and Antton is sitting on Tiziano?s prick. All cum. As we return to the play onstage, the acting has become real as Pietro tries to force Slava to tell the name of his secret lover. In the opera Silvio rushes forward to save his beloved and is stabbed for his pains, but that doesn?t happen here. Canio strangles Nello, and having killed him turns to the audience to tell them the play is over. (The famous last line in the opera is ?la commedia e finito?. Here it?s ?Lo spettaculo e terminato?. Why this change? Che strano!)

Well, you won?t find guys who are more beautiful than these anywhere. And to see them actually having sex (even somewhat robotically) is incredible to watch. I found the background music to be both inappropriate and distracting. As noted above, I find salon music a questionable choice for sex. For sipping tea, perhaps, but for sucking cock, not really. Besides we already have the music of the sighs and grunts of the actors that seems to me to be music enough. Yes, I know there?s music in opera, and when themes from the opera appear at appropriate times in the action, that?s fine. But for the most part I just wanted to turn off the sound and watch these living sculptures go to it. There are no additional things in the extras section but a photo gallery. A director?s commentary would be an attractive bonus. That said, Under the Big Top is another fabulous achievement by Lucas Kazan. Not quite on a par with L?Elisir D'Amore and A Sicilian Tale, nor the incredible non-operatic Hotel Italia, but it?s very beautiful indeed. I?m pleased to add it to my collection.

Kazan is to be applauded for attempting something new. Now, I wish his next operatic adventure would be Carmen. Why not? It has soldiers in (and hopefully out of) uniform, wanton gypsies, and a macho bullfighter. Alexander Byazrov would make a super ?seductress? Then, too, there?s also Thais. The possibilities are endless. But one thing is certain. Once Kazan tackles an opera, we will never listen to that opera the same way again. "Divesti la giubba".

-------------------------------
Please note that Kristen Bjorn DVDs are available at KristenBjorn.com for three months before they are released to other stores. This review refers to the extended version of the DVD available at KristenBjorn.com rather than the regular version later available at retailers.