Breeding Ian Jay
(39)
| | |
| --- | --- |
| | Get it with a Free Trial! |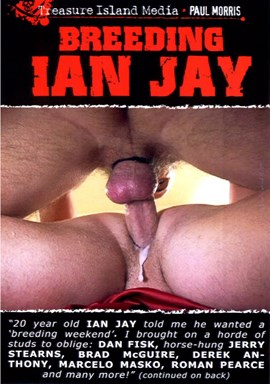 Performers
Director
Studio
Category
Duration (approximate)

Paul Morris

Treasure Island Media

90 minutes

Date Added:
06/10/2008
Production Year:
2007
Format:
DVD
There are currently no member reviews. Be the first to review this title.
Industry Reviews (1)
Reviewed by Joe Shaver 02/09/08
Source: AdultDVDTalk



Treasure Island Media was one of the first studios to throw caution to the winds and start making bareback films in the Age of AIDS. When they use the term ?breeding? it implies that semen is deposited within the ass.

Most of the guys volunteering for this hazardous experience are over-exposed porn stars attempting to hang on to their profession or else someone unable to get fucked off-screen. It is rare that one finds an attractive sexy young pup willing to take on all cummers. Such a rarity is twenty-year-old Ian Jay.

This desirable young sex-pig is first paired with Dan Fisk, a daddy-type who really enjoys getting a young piece of ass. They kiss a lot; Ian sucks a bit of cock; and they fuck in a variety of positions. Ironically it?s the hottest fucking in the film. Unfortunately though, Daddy Dan seems to have cum deep within Ian?s bowels?a delight for Dan no doubt?but not very rewarding for the viewers.

Ian is then willingly accosted by Brad McGuire and Jerry Stearns, both of whom are familiar to Treasure Island viewers. Brad who was doing well in porn with condoms has obviously decided he likes it raw (there?s BRAD McGUIRE?S 20-HOLE WEEKEND for example) They follow the traditional ?breeding? in these films by withdrawing the penis when it begins to ejaculate and then quickly inserting it back into the anus. Jerry?s large black dick looks particularly good in Ian?s lily-white ass.

A gray-haired daddy is up next: Derek Anthony. When he pulls out to cum and then reinserts himself some cum is left around the anus. Ian scoops it up and eats it. Derek feeds him more.

Saturday afternoon finds Ian in a sling surrounded by horny guys. Marcelo Masko eats out Ian?s ass in preparation for the event. Marcelo then drives his pierced cock?Prince Albert and all?up Ian?s butt. As he does so Ian sucks on a large black cock belonging to the handsome Champ. Once Marcelo has come, Derek from the preceding scene takes over for a lengthy fuck. (Marcelo hangs around orally cleaning off the scummy cocks after they finish in Ian?s ass.)
Wayne plows Ian next and is followed by a young Latino, Danny.
Champ is next and, after shooting his load and driving the sperm in deep and getting a sucking cleaning from Marcelo, fucks Ian again.
Marcelo sucks Ian?s ass clean and tongue-fucks the now-swollen pucker.
Derek cums again?this time in Ian?s mouth?and a heavily tattooed Max gives Ian a rough and rapid fuck.

On Sunday, we find Ian?now wearing a nose ring as he did in the Brad McGuire film mentioned earlier?sitting down on a long black cock belonging to Roman Pearce as Roman lies on a bed. The ultra hairy Will scuttles around popping Roman?s cock back in Ian?s ass whenever it pops out and giving an occasional suck to Ian?s cock.

Then that afternoon Will gets ?bred? by Ian. I guess guys with hairy backs turn Ian on as his cock is hard a steel now in order to give Will a violent fucking. Of course, after all Ian?s been though it?s only fitting he should finally cum.


Although Ian?s pretty cock never responds to the fucking (except in the final scene), the rest of him sure does, as his body writhes in ecstasy and his moans convey enjoyment. I thought it awesome that cocks go so easily into Ian until I discovered that young Ian has taken more than cocks up that pretty butt, having made his debut in SEXPACK 6: CAN OPENERS where a fist made its way into that pleasingly pliable rectum (a practice he has continued for Dark Alley media). This guy bears watching.