ParaShooter
(42)
| | |
| --- | --- |
| | Get it with a Free Trial! |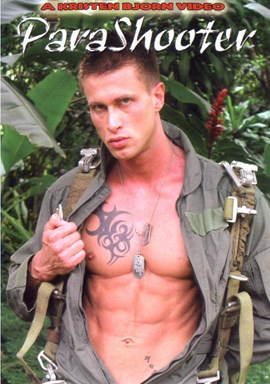 Performers
Director
Studio
Category
Duration (approximate)

Kristen Bjorn

Kristen Bjorn

150 minutes

Date Added:
05/03/2020
Production Year:
2003
Format:
DVD
There are currently no member reviews. Be the first to review this title.
Industry Reviews (1)
Reviewed by Boner Bud 01/01/05
Source: AdultDVDTalk



There's so much sex and there are so many beautiful men in Kristin Bjorn's latest flick Parashooter that it's overwhelming. In fact, it's dang near impossible to describe it all, but I'll try.

The Plot
Parashooter is the story of soldiers who are dropped into the mountainous regions of South America on a recon mission to monitor the activities of drug lords and their cocoa plantations. The first thing you should know about this movie is that rather than letting each scene end before moving on to the next scene, all of the scenes are intermingled with each other. This is one of ...