Jeff Stryker's Underground
(22)
| | |
| --- | --- |
| | Get it with a Free Trial! |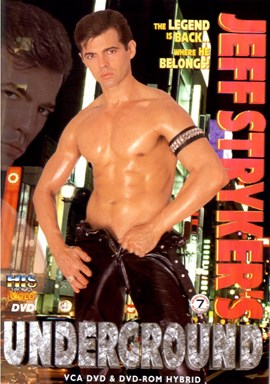 Performers
Director
Studio
Category
Duration (approximate)

John Trennel

HIS

96 minutes

Date Added:
12/16/2022
Production Year:
1997
Format:
DVD
There are currently no member reviews. Be the first to review this title.
Industry Reviews (1)
Reviewed by Netguy 01/27/01
Source: AdultDVDTalk



Jeff Stryker's Underground
Company: HIS DVD
Year Released DVD: 1999

Cast List: Jeff Stryker, Chris Dano, Corky Adams, Derek Cameron, Logan Reed, Paul Morgan, J.C. Carter, Eddie Ramone, Chris Anthony, K.C. Hart to name a few.

Original Release Date:1997

Synopsis: Jeff Stryker narrates and shares his sexual stories and conquests with an unkown writer, including bathroom, barn stable and glory hole scenes.

Features: This disc was digitally remastered for DVD and features a Photo Gallery (all of 6 pics- big deal!!), brief biography of Jeff with some small stills of him moving up along the side as you read the biography, a tour??? thats what the menu says but it just takes you to the bio??,chapter selections, and DVD-ROM compatible

Review: The movie starts with Jeff narrating in his deep raunchy voice talking about his sexual fantasies and visiting these so called underground sex clubs. I hate to admit it but Jeff's starting to show his age a bit in his face....but then again, do we watch him for his face?? He's still got one of the meanest dicks around!

scene1:
He talks about the clubs where, we cut to an orgy taking place with probably just about the entire cast and then some. Jeffs above in a balcony area watching below and near him are two guys getting it on sucking each others cocks while Jeff takes an occasional glance. There is lots of action with the orgy, guys sucking, rimming, taking two cocks in their mouth at once, jerking off...oh, and lots and lots of cum! Got milk? The actions pretty hot while Jeff does his usually raunch talk-either you love him or hate him-I had to chuckle when he was fantasizing that the guys below wanted his "telephone pole" dick!! Anyway, Jeff strokes his big cock while most of the action goes on down below. One of the two guys by Jeff does lick Jeff's ass for a bit but then they leave Jeff to his lonesome...seems like he hasnt done this thing before...yea right...the guys below all shoot their loads...a few of them can really shoot! And their are a few good "cum on my face" shots. Two guys stand right below where Jeff is and kiss and jerk off and Jeff does the same until he shoots his wad..look out below guys! (Jeff doesnt cum very much and it seems to take him a while? another sign of age?)

scene 2:
Jeff talks about walking into the bathroom and seeing a cute blonde but cant bring himself to do anything just yet...(is Jeff talking to a shrink?) Anyway, enter Paul Carrigan on Christopher Zale...Paul has some raunchy talk too...."you want that cock dont you?" (must have gone to the Stryker School of Sex Talk!) anyway, I kind a like it! :O) So Paul finally gets Chris bent over the piss trough and shoves his big dick up his ass..just before they come Chris turns on the water just above the trough and is running the water all over his face and hair-I just picked that up and it was kind of sexy...back to Jeff talking about seeing two guys once in one of these clubs in a waiting room...

scene 3:
cut to Corky Adams sitting playing with himself when Chris Dano comes in. Not sure what the fuss is over Corky-he's a cute twink but he was barely hard...and Chris, although he has a nice bod, isnt much of a looker...this was probably the weakest of the scenes...you see someone cum at the end-its suppose to be Corky but you dont get a face shot so it could be a cock stunt double....lame. But wait...the next scene more than makes up for it....

scene 4:
Jeff is out riding a horse in the park....then rides into the barn where a hot stable man-Derek Cammeron is grooming his horse. Well, lets just say this scene is the best of the bunch!!! I always fancied a roll in the hay! Now I know why Dereks won so many awards...he goes down on Jeff like its a pixie stick!! I dont recall seeing someone take Jeff all the way but it was hot...Derek sucks, and sucks until Jeff turns him over and shoves that huge dick up his ass. Derek just seemed to be in his rightful place! Not only could he deep throat him he took it up his ass with no problem! (He's gotta be stretched out after that one!) But the whole scene is hot and glad theirs "chapter search"!!!

scene 5:
this one wasnt a big turn on for me but for those of you who like glory holes....a strapping leather man walks into a "so-called" room where we have 5 holes each with a nice big cock sticking out....we hear Jeff narrating while the leather man, sucks one, strokes one, does another and so on....(in the beginning of the scene you could see some bare waists so it was obviously just half a wall...they goofed a bit there...anway he licks, sucks and strokes them all off...gets some cum on his face....yada yada yada...

scene 6:
Jeff is in a bar room with a pool table watching a hot blondes ass. Also is a guy with a leather mask on who asks Jeff if he wants to take the blonde..."why no mr leather man...I'm here to play pool!" haha Anyway the blonde-Paul Morgan takes Jeffs mean cock while he sucks on mr leather-Logan Reed. Then they switch and Jeff fucks Logan. Its a pretty hot scene....back to Jeff finishing up with whomever he was talking to...Damnit, I cant stop thinking about the barn! ...think I'm going to go replay that one....

oh by the way in case you were wondering the horses names were Tango & Coal! hahaha Saw that in the credits and got a kick out of it.

overall if you like Jeff Stryker and his throaty, raunchy sex talk, a great orgy scene and the barn stealing segment..this ones for you....the sound and picture quality were very good....the extras as with most adult titles amounted to nothing.