Hard Studies
(23)
| | |
| --- | --- |
| | Get it with a Free Trial! |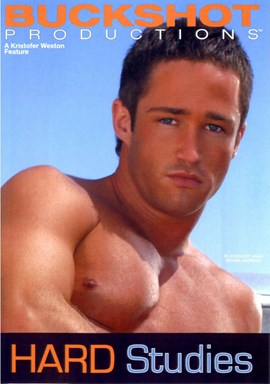 Performers
Director
Studio
Category
Duration (approximate)

Kristofer Weston

Colt Studios

120 minutes

Date Added:
06/10/2008
Production Year:
2006
Format:
DVD
There are currently no member reviews. Be the first to review this title.
Industry Reviews (1)
Reviewed by Joe Shaver 01/01/07
Source: AdultDVDTalk



Aussie Brian Hansen has come to an American college ostensibly to get an education. What he really wants is some hot sex with the man of his dreams. With a face and body such as he has, Brian should have no trouble whatsoever, but his problem is that he?s shy and just doesn?t put himself out there.

This is not the case with his roommate Park Wiley who?as the film opens?is in the sack with studly Josh Weston. I almost didn?t recognize Josh, as he doesn?t have the smooth clean-cut appearance of his Falcon films. Instead there is a light growth of hair on his sculpted chest and long pointed sideburns slanting down his cheeks. Oddly he looks very collegiate in the Falcon films but doesn?t here. Still, I will take Josh however I can get him. As the film opens they are naked on Park?s bed, kissing and banging boners.

It is at this point that Brian arrives home and sees the door to Park?s room bearing a ?Do Not Enter? notice and hears telltale noises from within. He sits down at his laptop, dials up a porn site, and starts jerking his joystick. He hastily covers up when Park unexpectedly?proceeded by an erection?bursts into the room in search of a much-needed condom. Once again alone, Brian wastes no time in returning to his frustrated mission and produces a quick emission.

Unlike Brian, we now join Park and Josh in the bedroom. These boys are sucking cock and eating ass like hungry jackals at a carcass. The condom comes in handy when Josh decides to give Park a rip-roaring bonk. He fucks this guy six ways from Sunday. At one point Park is up on his shoulders with Josh standing at his head and straddling his legs to pile drive into his upturned ass.

It?s quite a surprise then when Josh lets Park have equal ass-time. Park stuffs his cock into the tightly muscled stud and gives him as good as he got. If seeing Josh Weston get a hard fucking doesn?t bring the sailors out of the submarine, you?ve got a problem.

Brian heads off to the library (which is not a good place to meet hot men) and then goes to a gay bar (which is). Park is there and he tries to convince Brian to stop looking for a dream man and just go in for some uncomplicated sex. But Brian is a romantic and wants no part of uncaring anonymous encounters. Park does, and he heads to the backroom of the bar in search of some.

There, in the back of the bar, Park finds three leather dudes: Diego De la Hoya, Ken Browning, and the ultra sexy Alex Cobel. Park joins them for a four-way frolic. Yet it?s more quantity than quality in this scene.

The next morning Brian is awakened by a phone call from Alex Chandler inviting him over for some fun with a cute young guy that he?s picked up who has ?great lips?. Needless to say sex without love is not what Brian wants. Alex on the other hand is quite willing for some uncommitted sex, especially if it includes (as it does) a cute twink with great lips like Danny Roddick. To combat a rapidly receding hairline, Alex has wisely chosen to shave his entire head and no doubt everything but his pubic hair. The result is most attractive.
Out on the balcony of Alex?s apartment Danny is on his knees putting those ?great lips? to work. Danny is doing a fantastic job, but Alex wants more than those lips. He ushers the young student inside, pushes him down on a chaise, and falls on top of him. Before long, Alex has freed Danny?s dick and is giving it the oral attention it deserves.
Like perhaps some of you, I had fantasized over Danny in a Freshman magazine spread. This was the first time I had seen him in action. He is one hot little stud muffin. I get really turned on by cute twinks with some hair on their chests and big dicks. Danny is a prime example. Danny has ?great ass lips? as well. His is an ass that begs to be eaten?and Alex does just that, driving his tongue in as far as it will go. Then pushing Danny?s legs back up over his head?Alex drives in his hard cock. (Be sure and use plenty of lube or you?ll blister your dick watching this.)

Meanwhile Brian has decided to put himself out and has made a date with Brock Hatcher. Yet when Brian arrives for the date he is briskly sent away since Brock is already fixed up with Hank Dutch. Although he is hurt by this rejection, Brian is actually fortunate as neither Brock nor Dutch is the stuff that dreams are made of (unless they are nightmares). I really don?t know why these guys are in this film as neither could pass for students. They look more like refugees from the World Wrestling Federation. Papa bears whose bulk is due more to beer and pizza than gym work. The sex between them too is merely conventional and I found the entire scene a boring interlude.

But things are looking up for Brian and for us. While exercising at the gym to alleviate his frustration, Brian spies Colt model Adam Dexter working out nearby. This ripped black stud has been a fantasy for Brian; and here he is in the flesh. (And there?s a lot of Adam?s flesh on view.)
When Adam leaves and heads back to the lockers, Brian gets up the courage to follow. Yet when he enters the locker room Adam is nowhere to be seen. Dejected, Brian slumps down on one of the benches. But Adam has only been in the shower. He now enters wearing only a towel around his waist. Seeing the obviously unhappy Brian, Adam approaches and sits on the bench across from him. As they converse and Adam observes Brian?s inhibition, he takes Brian by the wrist and places Brian?s hand on his taut ebony pectorals. As though in a dream and guided by Adam, Brian runs his hand over the model?s tight musculature. Adam leans forward and they gently kiss. Brian falls to his knees, the towel falls from Adam?s waist, and Adam?s hard slightly up-curving prong is before Brian?s lips. He takes the cock into his mouth with grateful and greedy acceptance. The hottest part of the scene however is with Brian bracing himself on the top of a workbench while Adam, holding on to Brian?s thighs, lifts him up and down like a set of barbells with Brian?s cock going in and out of Adam?s mouth. (Ain?t ever seen that before!)
Of course Brian also gets the fucking he has yearned for and it has been well worth the wait.

The film ends with Park arriving back at their dorm room. He knocks on Brian?s door. The door opens and there stands a stark naked Adam. Brian?s fantasy?it appears?has become a reality.
Gaudeamus igitur.


Despite the weakness of the even numbered scenes, this film offers three odd numbered scenes of exceptional ingenuity containing some of the most scintillating sex I?ve seen in ages. Buy, beg, borrow, or steal this one. It is summa cum laude with an emphasis on the cum.