Side Effects
(16)
| | |
| --- | --- |
| | Get it with a Free Trial! |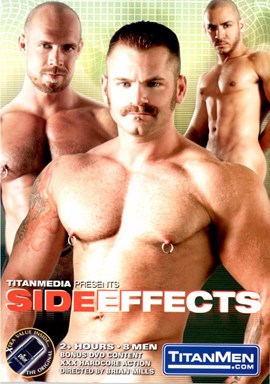 Performers
Director
Studio
Category
Duration (approximate)

Brian Mills

Titan Media

118 minutes

Date Added:
06/10/2008
Production Year:
2005
Format:
DVD
There are currently no member reviews. Be the first to review this title.
Industry Reviews (1)
Reviewed by Joe Shaver 02/25/06
Source: AdultDVDTalk



Titan films always begin (after their annoying sirens and multiple warnings not to copy) with a preview of the films we are about to see. Now I wish they wouldn?t do that as it takes away some of the surprises the film might have held. We know who?s going to top and whose going to bottom and where this is going to take place. Such previews belong in the extras section and should be for other films. There is no need to preview a film we have already bought or rented. So stop this, Titan, please! After all you have a top-notch photographer (as well as director) in Brian Mills, so why not start with some of his super photos of the models? Now having got that off my chest, I must say that?s the only major quarrel I have with this one. It has a sensible plot and is directed and photographed with Titan?s usual aplomb. In short, SIDE EFFECTS has some of the hottest men and some of the most dazzling sex you could ever hope to see on film!

As it begins we find psychiatrist Jake Deckard listening to one of his patients tapes and taking notes. The patient is Troy Gamaun recounting his dream. In his dream Troy is walking stark naked through a stark warehouse. On a ladder is Diego de la Hoya. Troy approaches and as his head is on a level with Diego?s crotch we know what?s going to happen next. Diego grabs his head and presses it into his crotch. Diego then strips off his shirt and hauls out his brown Latino cock. Troy?s own uncut cock is throbbing as he sucks on this dandy cock candy until Diego covers his chest in cum. Diego descends the ladder and holds Troy from behind as Troy brings forth his own load. Diego catches the joy juice in his hand and feeds it to the spent youth.
As Troy bends over the ladder, Diego inserts his tongue up Troy?s ass. This is followed by his prick, bringing Troy?s own cock to its full stiffness. Diego fucks him hard and deep with rapid plunges. They move over to a box covered in a drop cloth for the fuck to continue, eventually getting Troy into the position I and the missionaries like best. When Diego stops fucking it?s only so Troy can suck on his balls. Troy spews his load while so doing. Diego?s soon follows, licking his cum off Troy?s chest. (Why can?t I have dreams like this?)

Two sexy young beauties (Brad Star and Damon DeMarco) are next as one of them recounts over the tape recorder how his panic attacks began. Apparently they stemmed from the time when he and a buddy went down into a storm drain and the hatch fell shut and locked behind them. (Trapped with either of these cuties would certainly not cause me to panic.)
?What are we going to do?? Damon foolishly asks as they exchange meaningful looks.
Brad says he has to piss and hauls out his pisser. Damon does likewise and they send forth a pair of golden streams. When two young boys stand around with their pricks out something is bound to happen. Damon is the first to drop to his knees. He feeds on Brad?s bone until it?s time for Brad to sample Damon?s wares. It?s great the way Brad hesitates to indicate he?s never done this before. But he does now. Brad has a big dick and two stars tattooed on either side of his abdomen. A thumbprint of hair nestles in the indentation of his chin. Damon has dark hair, a light growth of it adorning his adolescent chest. Brad stands to jack off. Damon does too.
Once again a ladder comes into play as Damon leans against it and lifts his leg to give Brad access to his sweet hole. (Titan can?t resist the urge to advertise their lube by giving us a close-up of the bottle. It really strained my credulity to see a bottle of lube in the deserted warehouse in scene one. But in a storm drain? That Brad would have a condom handy I can accept. But that a bottle of lube would be conveniently located in a storm drain is as preposterous as creationism and as inaccurate as Cheney?s marksmanship.) It is however a fine fuck that concludes with Damon on his back. Damon is doused with Brad?s load. Damon adds his own contribution to the puddle.

Tober Brandt arrives for his session. He lies back on the couch and begins to tell Jake about his dream.
It takes place in the house where he grew up and Tober is younger. He goes down the basement stairs where he finds a young man (Zachary Pierce) in a leather jacket polishing a motorcycle. The young Tober is played by Tony Bishop. Now Tony Bishop could play me in any film. That he could play WITH me in any film would be even better. Tony looks like a college kid, handsome, clean-cut, with a lightly-haired chest. That is until we see a tattoo on that thick cock. Zachary is equally handsome and sports a three-day growth of beard. Tony smiles at Zachary. A long shot shows them both bare-chested as Zachary advances toward Tony and they kiss. Their cocks are out and they bang together like epees. Tony licks his way down Zachary?s chest to his cock and balls. He licks the hard shaft and testicles. His lips descend over Zachary?s cock. An aerial shot gives us the first view of Tony?s tattoo on the top of his prick as he (and it) rises to kiss Zachary. Once again he drops down to consume Zachary?s dick. After more kissing, Zachary works his way down Tony?s delectable body to lather his luscious tattooed tool. He rubs his rough beard against the shaft and returns to swallowing the thick member. Then?binding Tony?s balls?Zachary hangs a heavy length of chain from them drawing them downward and continues his succulent sucking of Tony?s rampant cock. After a bit, Zachary pulls over a bench and stands on it so that Tony can give suck to his cock. As he slurps on Zachary?s cock, Tony beats his own cock to orgasm (not an easy feat with all that chain pulling down on his balls). He continues to suck Zachary, until Zachary too shoots a creamy load.
Tony is next seen lying on the floor with Zachary sitting on his face. Tony?s tongue drills right in there, and that?what with also swallowing Zachary?s testicles?causes Zachary to cum once again. But Zachary, who has more stamina than a thirteen-year-old on Viagra, lays Tony across the seat of his motorcycle; slides a condom onto his still rigid dick; and inserts it up the handsome young stud?s rectum for a truly hot fuck. After a time Tony bends over the cycle to take it doggy. ?Harder!? he requests. They return to the missionary position where Zachary lubes up for another go and fucks the cum right out of the insatiable Tony. Zachary then cums for the third time (as do I).

As Tober finishes recounting his dream (which I wish was mine) Jake rises from behind the desk. He walks over to the recumbent Tober, unzips his trousers and hauls out an erect cock.
?Open your eyes,? he tells Tober.
Jake lifts Tober?s head and places the hard cock in the patient?s mouth. Opening Tober?s shirt, Jake plucks a pierced nipple. He removes his own shirt to reveal that he too has pierced nipples and lots of sexy tattoos. He?like Tober?also has a fantastic build. Both of these hunks?and hunks they are?have trimmed their pubic hair so close that it?s almost non-existent in order to give more emphasis to their imposing flesh poles.
They pause only to kiss. After which Jake consumes Tober?s hot shaft. Tober wraps his belt about Jake?s neck and face-fucks him. Again they stop in order to exchange tongues and rub their raging cocks together before Tober once again swallows down Jake?s noble rod and gets some face-fucking himself. Jake climbs up onto the sofa to sit on Tober?s face and gets a thorough rimjob. He dismounts only to go to the end of the sofa, remove Tober?s socks, and suck on his toes. He even fucks his cock between Tober?s toes and, holding the feet together, fucks between them. Jake then crawls up onto the sofa to consume Tober?s cock and drive Tober crazy with lust. How Tober can keep from cumming, I?ll never know. Jake then moves down to eat out Tober?s ass. But before he starts to fuck he rises to stand over Tober and spray him with piss. He goes back to sucking Tober before each lubes up and jacks off. Tober is now not only wet, but sticky.
Raising Tober?s legs and putting them on his shoulders, Jake slides his cock into Tober?s more-than-ready hole. After a time?with the condom still on his cock?Jake crouches on the couch in order for Tober to fuck him. Tober thereupon gives the doctor a taste of his own medicine. Jake too becomes the recipient of a piss-shower. Tober licks some up to deliver to Jake?s mouth before returning to finish the fuck.


As always Titan is generous with their extras. Behind the Scenes, Cast Interviews (one with Tober & Jake; another with Diego & Troy), Photo Sessions with the admirable Mr. Mills, a Slide Show, and a Cumshot review.

Although the film may not have the glitz of some of the Titan spectaculars, the film nevertheless has Titan?s unequaled production values: super sets, good music, expert photography, and strong sure direction. Don?t let the less than captivating cover fool you. This is one to get.
A package of their lube comes with the DVD. You?ll need it for this one!

(Note. This review is of the Director's Cut. There is a regular version without the watersports for those not into that particular activity.)


A word or two about these hot performers.
Tober Brandt with his appearances both in and on the cover of this film and Titan?s previous film CIRQUE NOIR seems to be Titan?s flavor of the month. He was also in their BIG MUSCLE and MANPLAY 22.
Jake Deckard also appeared in BIG MUSCLE. He can also be seen in Rascal Video?s WRONG SIDE OF THE TRACKS.
Diego de la Hoya was featured in Titan?s BACK TO BARSTOW.
Brad Star was in Michael Lucas? AUDITIONS 6 and has done films for Jackrabbit and Falcon.
Although quite young, Damon DeMarco is a seasoned performer having appeared not only in Titan?s ALABAMA TAKEDOWN but also in films for Rascal including WRONG SIDE OF THE TRACKS.
Cute Troy Gamaun is apparently making his debut here and I hope he goes on to make many films.
Tony Bishop, who has certainly gone to the top of my lust list, has starred in many films from such fine studios as Falcon, Studio 2000, and Raging Stallion.
Zachary Pierce started with Citiboyz Studios and has gone on to heat up the screen in film from Falcon, Catalina, Hot House, and Channel 1.
It?s worth your while to check out their films.