Heaven To Hell
(38)
| | |
| --- | --- |
| | Get it with a Free Trial! |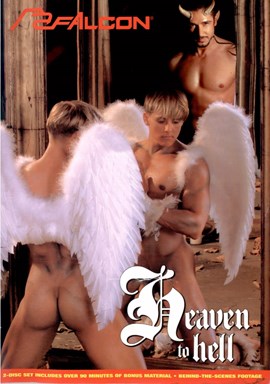 Performers
Director
Studio
Category
Duration (approximate)

Chi Chi LaRue

Falcon

164 minutes

Date Added:
11/12/2021
Production Year:
2004
Format:
DVD
There are currently no member reviews. Be the first to review this title.
Industry Reviews (1)
Reviewed by mcbg1 08/29/05
Source: AdultDVDTalk



For her last movie with Falcon Studios, director Chi Chi Larue goes all out with an extravagant and delightful production:

Heaven to Hell

. With a stunning cast consisting only of Falcon Exclusives, this movie raises the bar of gay porn. The sets and the makeup might raise a few eyebrows at first but rest assured, it never distracts from the most important feature of porn, the sex. Another highlight of the movie: Brad Patton bottoms for the very first time on camera! Here's a short breakdown of every scene:

Scene 1 A white-winged Brad Patton is brought into a room by gorgeous Josh Weston and the two men kiss. Some oral and rimming action follows while Joe Sport comes in which leads into a very hot three-way. Joe gets the honor of being the first man to ever top Brad Patton on screen! Lucky Josh also get a piece of the action and the scene ends with some great cumshots.

Scene 2 This next scene features the devil, played by British hottie Dean Monroe, who wants some evil fun of his own with his 3 slaves: Tristan Adonis, Roman Heart and Colby Taylor (one of my favorite Falcon stars, thank god he decided to come back on our screens!). They all trade blowjobs followed by Dean and Roman getting fucked by the two other guys. This scene features lots of energy and ends with the 3 slaves coming on Dean's face and body. Very hot!

Scene 3 Scene 3 features Matthew Rush and Erik Rhodes who trade kisses, blowjobs, rimjobs and they even flip-flop. Great scene but probably my least favorite of the movie.

Scene 4 The orgy. This sizzling scene is the highlight of the movie. Featuring the entire cast of Falcon exclusives, this scene features a one hour long (yes you heard it right, one hour!) orgy that blew me away. Everybody is busy blowing, rimming or fucking someone. You can feel the heat in the room. The inclusion of Falcon newcomer Kane O Farrell is very welcome. Before everybody is ready to come, we witness some stunning dildo action performed on Dean Monroe and Roman Heart. Quite a sight to see!

DVD Extras This 2 DVDs special edition features the movie on disk one and a second disk dedicated to extras (which is quite rare for a Falcon movie). The extras disk includes a 90 minutes making-of documentary showing everything from the arrival of the stars to the set, to make-up and costuming, to the actors fluffing each other and finally, some hilarious moments from Chi Chi who gets very into directing the movie. The disk also features a great gallery, an isolated sequence and cast biographies.

Overall Opinion With Heaven To Hell, Chi Chi Larue delivers one of her best production ever for Falcon Studios. The amazing cast alone makes this movie worth the price.