Bang
(9)
| | |
| --- | --- |
| | Get it with a Free Trial! |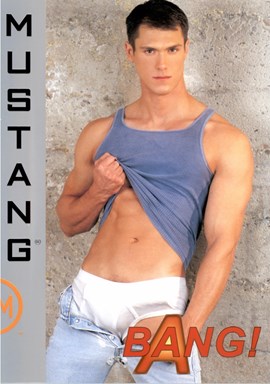 Performers
Director
Studio
Category
Duration (approximate)

Chi Chi LaRue

Mustang

90 minutes

Date Added:
03/01/2010
Production Year:
2000
Format:
DVD
There are currently no member reviews. Be the first to review this title.
Industry Reviews (1)
Reviewed by folkyboy 03/10/03
Source: AdultDVDTalk



The Director: Chi Chi LaRue
The Studio: Mustang/Falcon
Time Length: 1 hour 18 minutes
Cast: (in order of appearance) Luke Sabre, Enrico Vega, Shane Rockford, Daniel Reed, Talvin Demachio, Marco Mancini, Gordon Gage (misspelled in title as Gauge), Yuri Breshnev


The Plot
Inadvertently, Bang! doesn't start off with a bang. Rather, it takes us till scene two, before any banging actually takes place. It's almost weird to actually call it, Scene two as the whole entire movie is filmed in this greyscale warehouse with a few props placed randomly around. But anyhow, our movie begins:

Scene One
I liked how it kind of starts with this main title and face shots of each actor giving coy eyes at the camera. Finally, it whittles itself down to just two actors (Enrico Vega and Luke Sabre) and our scene begins. Right away, I felt the editing was a bit distracting. Everytime they switched positions, we'd get one of those montages of their faces staring sexily into the camera and then back to the scene at hand. For example, we start off with a wooden bench and Enrico standing over Luke. I really am a fan of Enrico and was waiting to see what I was about to be gifted. However, unbeknownst to me, Luke Sabre can't suck a cock to save his life. So poor Enrico just sits there semi-hard while Luke tries desperately to wow him. I was starting to become disappointed by the effort. Even Luke's half-assed attempt at rimming pissed me off. It was kind of hot how he'd work his tongue in the crease but only because Enrico's potty mouth made me believe Luke was doing something. (When we know he wasn't.)


So we've edited out the cussing Chi Chi LaRue probably gave Luke Sabre for doing whatever the fuck it was he was doing (which is everything), and we've switched positions. Only this time Enrico sucks off Luke. But see, Enrico can do one helluva job on a boy's cock. His tongue is a gift from the porn gods (and thank those gods because I was starting to go soft). So we're treated to a lot of heavy sucking and Luke's potty mouth, which made the rest of this scene a lot less boring than it's intro. It's here where Luke really shines and makes me think that "woah...maybe he's going to be the top!" But even more editing shows that Luke knows how to serve his ass up on a platter like a pro. I loved how Enrico ate it heartily too! Like I said, Enrico can work his tongue and I finally was left dazzled by this scene. (This scene, and the last scene are definite contenders for the best of the film.)


At the end of the two boys' tryst, right when I thought things were going to bang!, Enrico sheathes a condom and Luke sucks him some more. Then, Enrico cums in the condom and pulls his cock all the way out of Luke's mouth and let's Luke just suck the tip. Oh so hot! There's even this weird gross part where Enrico takes the whole condom off and then constantly dips it in and out of Luke's mouth. I guess it's the closest we'll see to Falcon doing facials anymore but whew! it lit my fire!


Scene Two
Left so heated by the scene prior, I was expectant of something really amazing here. The weird intro stills of Shane Rockford and Daniel Reed show me who is on their way to perform. I actually purchased this film because of Shane and knew something good was about to come up. Shane is a versatile performer and it's always hard to feel out which he's going to do in what scene, so that was basically my initial reaction. What position is Shane going to play today? I was desperate for some more anal action and really wanted that to be first up. Not that Enrico didn't do a wondrous job on Luke in the scene prior, but I still wanted something pumping to feul my engines.


Daniel kind of writhes off the floor and onto the jeans Shane is wearing. (Shane seats on a stool and has a big metal spoke from a tire above his head, hung on the wall. This proves great to hold onto come later.) Shane has on a leather vest and looks really cute in his tall gangly way. I wasn't too impressed with Daniel, though. Something about him made me less than wowed. Maybe it's because he was a bit too bottom for the scene. Shane looks gay, so it's hard to pair him with anyone and have it look believable. Daniel seemed like he just felt he was hotter than he was. I don't know. He wasn't ugly. He just wasn't all that for me (unlike Luke who was hotter than he acted).


So obviously, yes, we start out with oral and Daniel Reed trying to suck off Shane. But Shane's cock can get hard for anything so we're treated to some nice shots of just Daniel fucking his own face with Shane's prick. I like this one part especially where Daniel gets it all wet with his spit and then gently pulls away, letting the tendrils of spittle collect from the head of Shane's cock to his own lips. That's really all about what I liked from this scene. The rimming scene, where Shane hovers above Daniel, seemed too forced and Daniel didn't seem like he was comfortable laying below Shane's body weight. Even the fucking (with Shane on top) seemed just weird with Daniel on bottom. I honestly think it was Daniel too, because Shane really let him have it. Normally, grudge fucking would get me going but here, it was only so so. Oh! Daniel does know how to shoot though. All the guys in the film are good at that, actually. Geysers baby! Shane almost bukkakes Daniel's left side of his face then bends down and licks it all off. Maybe if they'd have spliced the few parts I actually enjoyed from this scene together, it would have been great!


Scene Three
But we're onto Scene Three much quicker than I expected. The first scene was so long, I expected scene two to equal in length but thank god it didn't. We open up on Yuri Breshnev sucking off Talvin Demachio and Enrico Vega. Across from them, Gordon Gage sucks on Marco Mancini. I was excited to see Enrico again here, so already this scene had me hooked in. I wasn't too thrilled with Marco, though. He seemed too stiff to be saying the things he was saying to Gordon. He looked really hot, I just wish he would've acted as such. He was too straight, in my opinion. Also, Yuri just didn't seem like he was doing much on the two guys in front of him. That's my main problem with the film. Every scene just didn't ignite right away. That's something I expect out of Falcon and the prices they love to charge.


Eventually, the rest of the cast join the cocksuckers, and we're more or less treated to an orgy. (It didn't feel much like an orgy though. Kind of scripted.) There's a point where Encrio and Yuri dock that's really hot and then they 69 whilst Talvin Demachio rims out Yuri. Then Daniel Reed comes up from behind and rims out Talvin. I also like a lot of the cocksucking that takes place when Luke and Gordon basically mouth fight over Marco's prick. It all kind of abruptly ends though when editing takes us to an 8 man man rim chain. And, as suspected, Marco is the only man not eating out hole. I really love this, though, because it features so many different types of ass. Some men are really good at it, too, whole others just barely do anything. I like that aspect of it because so often it's either one or the other. Some of the camera work in this scene was only focused on one thing alone, but it was still very hot to watch regardless.


After a long extended play, everyone kind of is branched off. Only, due to editing, we're never actually shown that. We just see Gordon and Enrico working over Yuri and Marco's cocks. Then we're shown Enrico fingering Gordon's ass (so nice!). I liked how Gordon tried to help him in get his cock in and he shoved his hand away and said "I got it." I told you, Enrico is one hell of a performer! After that, we focus on Yuri fucking a much too loud Daniel Reed and Talvin Demachio fucking Luke Sabre. It's so b-movie performers though as everyone does their role in the most scripted way. Not to say that the scripting can't be hot, but still.


The scene ends with Marco fucking Gordon on a wooden hurtle while Shane Rockford fucks Luke Sabre. The two bottoms make out while the tops go to work. Then Yuri Breshnev goes up behind and fucks Shane in a train. The train really wasn't as hot, to me, as Gordon Gage's moaning. They didn't even cum, either. Which is bunk.


Scene Four
Now this scene here, didn't actually feel like a seperate scene from the others. It's edited in with the rest and there were no montages or still shots to seperate. I just happen to call it a seperate scene because it was tracked as it's own chapter. Daniel Reed and Gordon Gage are sitting on barstools while the men from the cast come up behind them and dildo fuck them (one dildo per performer). This actually started to be hot until Daniel Reed opened his mouth and talked. He is SO faggoty! He even had the lisp thing going. The only other thing on this very short scene was the cumshots from everyone in the cast. And like I said before, that was very nice.


The DVD:
I don't know if it was my player or what, but this seemed to not play as smoothly as others. The coloring also seemed to be not on target. I didn't quite feel like a video on DVD, but it was still not as sharp. There aren't really any extras, per se, except maybe 2 previews at the end of the film. They aren't accessable through the main menu, however. So you're going to have to watch/or fast forward through all of scene four before getting to them. But they actually look hot. (Too bad they aren't on DVD yet.) They are for MVP41: The Guy Next Door and for MVP43: Nightwatch II.

So All & All
I don't feel like I wasted my money. I read other reviews for this movie before and I kind of knew what to expect. Also, with Mustang movies, you tend to get a hit & miss effort. It's newer talent and they're usually not as apt to give you the goods. But I actually didn't hate the film. So that's a good thing. I dunno if I'd watch it a lot but definately again. The cumshots are some of the best I've seen in awhile...