Tales From The Foxhole
(9)
| | |
| --- | --- |
| | Get it with a Free Trial! |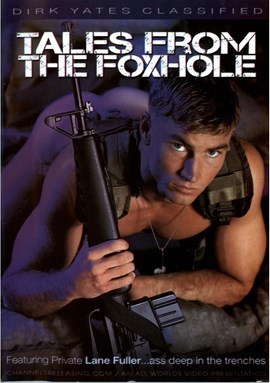 Performers
Director
Studio
Category
Duration (approximate)

Channel 1 Releasing

102 minutes

Date Added:
04/12/2017
Production Year:
1999
Format:
DVD
There are currently no member reviews. Be the first to review this title.
Industry Reviews (2)
Reviewed by TouchDown Tony 02/25/02
Source: AdultDVDTalk



Title: TALES FROM THE FOXHOLE

Director: Dirk Yates

Starring: Lane Fuller, Lee Lyons, Bryce London, Haus Weston, Matt Bandero, Lee Johnson and

Billy Herrington

Running time: One hour, thirty-nine minutes

The marines have landed, and they?re ready for action. Hot, sweaty, jungle-love type action. For those of us with an affinity towards macho men, in and out of uniform, TALES FROM THE FOXHOLE delivers the goods. Director Dirk Yates has recruited a few good men, and created a near classic film from a very good script that takes the viewer from the war-games jungle of a
military maneuvers expedition, to the hotel rooms where directors will pay military men to parade before his camera and to the barracks where studly marines try to catch a good night?s sleep. For once in a piece of adult filmmaking, the characters and their dialogue ring true. This is the land of constant erections, and mine was no exception: there?s so much energy generated by the film?s four scenes that a minor suburban town could be lighted brightly for an entire night.
Mike Donner has developed a wonderful script, far better than his DIRTY HAIRY, which uses Lance Fuller and Mike Lyons to the best of each of their advantages as youthful leathernecks spending an evening on training maneuvers; getting to know each other a
little better. Creating a dynamic frisson, Donner?s script calls for Lyons to be str8 and knowledgeable about Fuller?s gayness. The stories they have to tell about themselves (and their friends) form a nice framework for the sexual scenes sandwiched in between.
A nicely acted dialogue between Lyons and Fuller gives a good set-up for the first scene; Lyons explains about his only man-to-man sexual encounter, and viewers get to watch as he and Bryce London have a drunken oral tryst in a hotel room. Although this gets the film off to a slower start than I like, the buddies? attraction/repulsion is palpable. The short and taut Lyons allows the sturdy London the opportunity to suck his thick dick, then barely reciprocates before both are spent. London has a beautifully formed chest, with huge, suckable nipples. A nice directorial touch has Lyons gently pushing London?s hand away as they both drunkenly fall asleep.
A little more pillow talk from Fuller and Lyons leads to Fuller telling of a man he knows who films marines jacking off, and how he once took a friend over for a bit of on-camera play.
The second scene, my favorite of the four, finds producer Dirk Yates putting in a cameo appearance as baby-face and fatted Haus Weston accepts the offer to pose for Yates from his buddy, Lane Fuller. Yates? face is never scene in his cameo, but his voice leads Weston into a nifty little strip. Weston is not as toned here, and his tiny bit of baby fat is cute, rather than gross. A few Budweisers down the line has Weston stroking naked on the bed and asking for his
buddy to come in and join him. Fuller does, and some hot and heavy tongue action commences. Both Fuller and Weston are cute, in the kewpie doll sense of the word, and they generate genuine sparks between them. Weston?s bubble-butt gets a lot of play from Fuller?s short, but thick cock as Fuller engages in the rarely seen frottage form of sex. Weston opens his ass-lips for a lot of heavy rimming, and in barely a whisper, begs for Fuller to fuck him. Great foreplay leads to
some very good sex, with the only drawback being Fuller?s pimpled butt.
As the storm in the night thickens, Lyons has an intense dream, which is the film?s third scene.
Gruff Billy Herrington, as a drill instructor, awakens a barracks full of marines, taunting them
into a group scene. Herrington has Fuller give him the full treatment, while the rest suck and jack-off amongst themselves. Fuller is given a full-throttle verbal and sexual workover, as Herrington commands and rises to the occasion. Things reach their hottest when Herrington shoots his load, not only onto Fuller?s face, but into his mouth as well. Yummy! Herrington demands that the remainder of the gobs shoot their loads onto his hat, and more yum occurs.
Only one or two of the guys can?t get it up for the camera, which works its way between the central action between Herrington and Fuller, and the off-shoot group grope.
Another excellent dialogue scene between Fuller and Lyons as the storm clears and dawn breaks and the boys both wake up horny. Fuller offers to turn his back should Lyons care to jerk off, but Lyons thinks that it would be more exciting to be watched, and one thing leads to another.
Fuller is better in this scene than in the second, his cute little butt is no longer rash infested or pimply, and Lyons, though only adequate as a line-reader, is an energetic, willing bottom who eventually tops Fuller. There should be a lot more morning afters like this one.
The dvd boasts a fairly firm picture; as with most of Yates? films, there are a few instances of lighting being off by a hair, and picture has some intentional grain, most noticeably in the atmospheric shots of the raging storm. I have to credit the set designer for a believable jungle setting in the wraparound segments; there are relatively few times when it looks like an indoor studio. The two channel Dolby Digital audio is average, but has a musical score which never intrudes on the action. The only feature (other than being chapter encoded), is a self-playing photo gallery, which runs about three minutes.
Tales from the Foxhole is one of those ?hit-or-miss? productions which I found to be more on target than off. The sexual combinations of Lane Fuller with both Haus Weston and Leo Lyons are arguably the best of the four sequences; while the appearance of Billy Herrington takes the heat up in the third segment. Of course, fans of Dirk Yates semi-amateur productions should appreciate the new route taken with this endeavor.

---
Reviewed by GaySatyr 06/29/01
Source: AdultDVDTalk



The Details

Title: Tales from the Foxhole
Studio: All Worlds Video
Producer(s): Dirk Yates & Dan Cross
Director(s): Dirk Yates
Story: Mike Donner & Dirk Yates
Videographer(s): James Stark
Editor(s): Stark Visual Images
Cast: Lane Fuller, Leo Lyons, Bryce London, Haus Weston, Matt Bandero, Lee Johnson & Billy Herrington (as the DI)
Date of Production: 1999
Running Time: 1:41:58 hh:mm:ss (scenes: 1:04, 20:47, 26:44, 29:14 & 24:07, respectively)
Menus & Chapters: Standard, ...