110 In Tucson
(36)
| | |
| --- | --- |
| | Get it with a Free Trial! |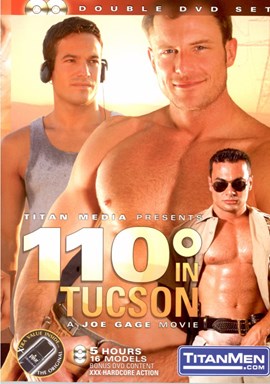 Performers
Director
Studio
Category
Duration (approximate)

Titan Media

207 minutes

Date Added:
02/08/2019
Production Year:
2005
Format:
DVD
Reviewed by Good 03/27/18
This is one of the best videos Titan men has made. The guys are very hot and the sex really is awesome! I highly recommend this!
Industry Reviews (1)
Reviewed by Joe Shaver 08/02/05
Source: AdultDVDTalk



It may be 110 degrees in Tucson, but the heat engendered by this film is far more scorching!

It begins with a disc jockey announcing the temperature, a temperature that has not prevented Andy Hunter from going on his customary jog. As he jogs past a patrol car, the officers inside decide to get out of the heat, check into an air conditioned motel room, and beat their meat. Apparently these solo jerk-offs have often been a break from duty, but today it is to progress far beyond individual pud-pulling. It is soon equally apparent that Ray Dragon, the elder of the patrolman, has a thing for his young partner, Ivan Andros. No doubt it was he who had suggested these breaks while on duty. Now Ray, stiff cock in hand, walks to the end of the bed where Ivan is lying stroking his hefty rod. Ray rubs his cock over Ivan?s boot. The young desk clerk Devon Cade goes to get the mail and drops it outside the room where the two officers are amusing themselves. Glancing in the window as he kneels to pick up the mail, Devon becomes transfixed by what he sees. So engrossed is he that he doesn?t realize he has been discovered until Ray is standing behind him. Devon is given two choices. He can either be taken to the police station or come in to the motel room. Obviously Devon chooses the latter option. Devon, it turns out, is just the catalyst that Ray needs to take the action beyond individual masturbation. He orders Devon to suck Ivan?s cock. The young desk clerk also sucks Ray?s impressive tool, but the main emphasis is on Ivan?s. In due course Ray can hold out no longer and his closet door bursts off his hinges. Leaning forward he consumes his partner?s cock to the hilt. Ivan accepts this change in the relationship. That is until Ray tells him it?s his turn to suck dick. Hesitantly, he slowly kneels and goes down on Ray?s throbbing member. Even when all have shot their loads it?s not over. Devon, now thoroughly into the spirit of things, goes and kneels over the side of the bed offering his ass to Ivan. With an encouraging look from his partner, Ivan goes over and plugs the inviting ass. Ray crawls up onto the bed pulling Devon?s mouth down to his cock. But it?s Ivan he wants, so he stands on the bed with his cock at Ivan?s face. The fucking Ivan leans forward and sucks down Ray?s rigid man-meat. After Ivan has pulled out to cum onto Devon?s back, it?s Ray?s? turn to ride that ass. Grabbing Devon?s legs he pulls him to the foot of the bed and drapes his legs over the footboard of the brass bed. Then, driving his cock between the bars of the footboard, he enters Devon?s ass. Ivan stands beside his partner watching the thick dick spearing the ass. He licks Devon?s handsome feet. Now comes one of the most astonishing conversions since the blinding on the road to Damascus. Ivan climbs up onto the bed beside Devon and drapes his legs over to footboard waiting his turn to get fucked! Ray has waited all his life for this moment and greedily skewers his cock into his partner?s proffered anus. The days of individual jacking off have come to an end (no pun intended). From now on these guys will be devoted fuck-buddies. The performers came twice in this scene. So did I. It is?without doubt?one of the hottest scenes this jaded reviewer has ever witnessed.

Once again our faithful disc jockey and our jogging Adam serve as a bridge between the action. Adam stops to piss and continues on past a house being renovated by Harry Baxter and his new apprentice. It?s the helper?s first day on the job. The temperature continues to rise in Phoenix and there?s no let up in the film either. Harry is played by Spencer Quest; the new apprentice by Luke Pearson. In breaking out part of a wall, Luke discovers a faded envelope containing pictures of guys having sex. He calls this to the boss? attention. ?It takes all kinds,? Harry wisely observes. Nevertheless, the pictures have had an effect on Luke who?although we and Harry can only see him though the hole in the wall?is obviously stroking a hard dick. The pictures give Harry some ideas as well and he suggests that due to the heat they knock off work and go back to his place to shower and get something cold to drink. There?s a funny moment when Luke calls the boss Mr. Baxter. And Spencer says though the hole in the wall: ?It?s Harry.? ?Hunh?? replies Luke looking down.

Once back at Harry?s apartment, Luke?having already showered and wearing only a robe?is sitting on the sofa. As Spencer heads off to the shower, he tosses the envelope with the pictures on the coffee table. Spencer returns from the shower naked and drying his hair. The fact that lamps and furniture hide his cock from us?but not from Luke?makes us anticipate even more. Spencer wraps the towel around himself and sits down by his young assistant. ?Is your dick hard?? he asks. ?No?, Luke replies. (I once had a scout leader sit on my bunk and ask me the same question once. Like Luke I replied in the negative. Spencer is more disbelieving then my scout master and perseveres.) He flips back the corner of Luke?s robe to reveal the cock lying hard across his belly. Spencer then reveals his own. Spencer, it must be noted, is one gorgeous stud. He also plays the part of seducer to perfection. It would be impossible to resist him. First he gets Luke to touch his dick. Then he begins pulling Luke?s head downward. Luke resists, but soon allows his head to be brought nearer the stiff cock. Tentatively he licks the head. Again and again he applies the taste test before going down on it. (The way to get ahead in business is to give your boss head.)

?You?re good,? Spencer observes ?you must have done this before.?
?Never.?
?Yes, you have.?
? Well, only once.?

Soon Spencer is shooting a creamy load onto his belly. And ordering Luke to go bend over a chair. Luke questions the reason for this but obeys. Spencer kneels behind him and eats out his ass, inserting first one and then two fingers. Spencer next sits in the chair and lifts his legs so Luke can rim and finger-fuck him. Spencer rolls a condom onto his cock and orders Luke to sit on it. No longer resisting anything, the youth does. Once again director Joe Gage and his fabulous photographers with some stunning close-ups have given us a sizzler.

Evening is coming on and our disc jockey seems to pulling a double?if not a triple?shift. Adam is still jogging. This guy is outdoing the Energizer Bunny. Young Hunter James and his straight buddy Jacob Riley are driving around town. They stop for a piss and Jacob notices Hunter checking out his meat. Hunter has some vodka and suggests they go to his father?s warehouse and drink it. There they are discovered by the night watchman Matt Majors. He accuses them of sexual hanky-panky, which they deny. He then orders them to get out of the car and show their cocks. Both are hard. Hunter?it must be noted?has a big one, long and very thick. Matt orders the boys to jack off or he will tell on them. After a while he orders Hunter to jack Jacob. Matt pulls out his own monument to Priapus. It?s a unique one: uncut, huge, with a large helmet-shaped head. It?s mouth-watering. Matt and Jacob spar with their cocks. Jacob touches the big boner. Soon Matt orders Hunter to go down on Jacob. Hunter looks questionably at his straight friend and gets the go-ahead. ?It?s the only way we?ll get out of here.? Jacob whispers. Jacob is enjoying the blow job. Matt brings his huge member into the vicinity and Hunter swallows it down. Like a bird hypnotized by a snake, Jacob kneels down so he too can taste the monster. ?It?s not that bad,? he says looking up at Hunter before going back to his cocksucking. Matt eats out both boys asses and sucks their cocks; then all shoot their loads. ?Time to fuck,? Matt asserts. He sits down on a loading platform, his cock at the ready. Hunter is coaxed to come over and sit on it. Gradually he lowers himself down onto the raging cock. Jacob?hard as stone?comes closer, intrigued. He?s anxious to feel that huge cock in his ass. As soon as he sits on the cock, Matt turns him over to pummel him in the missionary position. Jacob is thrilled as the huge cock reams his guts. Who would have thought it would feel so good. Hunter stands?stiff a poker?watching his friend getting his first fuck. I was hoping that he would drive his thick tool into Jacob?s now willing butt. But alas, he doesn?t. There is a clever conclusion to the scene that I anticipated, but will not reveal. You?ll just have to see for yourselves.

It?s now night. The temperature is still hot. The disc jockey is still on the air. Long after the Energizer Bunny has run down and stopped, Adam is still jogging.

A young redhead, Blu Kennedy, is getting ready for bed. There?s nothing prettier than a pale prick poking out from a patch of red pubic hair, and Blu has an exceptionally nice one. It?s also huge. After calling good night to his daddy, Blu puts on the ear phones to here the latest song from the radio station and takes a magazine of gay toons from under his mattress. As he is jacking that pretty prick, a burglar enters the room. Taurus, the burglar, looks longingly at the long pale cock and is quite taken with the family jewels. Wearing ear phones and engrossed in his magazine, Blu doesn?t hear the burglar until he?s standing by the bed. He looks up startled. ?You like cock?? Taurus asks. ?You won?t tell anyone,? says the shamefaced Blu. In response Taurus drags out his cock. Far more exciting that the toons, Blu sucks the cock eagerly. Taurus takes a dildo from his knapsack. He strips naked and turns his attention to Blu?s cock and ass. Not only does Blu have a pretty cock, he has the most fuckable ass I?ve ever seen. Taurus skewers it with the dildo and then inserts his own cock. ?Don?t!? Blu pleads. ?Stop!? ?Don?t!? Stop!? ?Don?t stop!? Don?t stop!? It?s a really hot fuck and I?m more disappointed than Blu and Taurus when Blu?s daddy, Nathan York, enters the room. If Nathan were indeed Blu?s daddy, it would be easy to see where Blu got his huge cock. Nathan punishes the burglar?if that?s the right word?by giving him a taste of a dildo and fucking him. Blu will also have his turn at Taurus? hole. This threesome draws the line at incest (though I would certainly like to see Blu fucked with daddy?s big dick) and although it engenders heat it?s not as exciting as the bit daddy interrupted. (Isn?t it just like fathers to spoil the fun?)

The final scene takes place in the radio station. Handsome Damon DeMarco delivers pizzas to disc jockey Bryce Pierce and the night crew?Daxx Reed and Tyler Kane. Challenged to show what he?s got, Damon drops trou to reveal a nice piece of man-meat. This inspires Bryce to sign off and strip down. Bryce has more metal in his cock than there is gold in Fort Knox. He?as do I?finds Damon?s dick irresistible and sucks it down. The others drag out their cocks and Tyler is so turned on he cums immediately. Responding to an on-the-air invitation jogging Andy arrives at the station. Bryce lets him. Ignoring Andy?s need for a shower, Bryce strips off the jogging suit and goes down on Andy?s stiff rod. Andy and Damon stand side by side stroking their cocks as the others enjoy the show. Damon lowers himself onto Andy?s cock. This segues into a doggy-fuck. Bryce needs to get in on the action so Damon lies on the floor and Bryce sits down on his cock. It?s not long before Damon?s cock in his ass causes Bryce to cum. Our young desk clerk Devon Cade arrives in time to see Damon and Adam double?fuck Daxx. When Daxx cums, he scoops the cum from Damon?s belly and eats it. Bryce finger-fucks Tyler causing him to shoot a load; and Andy gives a delight drubbing to Devon. Andy climaxing onto Devon?s back ends the film. And what a film it was!

BONUS DISC:

There?s a lot to be seen on the accompanying bonus disc. First off there are three interviews On with Spencer Quest which reveals a stud as charming as he is sexy, one with Luke Pearson, an equally agreeable chap, and one with Mark Weigle, a talented and articulate songwriter.
As always Brian Mill?s photoshoots are great to watch. I especially enjoyed the shoot with Blu Kennedy.
There is a cumshot review for those who want to cut right to the climaxes. And, of course, previews.
Additional scenes include the usual glimpse ?Behind the Scenes?.
Fluffing-- in which we get to see Blu blowing his ?daddy?; and Nathan sucking his ?son?.
The traditional music image gallery.
Deleted Scenes:
(1) Spencer cumming on Luke.
(2) More of the final orgy with Devon getting fucked by Bryce?s dick with all the piercings. Devon exploding as Damon drives into his ass.


Joe Gage, who?s been directing porn for probably longer than he wants to remember, just gets better and better. It?s awesome. Of course it helps to have Brian Mills on camera, masterful editing from James Sheridan, and super music from Mark Weigle and the other composers. Any one of the five scenes would have made this one to get. With all five being sensational it is an essential. Not only is 110 DEGREES IN TUCSON a great film, it sets a new standard in gay porn. Even after reviewing well over 400 films, I can truly say this is one of the best I have ever seen.