BuckleRoos 01
(51)
| | |
| --- | --- |
| | Get it with a Free Trial! |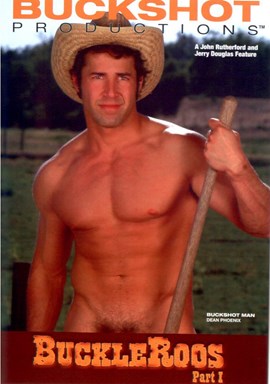 Performers
Director
Studio
Category
Duration (approximate)

Jerry Douglas

Colt Studios

117 minutes

Date Added:
03/04/2021
Production Year:
2004
Format:
DVD
There are currently no member reviews. Be the first to review this title.
Industry Reviews (2)
Reviewed by Dave 01/28/05
Source: AdultDVDTalk



So this is the raved-about vid of the moment, but it's really boring. How do you make Marcus Iron boring? I would have thought it couldn't be done, but this one does. The sex is uninspired and it's buried under mountains of plot that the models are woefully unable to deliver. The whole thing is a disaster! Usually hot Owen Hawk comes off queeny. Marcus looks stoned. Dean Phoenix looks bedraggled. Maybe having Arpad Miklos perform by jerking off to himself in a mirror spares having to hear him butcher the dialogue, but it's way dumb. Rental only on this one, guys. It's a real dog.

---
Reviewed by Boner Bud 12/02/04
Source: AdultDVDTalk



A couple of years ago the folks at Colt decided to get back into the movie business once again and have released a few titles so far. Now it's Buckshot Productions' turn, and they're back and better than ever!

The Plot
The plot of this movie is that Kick (played by Dean Phoenix) and Jed (Marcus Iron) own the Beefland Ranch. A long time ago they had sex with each other and it was the best fuck either of them ever had. But realizing that sex is never as good the second time, the pair decided to go into business together and just be roommates. But there's something special about the Beefland Ranch - Zakk Spears (in a non-sexual role) magically appears and disappears as a sort of cupid in a cowboy hat, making sure everyone is able to hook up and have hot sex.

There's actually quite a bit of plot in this movie, and we don't see anyone having sex until we're almost 10 minutes into it. But I have to say, that the plot isn't a distraction. On the contrary, it's actually quite entertaining. And the acting here is darn good - especially Dean Phoenix. I'm serious - he could go into mainstream films if some producer would just give him a chance (but for the time being I'm glad he's still doing gay porn).

At any rate, Kick and Jed go to the local bar one night, and Zak gives Kick a special belt with a Colt buckle on it. This helps Kick attract the attention of Josh Hardman and the two find a quiet place to get naked and fuck. And Lucky Zak gets to watch all the action.

In scene 2, Jed is pulled over by a state trooper (played by a very sexy Todd Maxwell), who apparently likes the way Jed looks. Soon, the two are smoking weed in Jed's truck, and it's not long before Jed has the trooper sucking his dick. Jed then gets his nightstick away from him, and uses it to impale the trooper's ass. He sticks it a good way in too and I found this super hot! Eventually Jed gets to fuck the trooper before they both shoot their gooey loads.

Next up, Kick and Jed are in the middle of jacking off when they're interrupted by Kick's nephew (Owen Hawk) who shows up unannounced at their door. He tells them the story of how he hitchhiked his way to the Beefland Ranch and about the hot sex he had with the guys who gave him a ride. There's a brief but very hot sequence where they're having sex while driving the car! Eventually they pull over and suck and fuck in every combination imaginable. This scene gets extra points because all 3 dicks here are so hard you could cut glass with them. What a big turn on! In the end, Owen asks Kick and Jed if he can stay with them a while. They reluctantly agree, but tell him that he'll have to finish school, and that there will be no tricking on school nights! Nice to see them laying down the law! Heheheh.

Scene 4 stars Ricky Martinez and Arpad Miklos (big yum!) as a couple of ranch hands who jack off together in their bunk. It starts off sorta corny, as they both make love to their own reflection in the mirror. But it slowly evolves into a double auto-fellatio scene, which I found much more interesting. Martinez gets more of his dick in his own mouth, but Miklos ends up shooting a nice big load all over his own tongue, which was a great way to end the scene!

In the final scene, Kick and Jed go back to the bar in the first scene and find themselves in the middle of an orgy. Our boys pretty much just jack off and watch from the sidelines as Chris Wide, Edu Boxer, Jake Andrews, and Mike Dasher go at it. There's LOTS of sucking here (in fact it maybe goes on a little too long) but eventually the guys get around to fucking as well. In the very end, Kick and Jed lean in and share a kiss on the lips as they cum. Is this a new beginning in their relationship? We then see that the story is TO BE CONTINUED...

Overall Thoughts
This is what porn should be - top notch production values, great camera work, hot men with rock hard cocks, even decent acting. Buckleroos is easily one of my favorites of the year! But damn - now I have to buy part 2 to see how it ends!