Tommy's Tale
(25)
| | |
| --- | --- |
| | Get it with a Free Trial! |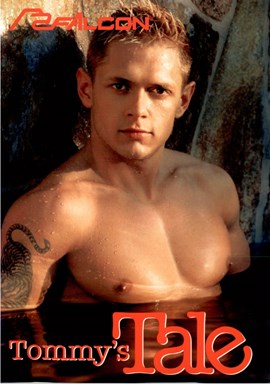 Performers
Director
Studio
Category
Duration (approximate)

Chi Chi LaRue

Falcon

90 minutes

Date Added:
06/06/2021
Production Year:
2004
Format:
DVD
There are currently no member reviews. Be the first to review this title.
Industry Reviews (1)
Reviewed by Boner Bud 11/13/04
Source: AdultDVDTalk



Falcon never makes

bad

movies per se, but in the past few years a lot of their films have just been sorta average. Thankfully, Tommy's Tale is definitely an

above

average flick.

The Plot
The movie starts out with Tommy Brandt lying next to a pool, telling us about how much he likes to get fucked. He then tells about one time in particular when his brother's best friend fucked him real good. We cut to Brandt in a bathtub, with a large window overlooking a back yard. Who should be sunbathing out back, but the brother's best friend, Chase Hunter. Chase has been around forever, but DAMN this guy still looks HOT! The two watch each other as they stroke their dicks. Eventually, Chase gets up and walks into the bathroom where Tommy is, his big tool swinging between his legs. Chase deep throats Tommy's cock, and then Tommy returns the favor (or at least he sucks as much of Chase's big fuckstick as he can). Chase then rims and fingers Tommy's ass as he gets it ready to be fucked. And when Tommy finally gets Chase's big cock up his ass, he loves every inch of it. The cumshots are kind of weak here and we briefly see some of the lighting equipment at one point, but overall this scene is extremely hot! In my opinion this film is worth owning just to see Chase Hunter on screen!

As good as the first scene was, the second is even better! It starts with a threesome in the backyard, and quickly turns into a 7 man orgy. At the beginning, Brad Patton gets a blowjob from Bobby Williams, while Tag Adams (credited here as Chet Roberts) licks Bobby's hole. Brad's beautiful cock is not only long, but it's also super thick and Bobby does the best that he can. Soon Talvin DeMachio joins the group and he and Tag/Chet pair off. Tyler Gunn then joins in and Talvin and Tag/Chet work on his cock. Not a fan of Tyler's dyed hair in this movie, but he's such a cutie I can overlook it. We're then joined by Clay Foxe who begins sucking Brad's oversized dick. And he's quite a pro at it, taking the entire thing down his throat. Even some of the other guys stop what they're doing to watch a master at work! Finally, Brandt gets into the action and pairs up with Bobby. Man! What a beautiful sight these 7 guys are! They all switch places here and there until Talvin becomes a rim pig. All 6 of the other guys lay on their back with their asses up in the air, and Talvin takes turns eating out each hole. Then the fucking starts, with Tag/Chet being rammed by Brad's enormous pole. Clay, Tyler, Bobby, and Tommy also bottom here. There's a lot of sex in this scene, and a lot of varied positions. All in all, it's definitely a scorcher!

Scene three stars Brandt along with Maxx Diesel. We find them in the kitchen, both naked. Maxx is a big guy and he absolutely dwarfs Tommy. They exchange blowjobs, and when we get to the fucking I was pleasantly surprised to see that Maxx is the bottom. Knowing that Diesel has now gone into straight porn for some reason made this scene more exciting for me. But still, it doesn't quite live up to the previous two scenes.

The fourth and final scene is definitely the weakest. It features Brandt, who is poolside along with Jacob Hall and Erik Campbell. Both Hall and Campbell are younger and thinner, and aren't quite as attractive to me as the rest of the cast. And the sex just doesn't seem to generate the same kind of heat, though there is a great daisy-chain fuck sequence.

Overall Thoughts
Falcon has at times been justifiably criticized for their formulaic sex, cookie cutter porn stars, and their hatchet jobs at editing. But they've been on a roll with their last few features. And now that Chris Steele has assumed a leadership role at the company, I see brighter days ahead for this landmark porn studio.