French Connections 01: Temptation
(16)
| | |
| --- | --- |
| | Get it with a Free Trial! |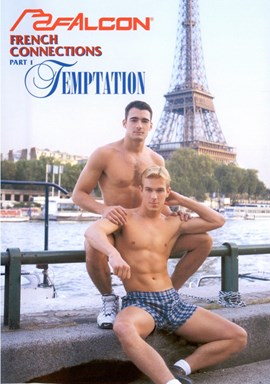 Performers
Director
Studio
Category
Duration (approximate)

John Rutherford

Falcon

88 minutes

Date Added:
10/06/2010
Production Year:
1999
Format:
DVD
There are currently no member reviews. Be the first to review this title.
Industry Reviews (1)
Reviewed by Joe Shaver 07/19/06
Source: AdultDVDTalk



In Part One of this two-part Falcon epic, the beautiful blond Brennan Foster is disowned by his father because he won?t attend Harvard, his father?s alma mater, and then come to work in daddy?s firm. It doesn?t help matters than the son and heir is gay.

We flashback to a happier time when Brennan brings his lover, the stunningly handsome Eric Hanson, for a stay at the country estate in France. Eric is a bit miffed that Brennan hasn?t told daddy about their relationship but gives the pretty blond a scintillating fuck anyway.

Soon Eric is bored with the country and longs to see Paris. As Brennan won?t take him to the crowded metropolis, Eric slips out in the night and hitchhikes to the city of sin. Brennan goes in pursuit. We now follow the separate adventures of these two in Gay Paree. (Paree has never been gayer.)

Eric hooks up with a young art student Antonio Romano (sounds Italian to me) whom I personally do not find attractive. Brennan is taken to a sex club where he is told he may find his absconded lover. We witness some pretty vanilla sex (the usual sucking and fucking) while crosscutting to Eric and his Parisian host getting it on.

Having made his way to the depths of the club, Brennan encounters the hunky German Thom Barron getting a blowjob from the American Jared Wright. I am surprised when Thom bends over a sling to get fucked. I am not surprised when it?s Jared?s turn in the sling to take Thom?s uncut schmuck. Jared then greases up a huge black dildo so Thom can shove that up his ass. Once the anus has been sufficiently widened, Thom puts on surgical gloves and inserts his fist and most of his arm up into Jared?s intestines. The fist fuck continues with Jared down on the floor with his ass in the air for easier access. (We assume Brennan is still watching though he has long since disappeared from view.)

Apparently from some conversation with one of the club?s regulars, we discover Brennan has been making money from some extra curricular activities. So it should be no surprise when we find him hustling on the street where he is picked up by businessman Buck Meadows. Buck has the kid strip. He lovingly runs his hands over Brennan?s unblemished physique, fondles his ass, and is tantalized by Brennan?s stiff dick. Buck?s own mammoth organ is at full mast. Filling an enema bag with water Buck proceeds to insert its nozzle into Brennan?s hairless pucker and send a stream into his bowels. It?s the most erotic enema I?ve seen on film as Buck rubs Brennan?s swelling stomach while his own huge man-flesh is swollen stiff. As Brennan releases the rectal stream onto Buck?s throbbing cock, Buck beats off. I really wanted to see that huge cock in Brennan?s ass, but that was not to be. [Sigh] After a quick shower, Brennan leaves. He hops into his snazzy convertible and drives off. Elsewhere Eric is picked up by Antonio and they too drive off. Brennan?s car breaks down and as he pops the hood Eric unknowingly drives by.

That?s it for Part One.


Filmed on location with Falcon?s usual high quality, there are some stunning guys here (Foster and Hanson are to-die-for) and there is a plot?that?s nice. Although I?m giving it 4 ? stars. It should be noted that this is for the director?s cut which includes the extreme anal-play (fisting and enema). Without that, the sex is pretty pre-forma and the regular release would get only 3 ? or maybe 4 stars. No matter which version you watch, no one will be able to resist not going on to Part Two.