Detention
(52)
| | |
| --- | --- |
| | Get it with a Free Trial! |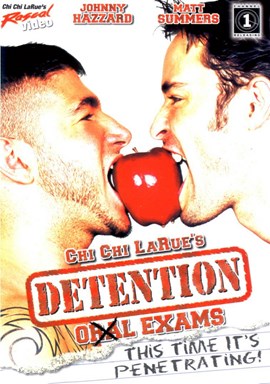 Performers
Director
Studio
Category
Duration (approximate)

Chi Chi LaRue

Channel 1 Releasing

140 minutes

Date Added:
06/10/2008
Production Year:
2003
Format:
DVD
There are currently no member reviews. Be the first to review this title.
Industry Reviews (2)
Reviewed by Skeeter 01/16/05
Source: AdultDVDTalk



I only wish detention in my school had been like detention in Chi Chi LaRue's Oral Exams: Detention 2. At my school guys just suffered in silence; in Chi Chi's school they have a lot more sense and have an orgy. Now that is what I call progressive education!

In the first scene, Matt Summers takes it in both ends from horse-dicked DC Chandler. If you have never seen Matt Summers perform, you owe it to yourself to see the incredible things he can do. No matter how big the cock, Matt can deep throat it and take it in the ass. It is truly awesome to watch. Neither Matt nor DC are 10's in looks, but their sex is so hot that looks don't matter.

In the next scene, cute, cute, cute Kyle Kennedy gets his ass reamed by three studs. And not only does he take it up the ass and take three loads of cum right between the eyes, he GRINS the whole time (unlike most porn stars who mouths coundn't be opened during money shots to the face with the jaws of life). Kyle is enjoying himself, and you will enjoy watching him enjoy himself.

In the third scene, janitor Chad Hunt invites student Tag Adams into the basement to see some sex magazines. Tag not only sees the magazines, he also gets fucked by Chad's impossibly large cock. It is amazing to see such a giant cock plowing such a small, cute ass. Hot!

Next, poor little Rob Kirk is caught without a hall pass by teacher Zack Edwards. And you know the punishment for not having a hall pass: wild sex in the boys' bathroom. Zack has a big cock with a giant PA, but it doesn't get very hard. Maybe that is why Rob, who stands about has high as Zack's shoulder, tops Zack. I like seeing little guys get to top, and Rob does a pretty good job of it, but overall this is the weakest scene in the movie.

And finally, the guys in detention, joined by janitor Chad Hunt and teacher Logan Reed, present the fucking and sucking finale. In an orgy with lots of great sucking and fucking, the incredible Matt Summers deep throats the incredible Chad Hunt. No, it's not trick photography or special effects, but it is a not-to-believed feat that will make you hit the back button on your DVD several times just to make sure it is actually happening.

This is a hot video, and yes, you will get off to it. Chi Chi has made some real clunkers, but this time he (or she - I'm never sure what to call Chi Chi) has a winner.

Matt Summers, who apparently was born without a gag reflex, does awesome things, and Chad Hunt has an awesome thing that he really knows how to use on other guys' asses, but the guy I would pick to be in detention with is Kyle Kennedy. He is the cutest guy in porn, and he has more fun than any other guy who ever fucked and sucked for the camera.

---
Reviewed by Boner Bud 09/12/04
Source: AdultDVDTalk



Main Plot
You get 5 scenes of studs who have to stay after school for detention. And these are some of the hunkiest school boys I've ever seen! First up is Matt Summers with teacher DC Chandler, who makes Matt earn his way to a better grade. If you've ever seen a Matt Summers movie, you know how this boy can deep throat a cock! This scene is a hot start to the movie, and the following scenes are even better. They include a student who gets punished by his teacher and coaches by being forced to suck cock and take it up the ass, a student who gets it on with the janitor in the ...