Devil Is A Bottom
(18)
| | |
| --- | --- |
| | Get it with a Free Trial! |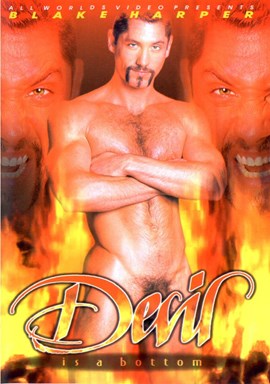 Performers
Director
Studio
Category
Duration (approximate)

Wash West

All Worlds Video

82 minutes

Date Added:
06/10/2008
Production Year:
2000
Format:
DVD
There are currently no member reviews. Be the first to review this title.
Industry Reviews (1)
Reviewed by joeblow69 10/29/01
Source: AdultDVDTalk



Director:Bud Light

Cast:Blake Harper, Hans Ebson, Scott Lyons, Gabe Rivers, Gregg Rockwell, Jeremy Tucker

Story:Three guys summon up the Devil (Blake Harper), and trade their eternal souls for money, love, and a big dick.

Scene One
Scott Lyons wished for the big dick, and wakes up the next morning with a monster of a cock. Damn, I?ve seen Scott before, and I don?t remember his dick being this huge! It?s a genuine two- fister! So what would you do if you woke up with a great big cock? Start jerkin off, of course! Scott plays with his new meat for a while, then blows all over his stomach. Scott isn?t exactly what I?d call ?cute?, but he sure has a big wiener, and that?s all that really counts, right? Right? Hmmmm?

Scene Two
Hans wished for love, the love of his roommate Greg Rockwell in particular. Hey, I?d be lusting after Greg too. He?s a cutie! Where?s he been hiding all my life?? Hans slips him the Devil?s love potion, and by the time Greg gets out of the shower, he?s head over heels in love with Hans. They suck each other off for a while (and we get to appreciate Hans?s fine uncut member!) before adjourning to the bedroom where Greg shoves his pecker firmly up Hans?s ass. The sex is a little disappointing, though. Hans doesn?t really seem to be into it, and at one point he actually chews on a teddy bear while being fucked! Is that supposed to be erotic??? As for Greg? Well, he looked a lot better with a hat on. What?s with that hairdo?

Scene Three
Jeremy Tucker wished for money, and ended up making a killing on the internet. He picks up a hustler (Gabe Rivers) off the street and takes him back to his penthouse for some cocaine and sex. Jeremy must have forgotten his contacts, ?cause the guy he picked up is definitely not a looker. This is the first time I?ve seen Jeremy, and I have to say, he certainly is the complete package. Great muscle tone, a firm ass, and a gorgeous chocolate cock. This scene just drags on far too long, though. Jeremy gives Gabe a good hard fucking, but it?s weird to see someone so buff pressed up against someone so, well? flabby.

Scene Four
A year goes by, and the Devil (Blake) comes a ?callin. Blake takes the three guys to the nether regions, where they all get buck naked and find out why the title of the movie is Devil is a Bottom. They start with some oral play, where Blake shows his super-human deepthroating skills by sucking Scott down to the root! Holy Moly! The oral orgy goes on for a bit too long, though. Get to the fucking all ready!!! Geez! That?s what this whole movie has been building up to: Blake getting fucked by these three guys. It?s not quite the mind-blowing experience I was hoping for, though. Blake seems just a little bit too laid back. And the guys don?t gang up on him like I expected them to.

Audio/Visual Quality
For the most part, the video is great, but the lighting is a little too bright in places.

Extras
Once again, All Worlds skimped on the extras. All you get is a slideshow.

Final Word
I was really looking forward to this (mainly because of Blake) and I have to say it?s rather unimpressive. I was expecting a lot more from the final scene, where Blake gets fucked by the three other guys. The first three scenes are pretty average as well. It?s got a cute story though, and the ending if pretty funny. Overall, Devil is a Bottom makes for a good rental, but it isn?t anything I?d trade my immortal soul for.

Running Time: 75 minutes

Send questions, and comments to: joeblow69@my.adultdvdtalk.com.