Sailor In Sydney, A
(26)
| | |
| --- | --- |
| | Get it with a Free Trial! |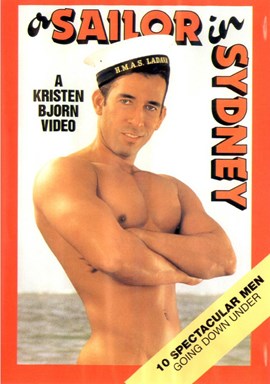 Performers
Director
Studio
Category
Duration (approximate)

Kristen Bjorn

Kristen Bjorn

85 minutes

Date Added:
12/23/2020
Production Year:
1990
Format:
DVD
There are currently no member reviews. Be the first to review this title.
Industry Reviews (1)
Reviewed by Joe Shaver 04/19/03
Source: AdultDVDTalk



I saw most of the Bjorn films when they were on VHS, but a few of them?such as this one?escaped my attention. This was the first film in Bjorn?s Australian Trilogy, which may be why it doesn?t equal the other two (Manly Beach being my favorite). However, even if this isn?t major Bjorn, it?s still a fine film and one that Bjorn fans will be glad to find on DVD.

It links to the earlier Brazilian films by having Arturo Ramirez, a Brazilian sailor, arrive in Sydney. (Oh, you have a dirty mind, it?s a place.) Skip Simmons, a cute fuzzy bloke that Bjorn tells us in his book slept with a teddy bear, spies Arturo on the docks. The next thing we know they are making out. Arturo cums shortly after Skip begins sucking him, but this is Bjorn and we know these guys are going to cum several more times before the scene is over. Sure enough as they engage in a 69, Skip cums while Arturo is chewing on his balls and Arturo cums again with Skip?s mouth on the side of his dick. Skip cums again while Arturo is eating his ass. Arturo boffs him in the missionary position before Skip straddles his cock. Arturo snaps Skip?s carrot during the ride and then shoots his own load. Friendly guys these Ozies.

Wayne Maestri lives across the street. Wayne is a real hot dude, a ?spunk? as they would call him. He admires himself in a full-length mirror and, believe me, there is much to admire. He delivers one of Bjorn?s trademark no-hand?s cum shots before moving over to a sofa with his cock still throbbing. There he brings it to a boil again and SPLAT! (Earlier I viewed and reviewed a jack off vid that I found to be a real bore. This solo ain?t boring, baby!)

In an apartment with an incredible view of the city, Ian Layton is spying on men down below through a telescope. The man of his choice (and mine!) is the handsome brunet Trevor Mills. Now both of these guys were former Junior Mr. New Zealand, and it must have blown the Aussie?s minds to see these two gorgeous titleholders sucking dick. (I know it blew something else of mine.) They do a great 69 with Ian rimming Trevor. Trevor gets on all fours for Ian to insert his crank between those beautiful muscular buns. Afterward he sucks Trevor off. Then while showering Trevor goes down on Ian and they are off and in again. This scene is the highpoint of the video, I think. And well worth the price just for this duo.

But Skip is on the move and he encounters two Greek-Australians who receive blowjobs. They do not reciprocate in any way but they don?t have to. Beautiful faces, fabulous physiques, thick uncut cocks.

Arturo meets up with four other friendly blokes and they get it on in a nice fivesome before one guy vanishes and we are down to four with two of them taking it up the warzoos. That?s going down Down Under.

I?m glad Bjorn is bringing out his earlier films on DVD because it gives us an opportunity to see those we missed and also to get a more permanent copy of our old VHS versions. I?ve picked up some of my favorites I already had on VHS because of this. And I?ve also found that by being able to jump to certain scenes and to freeze certain shots, I?m enjoying them more. A Sailor in Sydney is well worth getting. And if I could just get that incredible apartment with the view in scene three and get Trevor Mills to share it with me that, as the poet says, would be paradise enow!