Barcelona Bound
(22)
| | |
| --- | --- |
| | Get it with a Free Trial! |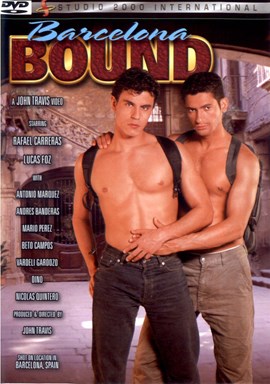 Performers
Director
Studio
Category
Duration (approximate)

John Travis

Studio 2000

90 minutes

Date Added:
06/10/2008
Production Year:
2001
Format:
DVD
There are currently no member reviews. Be the first to review this title.
Industry Reviews (1)
Reviewed by HornyDiablo 01/13/07
Source: AdultDVDTalk



Way back in 2001, Barcelona Bound was nominated for GAYVN Awards for Best Foreign Release and Best Sex Scene (between Rafael Carreras and Lucas Foz) I can?t suggest strongly enough that you buy Barcelona Bound on DVD and see for yourself why it was robbed of both awards.

This has some of the most passionate sex ever captured on DVD.

The movie is structured around a backpacking trip through the Spanish city of Barcelona with two young lovers, Carreras and Foz. It was shot on location in Barcelona and captures a bit of the city, and bit of the countryside ? and a lot of the sex.

Barcelona Bound has the perfect mix of plot and action. And the minimal dialog is all in Spanish (with English subtitles) spoken by a really masculine cast of men. (The exception being the two Brazilians who just sort of grunt and moan rather than let loose in Portuguese.)

Carreras and Foz hitchhike to the city where they spot big beefy construction worker (Vardeli Gardozo) cruzing a young Catholic priest (Beto Campos)! Gardozo doesn?t speak a word (or remove his big yellow hard hat) before heading back to Campos? church for some action. These two models are actually from Brazil, not Spain, and have everything that we?ve come to love about Brazilian men - great bodies, hot asses, and big dicks. Gardozo is the more muscular of the two and it?s even hotter that he winds up being the bottom. However, before the anal action, there?s lots of oral action. It?s particularly hot seeing Campos dressed as a Catholic priest while getting his gigantic dick worked over by a construction worker. (FYI, fans of priest-on-priest action should check out my old DVD review of Sins of the Father.)

Campos eventually disrobes and fucks Gardozo?s muscular ass is lots of different positions. Apparently, Gardozo likes it the best when he?s on his back with his legs in the air, because that?s what makes him cum all over his own washboard abs. Campos then pulls out of Gardozo?s ass and shoots an amazing series of cum shots that leaves a big mess. (Click here for photos of all of the action.) This will definitely make you hit rewind. But, enjoy these sex gods while you can ? Barcelona Bound was both the first and the last porn DVDs in the short careers of Beto Campos and Vardeli Gardozo.

Outside the church, Rafael Carreras and Lucas Foz are enjoying the city streets when they spot a couple of handsome delivery men, Antonio Marquez and Dino. Lucas kids his boyfriend about being a pig who probably wants to have sex with both delivery men. Within seconds, we?re inside of Rafael?s fantasy which does include both guys who are now out of uniform and enjoying each others cocks inside of an old wine cellar.

Antonio Marquez is a total top, and (at this point in his career) Rafael Carreras was a total top, so you can guess how this scene unfolds. All three guys are superhung and love blowing each other, but Dino gets the tough task of bottoming for both Antonio and Rafael.

The action is well shot (and so is the cum!)

Once the Rafael?s daydream is over, he notices that his boyfriend Lucas is watcing a matador practicing for a bullfight. Before you can say ?Ol?!? we?re inside of Lucas?s fantasy fuck with Andreas Banderas who is decked out in head-to-toe matador regalia. Andreas is a cute little guy (from Ecuador?) who has a sexy smooth asshole that Lucas and the camera seem to fall in love with.

After both guys cum, the daydream ends and we get back to Lucas and Rafael back on the streets of Barcelona. This time, they spot a hot sailor, played by Marcos David (under the name Mario Perez in this movie.) Lucas wants to follow Marcos because, as he explains, "sailors must know all of the gay spots in the city." Rafael declines and the three part ways leaving Marcos to stumble upon Nicolas Quintero, an down-on-his-luck street performer that he takes to a courtyard for sex. The two guys are both oral experts and well hung (a winning combination!) After lots of deep throating, Marcos bottoms for Nicolas. Like other scenes in this movie, the bottom stays rock-hard. (This is a big plus, in my book.) Later, the two jerk themselves off while kissing. Great scene!

With all of their ?imaginary? infidelity out of the way, the young lovers finally find their hotel and put the bed to good use.

Now, I believe that this scene should come with a warning ? ?Extremely hot romantic sex may melt your DVD player!?

If you?re into kissing and lots of erotic foreplay, you?ll love watching Rafael Carreras and Lucas Foz in bed together. Both actors were living in Spain at the same time, and have worked together several times since, so whether or not they were officially dating at the time, there?s some serious chemistry in this scene.

Both guys suck each other - separately, and 69. After the cocksucking, Rafael flips Lucas (who is quite tall) into an interesting position and eats his ass. He even slips in a finger or two, which probably helps for what?s coming next. (Click here for photos of all of the action.)

Rafael slides his dick into Lucas like a master and two make love. Lucas has a really tight hole, but it?s clear he?s too blissed out to feel anything but pleasure. Both guys are tall, so they?re able to get into lots of interesting positions while they kiss, suck nipples, and more.

While getting plowed on his side, Lucas has an intese orgasm and lets out a big thick load. Seconds later, Rafael pulls out, slides off his Magnum XL-sized condom, and shoots his cum all over his boyfriend?s dick and asscrack. This is a great ending to a great movie.