Telescope
(31)
| | |
| --- | --- |
| | Get it with a Free Trial! |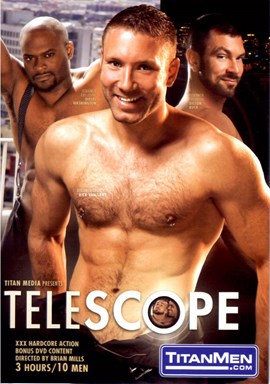 Performers
Director
Studio
Category
Duration (approximate)

Brian Mills

Titan Media

244 minutes

Date Added:
06/10/2008
Production Year:
2008
Format:
DVD
There are currently no member reviews. Be the first to review this title.
Industry Reviews (1)
Reviewed by Joe Shaver 03/31/08
Source: AdultDVDTalk



VOYEUR ? ?a viewer who enjoys seeing the sex acts or sex organs of others?. Well, that pretty much defines us doesn?t it? We are all voyeurs or we wouldn?t be watching porn. In Brian Mill?s TELESCOPE Diesel Washington is a voyeur who has installed a telescope on his terrace in order to make his own virtual reality porn.

We first see the massive Diesel when he hands his baby (his car) over to the parking valet, a young red-headed Steven Ponce (thereby setting us up for the sensational scene three). Diesel then heads up to his apartment where he trains his telescope on a sunbathing Damien Crosse being cruised by Fran?ois Sagat.

Crosse and Sagat typify the Titan male. Both are muscular with lightly-haired chests. They practically ooze testosterone. The French Sagat and the half-Cuban Crosse are also sexual dynamos and both have uncut cocks. There is something almost narcissistic in their coupling.

Catching Sagat cruising him Crosse puts his trousers on over his bathing trunks, picks up his bag containing condoms and lube, and follows Sagat to a more secluded section of the park.

Damien is the first to fall to his knees and consume the other?s rigid cock. When Fran?ois drops down to return the favor Damien releases a torrent of piss into Fran?ois? mouth (he must not have (pissed for days). After which, Fran?ois continues sucking cock.

Damien then kneels to take Fran?ois? piss-load. [This is not in the regular version but only in the Director?s Expanded Edit. However it flows smoothly here (pardon the pun)]

Fran?ois next squats on a park bench for Damien to lie underneath him and eat out his ass. This brings a cum-load from Fran?ois and one from Damien as well.

Following some fierce kissing, Damien bends Fran?ois over the bench and fucks him with his tongue. All the while Damien?s uncut cock is straining in its sheath. Reaching into his bag he extracts a condom, rolls it over his cock and inserts the stiff organ into Fran?ois? waiting ass.

Soon he withdraws his cock, rips off the condom, and sprays Fran?ois? ass with yet more piss before returning his cock to engage in a lengthy doggy-fuck. He pulls out again, this time to enable Fran?ois to get on his back on the ground so Damien can pile drive his dick deeper into his partner?s rectum. Damien?s hard thrusts cause Fran?ois? cock to unleash a steady stream of piss which pools on his chest before each cum.

As Diesel places a martini on the table and returns to his voyeurism he discovers he is not the only one spying. Rick van Sant has his binoculars trained on him. (It?s sort of like peering through a keyhole and finding another eye staring back at you.) Rick pulls out his long thin uncut down-turning cock and starts stroking it. It?s a distinctive dick that I once compared to Gonzo?s nose. Rick is so engrossed that he?s unaware of Andrew Justice coming into the room.
?What are you doing?? Andrew inquires and without waiting for an answer throws Rick onto the bed.
There?s no point in peering at the neighbors when there?s a cock like Andrew?s staring you in the face. I mentioned that Rick?s curved down. Well, Andrew?s cock curves up and has a large mushroom head. It?s one of the handsomest cocks you?ll ever see and it?ll make your mouth water. Rick wastes no time in taking it into his mouth and giving the attention it so richly deserves.
Andrew also goes down on Rick?s unique dick causing him to moan in delight. As he sucks Andrew?s imposing rod remains hard and throbbing as though anticipating its future pleasure in Rick?s ass. But before that occurs stands over a recumbent Andrew letting him play with that ass and then sits down on his face. The exquisite pleasure this brings causes him to shoot his load. Andrew follows.
We cut to Diesel adjusting the controls on his telescope. When we rejoin Rick and Andrew, Rick is on his hands and knees and Andrew is fucking him. I was somewhat unhappy we missed its beginning as I find fucks hotter when we see the initial insertion and the fuck begin, but Rick soon turns over onto his back and then we get to see Andrew?s fabulous cock slide in. Indeed we get plenty of entry now as Andrew pulls out to reinsert it numerous times. After the final pullout Andrew lies on his back for Rick to mount the cock in that position. As Rick bounces on the firm flesh, his own cock arcs down to tap Andrew?s belly button. Cum flies from Rick?s cock to splatter Andrew? chest. He then dismounts and Andrew too cums.
Knowing that Diesel?s telescope has been trained on them and that they?ve given him quite a show, Rick gives a satisfied and knowing grin into the lens.

Diesel now summons the parking valet Steven Ponce and asks to come up to his apartment. As a ?ponce? in British slang is ?a campily effeminate male? it appears that Steven has not only chosen an unfortunate?but inaccurate?nom de porn. When the scruffy bearded young redhead arrives, Diesel upbraids him for taking his car on joyrides and deems some punishment is necessary. He forces Steven to his knees and fills his mouth with a massive black cock causing Steven to gag. But Steven?s a game lad and keeps sucking.
Diesel then slaps Steven?s cock and twists his balls before sucking him so furiously he chokes. After Steven has inundated Diesel with a massive load that drips down the hunk?s chest. Diesel picks him up and tosses him onto the sofa. He rips off Steven?s socks?his last remaining garments?and chows down on his toes. Diesel flips Steven over onto his stomach and unloads onto his back, promptly lapping up the spunk.
But Diesel is far from through with Steven. He plunges his face between Steven?s cheeks and gives him a passionate rimming. As his ass is being eaten, Steven strokes Diesel?s dick with his foot. Continuing to eat ass, Diesel lifts up Steven bringing Steven?s face on a line with his cock and Steven obliges.
Diesel sits on the sofa and covers his cock with a condom. Steven lowers himself onto the upstanding pylon. It goes in with ease. As Steven rides the large cock, Diesel bucks up to drive it in deeper.
But the wildest part of the scene is when Diesel picks Steven up still impaled on his cock and, holding him in a hammerlock with Steen?s feet off the floor, fucks him in a standing position.
This scene is scorching. The big ebony Diesel and the small pale redhead provide an immense disparity that is really hot. I defy anyone to watch this scene without needing release.
And thus ends Disc One.


As Disc Two opens we find Diesel back on his balcony peering through his telescope. He sees a vehicle driven by bearded Dillon Buck pick up blond Lars Svenson.
?You ready to do this?? Dillon asks.
Getting an affirmative nod, they drive into a warehouse and Lars is soon gulping down Dillon?s large up-curving uncut cock. Lars own cock juts out jauntily from his groin as he sucks.
Rodrigo De Leon has been observing them from inside a parked car. Not being able to just watch any longer he gets out and joins them, sucking down the cocks of both. At one point Lars bends over to invite Rodrigo to eat out his ass. Rodrigo then returns to sucking their cocks until they cum on his chest.
Lars now goes to lean against a car fro Dillon to fuck him.
As the big cock glides into his ass and starts fucking, Rodrigo gets underneath to suck some more on Lars? dick. He then has a go at Lars? ass while Dillon takes over the fellatio.
It?s now Lars? time to top so he gets Rodrigo onto his back and fucks the muscular bronze stud.
Once again they all cum.

In the fifth and final scene Diesel meets Rick Van Sant in a warehouse. It appears Rick is the security guard there where he and Diesel are apparently trafficking in fake watches.
?They look like the real thing,? says Diesel as he opens the box and examines one. (In the Behind the Scenes section where we see this scene being rehearsed the objects were pirated DVDs. Perhaps the filmmakers were afraid of giving people the idea. Well, it?s a touchy subject at best. Now only Rolex might complain.)
Diesel asks Rick about his boyfriend and tells him he has been spying on him. Rick?s response is to join his lips with Diesel?s and drop to his knees to suck his cock.
When Alex Baresi wanders in, Diesel motions for him to join them and soon both are sucking on Rick?s unique cock.
As Alex gets onto a table so Rick can rim him, Diesel gives vent to his foot fetish (as in scene three with Steven) and sucks on Alex?s toes.
Rick fucks Alex.
Diesel fucks Alex.
Diesel fucks Rick.
Rick becomes a semen depository.

Rick now goes over to a box where he extracts some black gloves. Rick fists Alex as Diesel fists Rick. Then Ricks gets beside Alex and Diesel fists them both with a fist in each.
Now things get really kinky when Rick and Alex put condoms on Diesel?s feet and bend over for each to take a foot in the ass. (We don?t see this often.)
This bizarre activity continues with Diesel putting his feet up on a table and Rick and Alex go and sit on them. As thy ride his feet, Diesel pisses all over himself.
All cum and the film ends.

This Disc also contains the Behind the Scenes I mentioned above where we learn of some of the problems of filming outdoors and get to watch a bit of Brian Mill?s photo sessions with the performers (always one of my favorite parts). In addition there is a brief rimming scene which was deleted from scene two. In that we see Rick applying some analingus to Anthony. A Cumshot compilation rounds out the Bonus section.

[NOTE: Watersports are to be seen only in The Director?s Extended Edit. I would think this may apply to some other things in Scene 5 as well.]


This is the kinkiest film Brian Mill?s has brought us since the admirable CIRQUE NOIR. Each of the five scenes is good with the scene between Diesel and Steven Ponce being particularly memorable. The chemistry between the two is remarkable and the direction is imaginative and outstanding. There?s something for everyone here?especially in the Director?s Expanded Edit available directly from Titan and certain selective sellers. Don?t miss this one!