Command Post
(65)
| | |
| --- | --- |
| | Get it with a Free Trial! |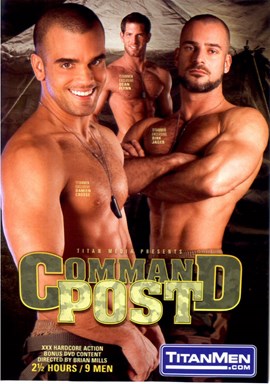 Performers
Director
Studio
Category
Duration (approximate)

Brian Mills

Titan Media

150 minutes

Date Added:
11/01/2019
Production Year:
2007
Format:
DVD
Reviewed by macklee 05/28/09
Hot movie. Again Titan does sex better than most studios. The actors do a great job of really getting into what they are doing.
Industry Reviews (1)
Reviewed by Joe Shaver 01/04/08
Source: AdultDVDTalk



Titan is starting off the new year with a military themed flick featuring many of its favorite performers.

It begins with Tober Brandt riding his motorcycle to where Marko Hansom and Alexy Tyler are setting up camp. Marko is pounding in tent pegs while Alexy is starting a campfire. Tober dismounts, removes his helmet and shirt, and goes over to help Mario. Soon all three are hot and not just from Alexy?s fire. I know the army has a ban on certain tattoos and probably would not allow Alexy to have what he has, but at any rate that tattooed hunk drops to his knees and starts sucking on Tober?s cock. Marko kneels to assist his buddy. Soon all are sucking one another until they shoot their loads.
Tober now decides he wants a piece of Alexy?s prime ass. He bends Alexy over his motorcycle and rims his ass while Marko feeds Alexy more cock. Tober puts on a condom and slides in his cock. Alexy enjoys this so much he shoots another load.
But Tober is not just satisfied with one of these hunks. With Marko draped over the Tober and Alexy both fuck the willing stud, bringing forth more orgasms.

Dean Flynn is one of Titan?s handsomest and sexiest performers and there he is at the start of scene two already revealing that muscular and lightly haired chest. He is on the phone to headquarters and learns that he and his companion Dirk Jagger have until 1500 tomorrow to rendezvous with others. This gives them plenty of time to mess around.
Dean pulls out Dirk?s dick and gives it a super blowjob. Not only is Dean one handsome hunk, he really knows how to suck a dick (a fact that Dirk comments on in their interview in the Bonus section).
Dirk doesn?t do nearly as good a job when he sucks Dean (but then few do). It serves the purpose however as Dean has no trouble shooting a fine load when its time to jack-off. Dirk doesn?t seem to manage a money shot. (We hear the director yell something to Dirk, an unusual gaffe for a Titan film.) I was just wondering how anyone could stand beside a naked Dean Flynn and not shoot a load.
Dirk has no trouble keeping a stiff dick when it?s time to fuck Dean and fuck him he does! That Dean is taking pleasure in the vigorous fucking can be seen by his hard cock. Once again Dean fires off an impressive load. And in spite of a great deal of huffing and puffing, Dirk doesn?t. It was still a hot and

Darius Falke and Steve Cruz are the performers for scene three. There is some talk about a clue left for them near water. A comment is made about no water nearby and then a message that we are told is in code is found in one of their canteens. And that?s all we hear about this perplexing setup as the guys then ignore the coded message and get right to it.
Titan seems to have gone in for mood lighting of late and so the director or producer has decided to set this scene at night. Unfortunately they haven?t got it the visuals quite right and as a result it?s too distracting to really get involved in the sucking and fucking. Pity, as the guys are hot and Darius seems to give Steve a fine fuck.

The lighting is a bit better in the final scene between Damien Crosse and Victor Banda. A nice touch is having their dialogue in Spanish (subtitles are provided for the monolinguals). The conversation is about people thinking they are brothers because they look somewhat alike (and indeed they do, giving a delicious intimation of incest to the scene).
Damien stands to take a piss. Now if you think one can?t piss through a hard cock, Damien definitely disproves that fact. His cock is fully erect as he shoots an arcing stream that for its distance and duration should certainly go in The Guinness Book of Records.
When he finally finishes he asks Victor to touch the hard cock. When Victor hesitates, Damien grabs his hand and applies it to his cock. It doesn?t take long for Victor to get into the spirit of things, especially when Damien starts sucking the hesitant stud?s prick.
Before long Victor is swallowing down Damien?s uncut rod. It unloads onto his chest. Victor also shoots.
Taking things further, Damien chow down on Victor?s ass and teasing Victor until he?s ready for Damien to fuck him. Damien does just that, concluding with a hot missionary fuck. Damien licks up his own cum from Victor?s belly before Victor cums again.

The Bonus section features a brief interview with Dean and Dirk (mentioned above) and another with Darius and Steve causing us to regret again that their scene was so poorly lit. A Cumshot review and trailers for other Titan films are included.

Although COMMAND POST is not one of Titan?s better efforts, it?s still worthy of your attention and will no doubt command your post to stand up and salute.