Men's Room 03: Ozark Mtn. Exit 8
(59)
| | |
| --- | --- |
| | Get it with a Free Trial! |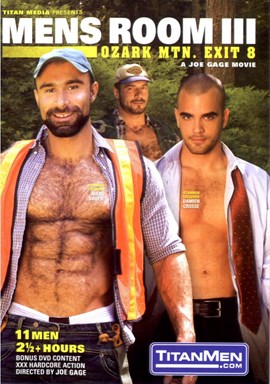 Performers
Director
Studio
Category
Duration (approximate)

Joe Gage

Titan Media

215 minutes

Date Added:
06/10/2008
Production Year:
2007
Format:
DVD
There are currently no member reviews. Be the first to review this title.
Industry Reviews (1)
Reviewed by Joe Shaver 03/07/08
Source: AdultDVDTalk



Joe Gage?s MENS ROOM series is now a trilogy. From Bakersfield, CA in the first one (somehow I missed MENS ROOM 2 and will have to remedy that some day) to Arkansas in this third one, horny men gather to relieve themselves in both senses of the word (piss play being confined to the Director?s Expanded Edit).

The first scene answers the age-old question ?Does a bear piss in the woods?? when two state cops [Dane Hyde and Brody Davenport] stroll into the woods for just that. (First though we see Dillon Buck let loose with a full bladder elsewhere in the undergrowth.) Standing side by side as they urinate the two cops becomes interested in the other?s cock.
?Seems like we got a match,? one observes. ?Wonder if they?re the same size when hard??
They decide to find out, stroking their dicks and even giving one another a helping hand.
Dillon comes across these two and they invite him to play. Dillon?s got a pretty big one and before long Brody heads down to give it some head. Dane watches and wanks and cums. Dillon and Brody do too.
Dillon then invites them back to a more secluded place where they get naked. Dane now gets a taste of Dillon?s upstanding meat. Before the scene ends, Dillon has returned the favor for Dane; Dane has fucked his partner Brody; Dillon has had a go at Brody?s ass; Dillon has fucked Dane when the latter returned to fucking his partner; and all have shot another hefty load.
[For a finale in the Director?s Expanded Edit, Dillon pisses on Brody?s chest and in his mouth and Brody pisses on himself.]

The hefty-hung Dillon who is our hero and sometime narrator now comes upon two construction workers [Alex Baresi and Jack Bond] as they are relieving themselves. A pissing contest ensues among the three.
Dillon sucks them off; cums himself; then fucks both with that remarkable rhino cock.

A scene which we saw start earlier between scenes one and two with Damien Crosse, Tyler Saint, and young Jesse Santana now continues. Damien and Tyler play two parole officers who are taking Jesse to court. Jesse says he has to take a piss so they pull off the road to accommodate him at Exit 8. Once again pissing brings the others attention to cocks and before long things start getting hot. As Damien goes down on Jesse, Tyler pisses on Jesse?s cock and aims some into Damien?s mouth when he pauses in his sucking. Damien continues sucking Jesse?s cock, taking it all the way down to the balls. Nor does he neglect Tyler?s rod. Tyler stops Damien and pushes Jesse to his knees who shows no reluctance in going down on first Tyler and then Damien. Finally Tyler has a go at the tasty tools. Soon three cocks are spurting.
Normally we would go the fucking between these three hot guys, but before we do we are wafted away to another group of horny pissers.


Tober Brandt is the first camper we see emerge from a tent. He is soon joined by Park Wiley and they pass the time flogging their meat. A hunter, Arpad Miklos, passes though the camp and stops to join the masturbating duo. Now who should wander along but Dillon Buck and Jack Bond and there are soon five hard pricks pumping.
Jack greases up a butt plug and shoves it in his ass. This seems to be unnecessary with all those hard cocks around, but instead he starts handing out dildos to the assembly. Arpad is the smartest of the group by sucking down Dillon?s cock. This is the film?s weakest--not to mention--silliest segment. Further proof--if any were need--that quantity is no substitute for quality.

It?s a relief when we are back with the continuation of scene three which we should never have left in the first place.
?Your other parole officers,? Tyler asks. ?Did any of them fuck you??
?One of them did,? Jesse admits.
?How about two?? Damien inquires.
Tyler raises the hatchback of the vehicle and Jesse is tossed inside.
?You play a little rough,? Damien admonishes his partner.
?You don?t know what rough is,? Tyler replies and starts removing his shirt.
Jesse watches uncertainly.
All are now naked and Jesse wants to be fucked. With Damien?s help he is lowered down onto Tyler?s dick. Jesse?s cock stays rock hard as he rides Tyler?s prick.
Damien lubes up and slides his cock up Jesse?s ass alongside Tyler?s. Jesse takes the double-fuck like a pro as Damien drives in hard and deep. Things bring forth a healthy load from young Jesse, but Damien goes on fucking until he too is ready to cum. Tyler follows.

Tyler takes a blanket and heads of naked into the woods. This takes us to the final scene with Tyler, Tober, and Park. I found the performers less interesting and the scene much less hot than the preceding ones. (Where is Dillon when we need him?) It picked up with the arrival of Arpad Miklos and his coupling with Tyler as Tober continued to fuck Park. Then Park and Tober switch roles and Arpad fucks Tyler. Park and Arpad cum on their respective bottoms. Still for me the film ended somewhat on a downer.
In the Director?s cut the scene ends with Tober becoming a urinal for the other three.

BONUS - Behind the Scenes, and Interview with Dillon, an Interview with Brody and Hyde, and an Interview with Alex and jack. There is also the usual cum shot review.


Annoying and irritating editing especially of the Crosse, Saint, Santana scene which is chopped up into three parts causes the scene to lose much of its heat and does the director and actors a great disservice. The same can also be said to a lesser extend with scene four which cut in half to continue as scene six. (It?s almost as bad as trying to read NAKED LUNCH.)
That said, the film has much to recommend it. Other production values are up to Titan?s usual high standards. The videography, top notch.
Dillon Buck is great with a delightful (and sexy) hick accent. He can water my lawn anytime. It?s about time Titan gave him a starring role and he does a great job. Titan should use him thus again. Damien Crosses does his usual super job. (What a hot guy!) And Jesse Santana is a cute walking wet dream.
Although scenes fall into a predictable pattern (piss, suck, cum, fuck, cum) they nevertheless engender a considerable amount of heat.
MENS ROOM III: OZARK MOUNTAIN EXIT 8 is not a film of which former Arkansas governor Mike Huckabee would approve. However, I do. ?Go South, young man.?