Workout
(13)
| | |
| --- | --- |
| | Get it with a Free Trial! |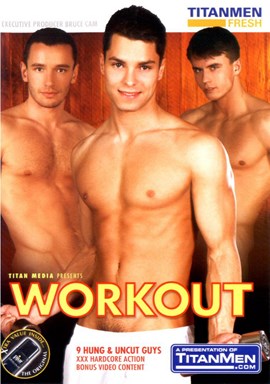 Performers
Director
Studio
Category
Duration (approximate)

Richie Oldman

Titan Media

92 minutes

Date Added:
11/05/2009
Production Year:
2007
Format:
DVD
There are currently no member reviews. Be the first to review this title.
Industry Reviews (1)
Reviewed by Joe Shaver 12/27/07
Source: AdultDVDTalk



Perhaps unable (but definitely unwilling) to present a two-man or four-man scene, the director of the Titan Fresh series continues his attempt to convince us that as the old TV show had it?three?s company. The setting is a kick-boxing gym and there are three scenes with?you guessed it?three men in each.

In the opener we find cute Jeremy Polo sparring at a punching bag that the especially beautiful Mark Federico is holding. Mark drops the bag and pulls Jeremy into a kiss. Jeremy then drops Mark?s pants, drops to his knees and swallows down Mark?s cock that is already at a forty-five degree angle. Jeremy administers a loving blowjob which attracts the attention of handsome Rick Vidal who brings his cock over for Jeremy?s attention.
Mark then drops down to suck cock. He really goes to town on the two stiff dicks. Jeremy has a long upward curving dick that is as thin as a pencil and has an unretractable foreskin. When his turn comes Rick proves that he too is no slouch when it comes to sucking cock.
However Mark wants more of their cocks so he returns to his energetic sucking before relinquishing things once more to Rick who?after bringing himself off?has his chest covered with creamy loads from both of the others.
Rick then goes over to lie down, lift up his legs, and offer up his ass. As Mark rims the proffered pucker, Rick sucks Jeremy?s dick. After prepping Rick?s ass with first one and then two fingers, Mark pops in his prick. Jeremy then has a go at Rick?s willing hole while Mark takes over feeding Rick dick.
Then flipping Rick over onto his hands Mark drills him doggy style. Rick then gets onto his back once more and rolls back onto his shoulders, raising his butt in the air for Jeremy to fuck him. Soon Rick is awash once more in cock cream to conclude a very hot scene.

The second scene begins with young David Begua stripping out of his clothes and stepping into the shower. He already springs a boner. Meanwhile in the locker room Jakub Kosta and George Michaelo start undressing between kisses. Jakub has a boner which George grabs onto and starts sucking. David gets out of the shower and joins them. To quote the great Yogi Berra, ?it?s d?j? vu all over again? as first George sucks Jakub and George and then Jakub sucks George and David and then David sucks Jakub and George.
With such predictable action and the fact that none of these guys come anywhere near being as attractive as those in the first scene, scene two is a bore.
David is the bottom here. There is a bit of variety in that the fucking starts doggy, then goes to missionary, and finally cowboy when David sits on a dick. But such frail variety is too late to rescue the scene from its basic tedium. (It?s the same now predictable routine we have seen from this director in all of these films.)

Fully expecting to see this same routine repeated yet a third time in scene three, I approached the final scene with considerable reluctance and trepidation. Happily my fears were not justified. Instead I was presented with a threesome?of course?but the action was not the same. The guys (Steven Hunt, Tomas Jeffe, and Rogerio Matteo) were the sexiest trio in the film. Steve is beefy with a nicely haired chest. Tomas and Rogerio also have a spattering of chest hair.
After a brief sparing in the ring Steve sucks the others? cocks. Leaving the ring, sexy Tomas (my favorite of the trio) bends over. As Steve licks his hole, Tomas swallows down Rogerio?s thick cock. Steve lubes up and inserts a couple of fingers in Tomas' willing butt, opening him up for his and Rogerio?s access. Rogerio is the first to take advantage of the primed orifice as Steve contents himself in the meantime by feeding Tomas cock. Rogerio really throws it to Tomas, plowing him hard and deep.
When Steve?s turn arrives, Tomas leans over the ropes to allow the randy lad to fuck him. Rogerio climbs up into the ring to enable Tomas to suck his dick.
Rogerio then goes down to sit on the ropes so that Tomas can sit on his dick. As Tomas bounces up and down on the hard cock, Steve grabs his hair and face-fucks him.
For the finale Tomas gets on the floor, leans back on his shoulders, and lifts his ass into the air to permit the others to pile drive into his upturned hole. Steve is the last to cover Tomas in cum and the film ends appropriately with its best scene.


The sad thing is there is potential for greatness in this series as they are beautifully photographed, but until director Oldmann learns what to do with just two actors or at least more than three, these films will continue to be nothing more than basically the same movie done over and over again and again with different casts and settings and one might almost say ?seen one, you?ve seen them all?.
For the viewers? sakes, he should break the monotony and give them some variety?PLEASE! A different director would prove a welcome change. Titan should send Brian Mills or someone else over to Europe.