Paging Dr. Finger
(54)
| | |
| --- | --- |
| | Get it with a Free Trial! |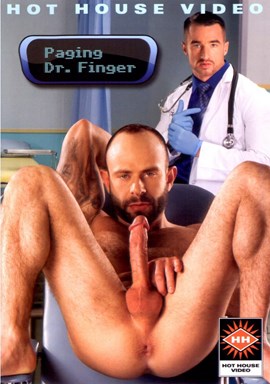 Performers
Director
Studio
Category
Duration (approximate)

Steven Scarborough

Hot House

135 minutes

Date Added:
07/17/2008
Production Year:
2008
Format:
DVD
There are currently no member reviews. Be the first to review this title.
Industry Reviews (1)
Reviewed by sydguy 02/06/09
Source: AdultDVDTalk



The covers of gay porn films often give little away, but in the case of Paging Dr Finger, the front cover tells us a lot about it. First there is the unusually graphic picture, with Johnny Gunn showing off both his dick and his hole. Although the film has a plot, it?s a very weak one, and the sex is direct and straightforward, just like the picture. Gunn, one of six Hot House exclusives in the film, is the only actor who appears in more than one scene (it?s annoying when you buy a DVD and find that the gorgeous cover man hardly appears in it). Gunn is also typical of the guys on display ? almost all of them have at least one tattoo, ranging from CJ Knight?s discreet wrist bands to Dillon Crow?s huge birds, Kai Ford?s zebra stripes, and Gunn?s large female faces (did he use to be straight?). Almost all of them have a decent amount of chest hair, and about half, like Gunn, have facial hair. Finally there is the descriptive title, which emphasizes that by the end of the film, all but two of the actors will have had their ass-holes fingered and fucked, in a hospital setting.

The plot revolves around patients who arrive with unrealistic medical problems. The first patient, Jackson Wild, complains of stomach pain, but soon confesses to having something (which turns out to be a butt-plug) stuck up his ass. The doctor, Trevor Knight, eases it out with his gloved hands while EMT guys Dillon Crow and Kai Ford provide ?pain relief? ? this consists of Crow sucking Wild and Ford stopping Wild?s moaning by shoving his dick in his mouth. Then Crow nearly deep-throats Knight?s long schlong, before Knight rims, fingers and fucks the noisy Wild, while the grimacing Ford gives the same treatment to the silent Crow. Then the EMT guys swap partners and roles, with Ford riding Knight?s sword enthusiastically and bottom boy Crow taking a rare (and uninspired) turn on top with Wild. Ford cums while still in the saddle, Wild and Crow bring themselves off, then Knight ends the scene with a huge load delivered on Wild?s back. Everything is competently done, but (except for Ford?s bottoming) I found the scene didn?t have much excitement, and Wild?s constant moaning was annoying.

In Scene 2, patient C.J. Knight tells Dr Finger (the hot Brit, Ross Hurston) he has a permanent hard-on. The doctor is soon called away, leaving nurse Johnny Gunn in charge of the patient. Gunn decides to help by sucking Knight?s dick, which he does with great care and attention. After Knight preps Gunn?s hole with his mouth and fingers, Gunn rides Knight in a bouncy and beautiful reverse cowboy ? Gunn?s athletic body is displayed in all its glory and his hard dick flails around wildly. Gunn elegantly twists around to continue the ride face-to-face, before it transitions into a missionary fuck. Gunn then returns the favor, fucking Knight missionary until Knight erupts on his chest and Gunn adds his own juice to the mix.

In the next scene, patient Jake Dakota tells doctor Vinnie D?Angelo that he suffers from headaches. After asking some routine questions, the doctor decides a rectal exam is necessary. Wary at first, Dakota soon enjoys having Doctor Vinnie expertly suck and finger him at the same time. D?Angelo then fucks him in three positions (and with a large dildo), and he's easily the best top in the cast: he uses a wide range of tempos and styles (including hard pounding, tiny pulses, full in-and-out, deep thrusts, and even alternating quick sucking and fucking). He shows just how mechanical and boring is so much of the fucking we see in porn films. Then he abruptly gives a rare performance as a bottom before he tops again, vigorously fucking the cum out of Dakota before producing his own money shot. In addition to being strong tops, both guys are expressive bottoms, staying hard throughout and moaning appropriately (but not too much). For me, this scene was the most erotic.

Scene 4 involves two orderlies and no patients: the cute and compact Ty LeBoeuf and the huge and hairy daddy-type Bo Dixon, who is about twice his size. After admiring each other?s muscles, LeBoeuf chows down on Dixon?s pole, then Bo orally prepares Ty?s perky ass to be plundered. Bo fucks Ty until he produces a massive load, which he licks off the table, then Bo squeezes out a small cum shot. The fucking is not bad, but the scene suffers in comparison to the previous one.

Dr Finger and nurse Gunn return in the final scene, with patient Francesco D?Macho suffering from an overdose of GHB. Instead of treating him, the medicos decide to teach him a lesson on the evils of drugs, by sucking him. I?m not sure exactly how being serviced by two gorgeous and talented cock-suckers is meant to discourage drug use, but the hospital team seem to think that a lot of this ?punishment? is necessary ? it goes on for more than 10 minutes, punctuated with everyone slowly removing their clothes, Gunn sucking Hurston, and some passionate kissing. Eventually D?Macho wakes from his stupor and starts rimming Gunn in a nice 69. After this long prelude, the fucking is fast and furious: Gunn rides the still-prone D?Macho reverse cowboy, D?Macho plunges into Hurston, whose dick plunges into Gunn?s willing mouth, then Hurston fucks D?Macho doggie style as D?Macho awkwardly sucks Gunn. All three guys cum on D?Macho?s hairy chest.

There are the usual extras: long trailers for five other Hot House films, a 9-minute cum shot compilation (with the best ones shown two or three times, and in slow-motion), a generous 16-minute fuck compilation, and a gallery of posed and action shots.

There?s a lot to like about Paging Dr Finger, including the amount of time spent on anal foreplay (rimming and fingering), which is so much better than going straight into the fucking. There?s lots of good sucking. The bottoms all stay hard, and mostly cum while being fucked. Cum shots are shown from two different angles. If you like the versatility of Kristen Bjorn?s recent films, but prefer Titanesque (hairy, tattooed) guys to Bjorn?s hairless stunners, this is definitely a good choice. But director Steven Scarborough could learn from both of those studios and introduce multiple cum shots, especially in longer group scenes. And the sex at times seems a bit lacking in passion, and clinical (perhaps due to the hospital environment). But overall, a fine effort from Hot House and a worthy addition to your collection.