Holier Than Thou
(16)
| | |
| --- | --- |
| | Get it with a Free Trial! |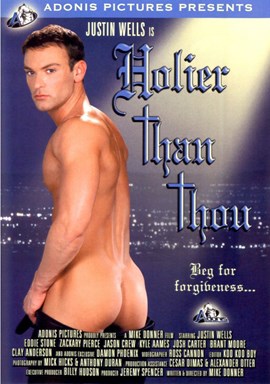 Performers
Director
Studio
Category
Duration (approximate)

Mike Donner

Adonis

Date Added:
07/16/2008
Production Year:
2006
Format:
DVD
There are currently no member reviews. Be the first to review this title.
Industry Reviews (1)
Reviewed by Joe Shaver 11/10/06
Source: AdultDVDTalk



Priests picking up young street hustlers! Priests getting it on with fellow seminarians! These things don?t happen in real life, do they? Well for all of you who missed the amorous groping of your local clergyman or for those of you who wish to relive the experience, HOLIER THAN THOU is just for you.

The film opens with Justin Wells giving us a delightful view of his naked ass as he approaches a private altar, bends over to kiss a crucifix, and then puts on his clerical black and priestly collar. Thus attired, good priest Justin is off on his midnight crusade to save a soul. As he drives along he spies young hustler (Jason Crew) waiting for a john. Quickly removing his clerical collar, Justin picks him up and asks if he knows of any place they can go. Jason does. It appears to be a deserted warehouse. Arriving there, Justin plants some passionate kisses on the pretty young hustler and is soon feeding the slender young beauty a long knobby cock. Justin?s cock responds to Jason?s pierced tongue. In a nice camera angle we see Jason?s lengthy beauty bobbing about while his mouth is filled with priestly flesh. The priest does give some succor to the stiff and bouncing dick but for the most part Jason does all the work.
?Fuck me,? Jason begs; and the priest?always wanting to help a soul in need?fills Jason?s ass with prick.
When the fuck is finished, Jason asks Justin to take him back to his lamppost.
Justin refuses, telling Jason he?s too good for that. Giving him a card Justin tells Jason to call the number there and he will be given a job, ?Tell them John sent you,? the john says.
Father John will now no doubt continue his crusade to get young hustlers off the streets.

Having seen a good priest in action, we are now told we will see a bad one. As Father Eddie Stone works at his desk, young seminarian Zachary Pierce is surreptitiously perusing a gay sex mag. Father Eddie catches him and whips his ass (still clad in denim). To further humiliate the young seminarian, Father Eddie puts a dog collar on the offender and soon has a naked Zachary sucking his cock. (Eddie has removed everything but his shirt with its clerical collar.)
Eddie Stone is an incredibly handsome stud and as a priest he could easily and gladly lead me into temptation.
As Eddie lies back on top of the desk with Zachary over him in a 69 position, Eddie eats out Zachary?s ass and fucks it with his tongue. ?Doggy? Zach stops sucking cock to lick Eddie?s completely hairless hole. After roughly shoving a few fingers up the pretty pucker, Zach hops off the desk, grabs Eddie?s legs, and pulls him around exposing his ass for invasion. In a quick turnabout, it is Zachary who is in charge and he fucks Father Eddie?s ass with gusto. The fuck over, the triumphant Zachary contemptuously barks ?woof? to the shamefaced priest. (The role reversal would have been better emphasized if Zachary had removed the dog collar from his own neck, and put it on Eddie?s.)

We return now to good priest Justin whom we find in bed with a rosary in one hand and his cock the other, thinking about his roommate and his roommate?s lover. We thus cut to two cute twinks: Damon Phoenix and Clay Anderson.
Momentarily clothed, the two kissing youngsters fall back onto a bed. Clothes come off and the action begins. Both of the young pups are very cute. Damon is quite a muscular young twink. Clay looks like the cute guy in high school. Both have big dicks. They have a lovely 69 that extends into both eating out the other?s ass. Damon is particularly appreciative of the tongue in his ass and is soon begging Clay to fuck him. Clay does. As Clay fucks Damon he sucks the young muscle boy?s toes. Then in a horrible jump cut we find the roles suddenly reversed with Damon?s dick in Clay?s ass. I would really have loved to have seen any of these fucks begin, but we never do. Here we have a particularly horrible lack of transition that will be equaled in the final scene.

In a brief?God Be Praised?scene, Eddie and Justin discuss their individual philosophies and Eddie avers that Justin using his own sexual gratification as an excuse to save wayward youth is more hypocritical than Eddie?s dalliance with his students. Turning a deaf ear, Justin goes off to continue his mission.

In a gay bar we find Kyle Aames, a young blond twink with glasses who is supposedly a nerd cruising young Josh Carter. Behind the bar Brant Moore?who bears a remarkable resemblance to the young Tom Cruise?scornfully observes Kyle?s ineptness. Father Justin (or John as he is called) watches from afar. Bartender Brant leaps over the bar and is soon getting it on with Jason. He contemptuously tosses a discarded garment at Kyle who takes this as his cue to slink away.
But wait! Super priest comes to the rescue. Stopping the departing Kyle he leads him back to where Jason is sucking on Brant?s dick. Justin fishes out Kyle?s cock. It?s nice and thick, proving?I suppose?that the meek shall inherit the girth. Justin grabs Jason?s head and forces it onto Kyle?s cock. A displeased Brant grabs Jason?s head and brings it back to his own hard wonder. Poor Jason, for a while he?s pulled this way and that. The tug of war ends when Justin grabs Brant?s head and forces it down onto Kyle?s cock.
As Justin prepares to fuck the hapless bartender, Brant snarls, ?No one fucks me!?
?I?m not nobody,? Justin tells him.
The next thing we know Brant is still sucking Kyle, Jason is sucking Brant, and Justin is fucking Brant. We needed to see the moment that Justin takes Brant?s cherry. But do we? NO!
Again there is no transition to the point where we find Justin fucking Jason and nerdy Kyle fucking the now bottoming Brant, or where Kyle is finally fucking Jason while Justin is back in Brant?s bum. Here as in all the scenes we never see the fucks begin! We always join them when the guys are joined and the fuck is already underway! When oh when oh when will directors learn that the hottest part of a fuck is the penis spreading the sphincter????
Well, Father John has done his deed. Kyle and Jason go off together to live happily after ever. Somewhat smugly?and indeed cruelly, I though?Justin stops to smile sneeringly at Brant before departing.
In the words of priests everywhere, ?Let us prey.?

Extras include an uninteresting Behind the Scenes and an even more uninteresting Blooper section. It does however contain shots of the models which is not to be missed.

This is a good film. But what irks me no end is that it could have been more than just a good film. It could have been a great one.