What I Can't See 02
(42)
| | |
| --- | --- |
| | Get it with a Free Trial! |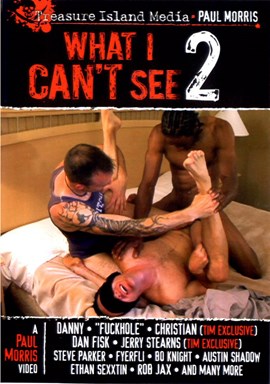 Performers
Director
Studio
Category
Duration (approximate)

Paul Morris

Treasure Island Media

160 minutes

Date Added:
11/21/2020
Production Year:
2006
Format:
DVD
There are currently no member reviews. Be the first to review this title.
Industry Reviews (1)
Reviewed by Joe Shaver 11/23/07
Source: AdultDVDTalk



As the title tells us the bottoms in this film are all blindfolded and can?t see the tops that fuck them. But luckily we viewers get an eyeful because Treasure Island has produced a very hot film with this one.

The first to bottom is?get this?a preacher. Apparently Danny, the holy man (or should that now be holey man), wrote T.I., told them he had been inserting large objects up his rectum, and wanted to volunteer for the real thing. Now Danny is a good-looking guy with a nice lightly haired chest and I find it hard to believe that there is no member belonging to a member of his congregation who wouldn?t cum to his aid. (I would.)
At any rate Danny is blindfolded and waiting on all fours for some of that old time religion. Austin Shadow is the first to volunteer and slides his hairless cock up the minister?s waiting butt.
?OH, my God!? Danny keeps repeating, either from ecstasy or from habit.
Austin pulls out of Danny?s ass to cum and goes right back in. Danny sucks the remaining juices from Austin?s proud member.
Vince is up next. Danny has now removed his shirt so that we get a better view of Steve now takes over in Danny?s rear opening.
It?s Oh Cum All Ye Faithful as Collin, Fyerfli, Dominic, Jake Ryan, Bo Knight and Powell join the congregation to minister to the Minister.

In an uninspiring interlude we find Rob Jax sucking and getting fucked by five anonymous cocks through glory holes at a dirty bookstore.

Then it?s back to Danny where his flock expands to include Jed (one needs a blindfold to let him fuck you). Danny sucks Anthony?s black beauty as Anthony waits his turn for the other end. Max gets in before Anthony. After Anthony has cum in Danny?s ass, Danny sucks him clean. Another Max (this one with a shaved cock) plows the preacher. This Max is followed by J.C. (I?m resisting all comments here.) Lucas alternates between inserting his cock in Danny?s ass and in a helpful mouth waiting underneath. Dean doesn?t eve bother to get undressed. He just pulls it out of the fly of his camouflage pants and pops it in. Jeremy is next. The last is Kurt, a very handsome young stud (Pity Danny can?t see this fucker.) Danny sucks Kurt?s cock before Kurt shoves it up his ass. He pulls out, cums, and goes back in. After this he goes back around for Danny to suck him clean.

It?s a real comedown when we return to the glory hole with Jax.

Jim?a hunky bisexual carpenter?has ?never been fucked raw? (we are told) and agrees to it only if he is unconscious. So with the help of pills and booze, Jim is dead to the world when Jay Taylor gets the honor. Jay slowly uncovers the sleeping dude. Jim has a nice back and ass. His cock which we can see between his open legs has a Prince Albert piercing. Spit and fingers prepare the way for Jay?s cock. It?s all very close to necrophilia. Jim comes out to cum and then buries his cock back in Jim?s hole.

Christian has a hankering for Ethan Sexxton?s thick cock so he gets a cameraman to accompany him to Ethan?s hotel room where he?s waiting to go to dinner with his mother who is in the adjoining room. Ethan?s buddy Dave is sharing the room with him and gets in on the action. Ethan is quite cute with a big, fat, uncut cock. Dave is scruffy ugly. Christian however is in pig heaven as he gets double-fucked by the two.

For the film?s finale we join Dan Fisk and Jeremy Stearns as they enter a hotel room where a young naked stud in a leather blindfold awaits. This attractive young guy with a light growth of chest hair is known only as ?Fuckhole?.
Dan starts eating ass while Jeremy strips and reveals a long black cock for Fuckhole to suck. Dan fills his ass with cock. Both Dan and Jeremy fuck the willing stud, taking turns at each end. (Fuckhole remains hard throughout.)
Dan retires leaving Jeremy to skewer Fuckhole six ways from Sunday. (These are the guys you see on the cover.) The sight of Fuckhole sitting aside Jeremy?s black cock is very hot.
Dan returns to take over the fucking as Jeremy feeds Fuckhole cock.
?I?m gonna cum!? Fuckhole ejaculates. (And cum he does.) Dan just keeps on fucking. He pulls out to cum and then fucks some more.
It?s now Jeremy?s turn to seed Fuckhole?s ass. He then returns his cock to Fuckhole?s mouth to conclude a very hot scene and create a fitting finale.

There are two bonus segments: a cum shot compilation and ?Hotel Cum Drop? wherein a hunky stud in leather mask and harness is fucked and ?bred? by five anonymous fuckers.

This 160-minute film is one of Treasure Island?s better efforts. They should all be this good.