Playing With Fire 02
(11)
| | |
| --- | --- |
| | Get it with a Free Trial! |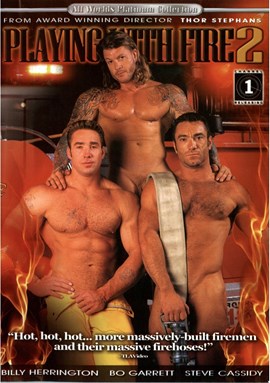 Performers
Director
Studio
Category
Duration (approximate)

Thor Stephens

Channel 1 Releasing

60 minutes

Date Added:
09/04/2019
Production Year:
2001
Format:
DVD
There are currently no member reviews. Be the first to review this title.
Industry Reviews (2)
Reviewed by PlayfulXXX 01/13/03
Source: AdultDVDTalk



Title: PLAYING WITH FIRE 2

Studio: All Worlds

Director: Thor Stephans

Starring: Billy Herrington, Steve Cassidy, Bo Garrett, Eric Evans, Brent Banes, Cameron Sage, Steve Shannon, Gregg Rockwell, Michael Brandon.

Lots of muscular butch sex scenes.

Highlights:

First scene: Buff-up Eric Evans and bodybuilder Brent Banes take turn top each other with loud grunts.

In the middle: A threesome scene with Billy Herrington being licked and sucked on, then an intense gangbang with Steve Cassidy as the bottom while Herrington watches on.

Another threesome between Bo Garrett and...

---
Reviewed by TouchDown Tony 01/26/02
Source: AdultDVDTalk



Title: PLAYING WITH FIRE 2

Studio: All Worlds

Director: Thor Stephans

Starring: Eric Evans, Brent Banes, Billy Herrington, Steve Cassidy, Bo Garrett, Cameron Sage, Steve Shannon, Gregg Rockwell, Michael Brandon.

PLAYING WITH FIRE 2 is an interesting excursion, for adult films, into the world of coming out, pyromania and the rugged firemen who fight fires, while giving into their sexual urges. The stars, especially the top-billed Billy Herrington, are all manly men; not a flaming queen in sight. Seriously, that?s the only joke I?ll crack; no comments whatsoever regarding fire-fighters and their hoses, although it?s tempting...and we all know that temptation leads to the fiery pits of hell.

Clocking in at a lengthy hour and fifty-five minutes, PLAYING WITH FIRE 2 opens with a series of set-up shots of a candle being lit, an unidentified cock being jacked off, and a gasolene can in proximity to the candle?s flame. As the cock is stroked to climax, all hell breaks loose, as flames envelop the screen.

Meanwhile, back at Fire Station 69, slumber encompasses the firefighters. An unidentified hand reaches into the sleeping Eric Evan?s tighty-whities and starts to stroke. Of course, this hand-job manages to rouse Evans from his slumbers to accuse the nearest fireman of the deed. Evans feeds his dick to the still asleep Brent Banes (and talk about great jaw structure - - Banes has the finest jaws this side of a certain Steven Spielberg film!). And these two are so well matched; it comes as no surprise to find that they are off-screen lovers as well. Evans is as buff as ever, and with his hirsute bod, Banes is nearly a mirror image to Evans: very masculine, very rugged and both very versatile. After a series of uncomfortable looking positions on the bed, the lovers move to a better lit location: the locker room, where Evans rams Banes before ultimately being topped by Banes. These guys then generously shoot their wads onto Evan?s rippled abs. It?s great to see two men who are so honestly into each other working together, this is a rare treat, and though the scene may go on for far too long, it is definitely a scorcher.

On a real fire engine, the boys of Firehouse 69 venture out into the real world, where they fight a fire which was obviously started by The Semen Arsonist. The tell-tale cum is found at the scene on a gasolene can. A sample is taken to be sent to the lab.

Scene Two is quite a contrast to the rough house sex of Scene One. Here our hero, Billy Herrington fantasizes in the showers after returning from the fire. Steve Cassidy drops by first and without so much as a ?kiss my ass? lathers up and leaves! Three other fireman need showering; and while each languidly lathers, Herrington?s mind fulfills his unfulfilled fantasies. With soft, romantic music straining on the soundtrack, the guys jack their way to climax - it?s hot, but nothing spectacular, I kept waiting for someone to drop the soap...

All clean and tidy, Billy is back at his desk as Fire Chief. Little brother Bo Garrett drops by begging for money. Billy tells him to get off the dope and liquor and make something of his life. Bo tells him that the difference between them is that while Billy hates fires, Bo loves them: Bo sees the beauty in the flames, while Billy can only see the tragic results. (This is what is known as ?foreshadowing,? not to be confused with ?foreskin,? in the literary trade). Billy confesses to Bo that he can see the beauty in other men, but has not yet acted upon those feelings. Bo accepts this coming-out, but sill manages to piss Billy off as he suggests a three-way on the roof with hot cadet Steve Cassidy.

Thoughts of Cassidy lead Billy to fantasize (again!) This time in the garage of the station house. Herrington, godlike, perched up on the fire engine entices the rest of the firemen to venture nearer to service his endowments, starting with a little bit of body worship. (What time are THOSE services? I?ll attend services at THAT shrine)! While the studly Jim Rockwell and a big, buff blond take turns at entertaining Billy, Steve Cassidy finally enters the fray and the fantasy truly takes off with loads of longing, and tons of hot, psychic sex talk between Cassidy and Herrington. Steve open his lovely ass to Rockwell, but his heart belongs to Billy in this beautifully executed scene. Cassidy?s hot, sweaty chest is the willing recipient of the loads that the three others have to offer. The sexual tension between Cassidy and Herrington is so palpable that one wonders why director Stephans hadn?t brought them together in this scene, but the director knows how to create suspense.

Unfortunately, any good intentions on Stephans part are nearly negated with the awkward inclusion of Scene Four. Baby brother Bo is sniffing, literally, around the firehouse locker room, when he?s interrupted by two horny, but supposedly str8 firemen. Using sexual blackmail to keep Bo?s silence about their gayness, they indulge in a lackluster three-way. It?s all rather bland, white-bread sex; with no real focus or sexual energy being spent. Even Bo?s tatoos start to look tired.

Chief Billy soon learns that Bo was seen leaving the firehouse wearing only a yellow slicker stolen from the locker room. Between his family problems and the search for the Semen Arsonist, Billy informs Brent Banes that he?ll be up on the roof (he could?ve sung it, I wouldn?t have minded), working off all his stress. His workout however, is being closely watched by the eager eyes of Steve Cassidy, and then IT happens. The sexual coupling that the script has been promising to the patient viewer is worth every minute of waiting. To say that Billy Herrington and Steve Cassidy are perfectly matched for this scene is a severe understatement. Everything feels so right, and the penultimate payoff of Billy finally giving in to his true nature is rewarding.

From a simple, non-sexual wrestling match right through to the final fuck, you know that these characters (whom Cassidy and Herrington have vividly brought to life) will have a fine future together. Herrington pleasures Cassidy like a pro, exlporing every inch of Cassidy?s body with his tongue, foreplaying his way into Cassidy?s hot, tight ass. Anyone else ready for PLAYING WITH FIRE 3?

A nice little coda follows, with the revelation of the Semen Arsonist?s true identity: did anyone have any doubt? But the final pay-off is given to Billy Herrington, as he embraces his sexuality with a brace and humorous quip to his fellow firefighters.

PLAYING WITH FIRE 2 is a pretty decent package. The movie moves rapidly along, with mostly believable performances from the great looking models, only veteran performer Bo Garrett fails to make his character ignite. Bo tries, but it?s obvious that he is trying; and the blooper reel backs this up. Billy Herrington still has that photogenic star quality, though his voice is too often afflicted with a Brooklynese accent. Herrington actually acts his way through this one, and it?s nice to see some depth in characterization in this type of film. Herrington?s acting is matched beat for beat by the rugged, lost-puppy-dog faced Steve Cassidy. Once again, a depth of characterization rarely seen in the adult film medium.

The picture quality is not reference level, but offers a pleasant transfer. The early scenes in semi-darkness have a certain amount of graininess, due to the lack of lighting; and the scene between Evans and Banes is poorly staged for the camera. Otherwise, Thor Stephans offers up some unforgettable shots of the models, but his direction really takes off in the final scene, where you almost feel that Herrington?s wide open spaces are about to be raped by the camera. Stephans has included a listenable Audio Commentary on the disc, it?s not entirely engaging; it offers up anecdotes rather than insights. A fifteen minute set Bloopers is much more enjoyable, while the 2 ? minute Photo Gallery self-plays and re-plays stills from the film.

So, the final tally is in, and with 5 sexual scenes, PLAYING WITH FIRE 2 is a decidedly mixed bag. If you?re like me, and a big fan of Billy Herrington, then his three scenes alone make this disc worth owning; hell, the final scene between him and Steve Cassidy is reason enough...Others be advised that though the sex is for the most part hot, the middle section tends to bog down in those two nice looking fantasies and Bo Garrett?s nearly non-sexual performance. What I truly admire about the film, other than Billy Herrington, is that PLAYING WITH FIRE 2 successfully manages to intertwine its two main plot lines. Oh, and that I did manage to write this without ever resorting to a cheap joke about firemen and their hoses!