Best of Rafael Alencar
(15)
| | |
| --- | --- |
| | Get it with a Free Trial! |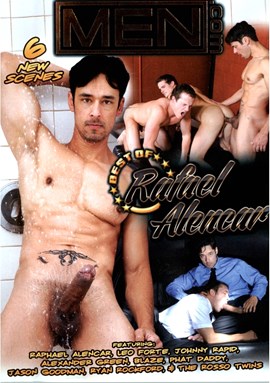 Performers
Director
Studio
Category
Duration (approximate)

Men.com

176 minutes

Date Added:
04/05/2018
Production Year:
2016
Format:
DVD
There are currently no member reviews. Be the first to review this title.
Industry Reviews (1)
Reviewed by Netguy 09/17/13
Source: AdultDVDTalk



Leo Forte needs a job real bad in ?Ex Con Job? and Rafael will help him out for a sexual favor in return of course! Rafael whips out his man meat and one look leaves Leo with some hesitation. Well, it doesn?t take much arm twisting and Leo?s on his knees devouring that big cock! Leo does a fantastic job swallowing every inch and gets its all nice and wet with his slobber! An intense face fuck ensues and I thought Leo was going to choke to death, it?s pretty wild! The two continue with Leo bent over and taking it up his ass. The two fuck around the office and Rafael really gets him moaning and groaning until the two are both shooting their big loads! It was a little rough for my liking but a pretty hot beginning to say the least!

?Gang Surprise Inspection? finds Rafael and his buddies Blaze, Johnny Rapid, and Phat Daddy breaking into Alexander Greene?s room to give him a tough initiation. The guys duct tape a blindfold around Alexander the force a banana down his throat, getting him primed for their own. As he takes turn sucking them they spray whip cream on him and continue to shove their dicks down his throat. This really isn?t my thing but if you?re into a messy orgy, gang bang I?m sure you?ll like it. Eventually the blindfold comes off and the gang make him eat their holes and take turns fucking him from both ends. Still covered in cream he rides Rafael and Johnny then lies back to let them all use him as a cum rag! The kids got stamina I?ll give him that!


A cute, stocky Jason Goodman enters the dressing room of Ms. Monroe and as he?s going through her things her ?Bodyguard? Rafael catches him in the act then roughs him up for breaking in. The scene drags a bit while Rafael taunts him but finally he rips Jason?s shirt open revealing a nice looking chest then whips out his cock and shoves it in Jason?s face. Jason does a pretty decent job sucking him, not as good as Leo did but I don?t know who could. Rafael sits back and Jason rides him and really seems to enjoy it as he pushes himself up and down. Again, it?s an intense rough fuck with lots of dirty talk on Rafael?s part. Rafael spreads Jason?s hole wide apart so he can get a good look at the hole he?s fucking and continues to ram away! With Jason on his back Rafael shoves his cock straight and deep inside Jason as he jacks off onto his chest.

Rafael catches the ?Rosso? twins goofing on and knocks them around and wrestles them around the dungeon room. You can?t help but laugh much like the twins do and the next thing you know he?s taking turns cramming his meat down their throats. A swing and ?fuck machine? are in the room and you just know those are going to be put to good use! As one twin takes Rafael the other does use the machine and vice versa. I don?t know what looks more fun taking Rafael or the ?fuck machine? up the hole! The boys either get plowed with the machine or Rafael until it ends with the two of them lying back and jacking off and Rafael shoots a major load across the two of them!

?The New Roomate? finds one of my favorite performers Alexander Greene in the bedroom as he strokes his nice cock. Meanwhile Rafael finds the coffee and milk gone as he?s trying to get ready for work. Alexander follows him into the kitchen and Rafael throws the containers around and then makes Alexander swallow him. A pretty decent blow job ensues with Alexander only taking a breath to gobble up Rafaels nut sack. A great fuck from behind takes shape with lots of great underneath shots and Alexander takes it like a trooper! The two fuck around the kitchen until Alexander ends up on his back, ass in the air, and gets a major ass pounding as Rafael rams it straight down until they both explode!

The final scene finds the hot Ryan Rockford in the back of a stretch in the ?Limo Driver? as he goes to revisit where he first met his fianc?. Well he gets a call and his fianc? seems to have found some gay porn on his computer as the limo driver, Rafael over hears the whole situation and wants to get paid, in flesh of course! It?s the first scene that feels a bit more subdued as Ryan blows him. The two strip down as Ryan continues to wrap his lips around that great cock! Rafael takes it easy and slides into him slowly until Ryan gets a rhythm going and Rafael begins working him over. It looked hot but a bit awkward at the same time in the backseat. Things picked up when Rafael lied back and Ryan rode him then it looked really hot!

Rafael is one hung, intense top that's for sure!