Drill My Hole 06
(7)
| | |
| --- | --- |
| | Get it with a Free Trial! |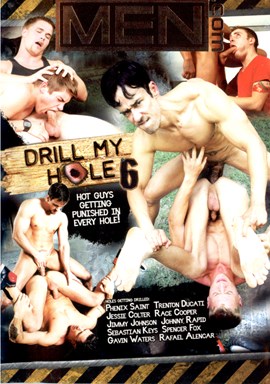 Performers
Director
Studio
Category
Duration (approximate)

Men.com

119 minutes

Date Added:
07/30/2015
Production Year:
2015
Format:
DVD
There are currently no member reviews. Be the first to review this title.
Industry Reviews (1)
Reviewed by Netguy 06/03/13
Source: AdultDVDTalk




Phenix Saint and Trenton Ducati have a little iron man competition in the back of a warehouse and the loser gets to fuck the other in ?Bet Your Ass?. As big and muscular as he is Trenton loses to sexy Phenix and he starts with a good ol? ass slapping to get Trenton all horned up. Trenton then finds himself on his knees while Phenix fucks his face hard and rough. I like both these guys a lot but at times it just seemed a little too over the top and I know Trenton was the loser but it would have liked to see him get sucked as well. Instead he gets on all fours and Phenix rams his ass big time! ?Fuck me dude? Trenton yells out and Phenix continues to pound away. The scene was pretty hot but at times Phenix didn?t seem as hard as he could be. Damn if I was fucking that stud I?d be rock hard! They both shoot some decent loads but I?ve seen better performances from both of them.

Race Cooper is a mental patient who is ?Crazy for Cock? and Jessie Colter is his caretaker. Well Race convinces him to unleash him from his straight jacket and soon the tables are turned! Race pulls Jessie?s pants and down and begins to devour him. He actually does look a bit crazy as he goes up and down on that boner. Things heat up more though when Jessie straddles the cot and Race rims that fine ass! This big black stud was beginning to turn me on watching him kiss and caress that ass before shoving his rod deep inside him! Jessie is always way to vocal for me and here is no exception so you better have your remote handy! Race does a nice job fucking Jessie in all kinds of positions getting him to moan and groan with every deep thrust! Jessie shoots a huge creamy load all over himself and then with a load moan Race pulls out and finishes himself off leaving Jessie covered in jizz!

In ?Door to Door? Johnny Rapid is collecting signatures for an anti-gay society. Little does he know Jimmy Johnson is gay and doesn?t take a liking to the petition! I don?t recall seeing Jimmy before but what a hottie! And Johnny is one of my favorites too, that power bottom twink can do no wrong! Anyway, Jimmy decides he?s going to get the ?gay? out of Johnny, throws him on the sofa, and whips his cock out for Johnny to suck. It?s a pretty nice looking cock and Johnny does a nice job of deep throating it! Nice closeups of Johnny blowing him really got me hard! Johnny sucks away then reaches into his own pants and begins playing with himself, then pulls them off. It?s really hot! Johnny then sits on top and takes Jimmy for a ride. Great penetration shots as he pushes himself up and down then turns around back to front to continue some more! Best thought is when Johnny is straddling the couch and Jimmy is fucking him from behind! That tight, cute ass looks so fucking hot! Jimmy gets Johnny on the floor ass in the air and continues to drive his cock straight down inside him! Easily my favorite scene thus far! Jimmy pulls out just in time to shoot a huge wad all over Johnny?s chest before Johnny beats off and lets his load fly!

Spencer Fox is in for a surprise when he finds Sebastian Keys rummaging through his stuff in ?Hotel Break-In?, or vice versa for that matter! Not sure I recall seeing Sebastian before so it was nice to see a new face! Having just got out of the shower Spencer is already ready to drive his big dick down Sebastian?s throat! Sebastian slobbers all over Spencer?s cock as he tries to take every inch and does a nice job doing so! Spencer having enough of his cock being sucked throws Sebastian down and plants his cock deep inside him! Spencer has such a great build and watching him pummel that ass was a complete turn on! The camera angels weren?t the best but that?s ok. It was really hot too watching Spencer just hover over Sebastian as Sebastian gyrated his ass and pushed himself against Spencer! HOT! These two just couldn?t seem to get enough of one another! The two fuck in all kinds of positions and end missionary with Spencer spraying a huge load! This scene has taken the lead! Wow!

Rafael Alencar doesn?t take kindly to being let go as ?The Gardner? by homeowner Gavin Waters. Rafael wrestles him to the ground, whips out his 10? cock and makes Gavin suck it. I love a massive cock and Rafael?s is one of the best! Rafael gets rough and tough and there?s a lot of dirty talk as he roughs up Gavin and makes him choke on his massive cock! Eventually Gavin takes it like a man and gets fucked from behind doggy style. It?s a nice fuck on the lawn but Rafael is a bit too rough here for me. As the fucking continues though the two do quiet down a bit as Rafael just fucks and fucks. As he slowly slides it in and out Gavin jacks off and shoots a pretty nice load! Rafael stands up and just covers Gavin with his man juice! Ok I take that back, liked this scene after all!

When it first started out I wasn't completely thrilled but the more it went on the hotter I got! The last three I thought were great and for the price you really can't go wrong! Another hot one from the Drill My Hole series!