Drill My Hole 05
(8)
| | |
| --- | --- |
| | Get it with a Free Trial! |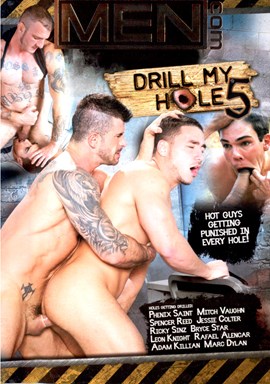 Performers
Director
Studio
Category
Duration (approximate)

Men.com

125 minutes

Date Added:
07/30/2015
Production Year:
2015
Format:
DVD
There are currently no member reviews. Be the first to review this title.
Industry Reviews (1)
Reviewed by Netguy 03/10/13
Source: AdultDVDTalk



In ?Cumpensation? Mitch Vaughn runs out of gas and to get his car filled up he needs to get filled up himself by none other than sexy Phenix Saint who won?t take his cash! God he looks sexy in his dirty white tank top and grease adorned face! Mitch drops to his knees and chokes on that hard cock while Phenix pumps his mouth. The sucking albeit good seemed a bit short and before you know it Mitch was bent over and taking it from behind. Phenix always delivers a great fuck though and really knows hot to put his dick to good use! After Mitch rides Phenix he ends up on his back where Phenix just continues his deep, hard ass ramming. Like I said I love watching Phenix but there seemed to be something lacking between them. Mitch does shoot an awesome load at the end and Phenix as well, so all is not lost I guess.

The premise is a bit dumb in ?Fight for my Hole? that finds Jesse Colter confessing to a crime so he can land in jail to see what sort of ?trouble? he can get into. Oh but I guess we?re not here for the story anyway. Jesse has a few bunkmates that drool over the stud as he strips off his clothes and when they begin to fight over him Spencer Reed saves the day and blames it on the other two leaving Jesse all to himself. Spencer sure is a big hairy boy! The two passionately make out, which is pretty hot in itself, before Spencer?s big, thick cock is hanging before Jesse?s face. Spencer returns the favor taking every inch of Jesse down his throat. These two seemed made for each other! Spencer fingers and rims Jesse before a cot 69-ing. The two fuck around the cell in all kinds of positions and Jesse?s his usual vocal self. If you like cum shots this one too ends on a high note with Spencer shooting through the air and across Jesse?s forehead!

Tattooed tough guy Ricky Sinz and Bryce Star are cleaning up the bar after hours when Ricky realizes there?s a hundred missing from the tip jar. He confronts Bryce and after he finds it in his possession drives his cock down his throat! Bryce doesn?t seem to mind though and gets one helluva face fuck! If you like bad boys Ricky dons the persona with dirty talk and roughness in ?Keep the Change?. Ricky throws Bryce down on a couch and makes him suck his balls and then its more heavy duty mouth fucking! And he does the same when he?s deep inside Bryce?s ass! Hard, fast and furious!

An outdoor game of ?Paintball? turns ugly when Leon Knight sneaks up behind Rafael Alencar and shoots him in the back. Rafael gets really pissed off and throws him down to the ground and pulls of his pants then forces him to take his massive cock in his mouth! I love his cock! Leon?s a cutie but the scene?s a bit too rough for me and Rafael got a little bit annoying after a while. Rafael spreads his mouth open wide with his fingers as he makes it even wider for that huge piece of man meat! He does the same to Leon?s ass as he fucks him in all kinds of positions and doesn?t let up in the least as Leon moans. Not sure if it was delight or agony. I hope he got paid well is all I can say! With Leon covered in dirt and leaves, ass in the air Rafael hovers over him and lets his jizz fly wherever. It?s dirty literally and really didn?t do a thing for me.

Marc Dylan isn?t up to the Navy standards in ?Sloppy Seamen? so Adam Killian has to teach him a thing or two! Adam?s still looking pretty good as Marc services him. Again it?s a little rough but nowhere near the previous segment. Adam throws Marc to the cot and really goes to town on his mouth and I started getting into it more. Marc strips out of his clothes and Adam makes him do few pushups before fucking his tight hole and does some pushups of his own! The two are real vocal as they fuck in a number of positions around the room until Adam fucks the cum out of Marc and he lets his load fly across his ripped abs. Agam pulls out just in time and drops a huge creamy load with loud screams of passion!

If you like your sex rough, tough and loud you?ll love this! For me it was a bit much but I have to say they all ended with pretty nice money shots!