Drill My Hole 04
(7)
| | |
| --- | --- |
| | Get it with a Free Trial! |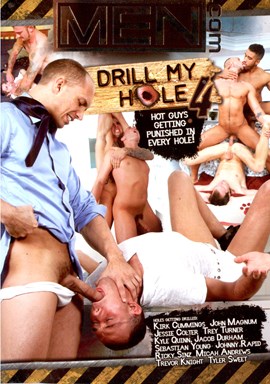 Performers
Director
Studio
Category
Duration (approximate)

Men.com

125 minutes

Date Added:
07/30/2015
Production Year:
2015
Format:
DVD
There are currently no member reviews. Be the first to review this title.
Industry Reviews (1)
Reviewed by Netguy 12/02/12
Source: AdultDVDTalk



?Gay Instinct? is a somewhat clever take on, you guessed it, ?Basic Instinct?, with Kirk Cummings in the lead role. He gets interrogated and even does the infamous cross your legs move showing off his cock to John Magnum. Well John is sick of his games and takes him into another room for some real interrogation! John slaps Kirks face with his big cock before shoving it down his throat and getting the power bottom to choke on it. It?s a quick oral session before turning into a rough ass pounding with Kirk on top of a desk just begging for more and more! ?Fuck the cum out of me? Kirk begs and John delivers pounding that ass deep and hard until Kirk shoots a fucking massive load all over himself! John asks to be choked just before he pulls out and shoots a pretty nice load himself that leave Kirk drenched in sweat and jizz!

Sexy hunks Trey Turner and Jessie Colter are passionately kissing in bed when the two invite their ?House Pet?, Kyle Quinn to join in on the action. Kyle takes turns going down on his owners hard, erect cocks as they continue to kiss. The guys looks hot just lying back and getting serviced, especially Trey who?s got a great cock between his legs! Kyle goes to work on Jessie next as Trey slowly slides his cock inside Kyle from behind. Things get even hotter when they put Kyle on his dog bed, shoulders to the floor and ass in the air and Trey and Jessie take turns fucking him straight down! The trio continue with Kyle on the bed, Jessie fucking him, and Jessie being fucked by Trey. It?s so hot! The two continue to fill every hole Kyle?s got until finally jerking off and using his as a cum rag! Poor Kyle tries to jerk off but they beckon him to lie down and curl up on his bed.

One of my favorite performers, bad boy, Sebastian Young is an ?Imapatient Patient? as he waits at the doctors office with a raging hardon that won?t go down! Well there?s only one thing that will solve that and that?s too put it too use on the attendant Jacob Young! Sebastian forces his way into the office and fucks Jacob?s face like there?s no tomorrow! God he looks hot! Better have the remote handy as the two are pretty loud and vocal which was a bit annoying. Anyway, Sebastian tosses him over the desk and fucks him fast and furious from behind and boy does his ass look great as he pounds away! Actually Jacob?s looks pretty sweet as well and I wouldn?t mind taking a shot at that! The two go crazy on the floor with Jacob taking Sebastian for a ride before moving back to the desk where Sebastian just continues to fuck and fuck! Jacob, as annoying as his moaning was shoots a real nice load high into the air and all over his chest just before Sebastian squirts a nice load himself!

?Room Service? features Ricky Sinz and the adorable Johnny Rapid but the segment really didn?t do anything for me. The reason being, Johnny delivers Ricky his bacon and eggs and accidently spills it all over him and the bed whereby Ricky lashes out and t he two fuck around on the food strewn bed. Watching Johnny with eggs in his hair and on his chest while Ricky fucks his mouth just didn?t make me hungry at all. I guess if you?re into food and shit you might like it but I thought it looked a bit gross. Never cared much for Ricky either. Anyway, Ricky berates Johnny while he continues to ram his thick, hard cock down his throat. Luckily when it came time to fuck they do clean the bed off but Ricky continues his rough and tough attitude, slappying Johnny?s ass, twisting his balls into a knot and so forth. Just way to rough for me. I know a friend though that would love this shit! Johnny didn?t seem to mind as his ass got split apart and Ricky fucks him like a maniac! Ricky stands over him at the end and delivers a nice facial as Johnny beats off himself. He?s so cute and shoots a pretty decent load himself before Ricky throws him out of the room.

Finally we have the ?Other Guy? which finds Tyler Sweet fucking Micah Andrews just as his boyfriend Trevor Knight returns home. Tyler tells Micah to hide in the closet and as Tyler welcomes Trevor home. Trevor rims Tyler for a bit getting him nice and horny before he lets loose his massive cock for Tyler to deep throat. As Tyler sucks away a noise is heard and Trevor finds Micah hiding. Long story short, a hot threeway ensues with Trevor stuffing his big cock down the two of their throats! Watching these two young studs on their knees downing that big cock was so fucking hot! Things get even hotter when Trevor finds a double ended dildo and gets the two boys to fuck themselves with it! Lots of great shots of this as they continue to cram it deep inside their tight holes while Trevor plays with himself and gets so turned on he fucks them both! As he takes turns fucking them they kiss one another which really turned me on! And wait till they ?daisy chain?! Trevor fucks Tyler as he goes to town on Micah?s ass!

Overall most scenes are pretty damn hot but be forewarned some of the guys get pretty vocal moaning and groaning I found it to be a tad annoying. Otherwise its a nice compilation once again at a decent price! Looking forward to the next in the series!